Loving the look and sound of this gorgeous vegan dessert featured in VegNews Magazine!
Happy Valentine's Day treat for that special someone...even if that special someone is you!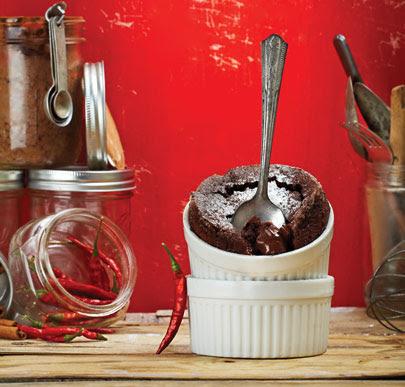 Mini Mexican Chocolate Soufflés
Valentine's Day is this Sunday, and our recipe for Mini Mexican Chocolate Soufflés are sure to wow any lovebird. This spicy, sweet dessert is whipped up in just two easy steps and will dazzle your date thanks to cayenne, cinnamon, red pepper flakes, and chili powder. If these don't get your heart pumping, nothing will!

Makes 2 soufflés
What You Need:
1 tablespoon vegan margarine
1/2 cup sugar, divided, plus more for dusting
1/2 cup vegan chocolate chips, melted
1/2 cup chocolate soy milk
3 tablespoons flour
1/2 teaspoon vanilla
1/8 teaspoon ground cloves
1/4 teaspoon cayenne pepper
1/4 teaspoon chili powder
1/2 teaspoon ground cinnamon
1/8 teaspoon red pepper flakes
1/8 teaspoon ground vanilla bean
2 tablespoons egg replacer
1-1/2 teaspoons cocoa powder
1/8 teaspoon salt
2 teaspoons cream of tartar
Powdered sugar, for garnish
What You Do:
1. Preheat oven to 375 degrees. Lightly grease 2 6-ounce ramekins with margarine and dust with sugar. In a large bowl, add remaining ingredients except powdered sugar. Using an electric hand-held mixer, blend while tipping bowl slightly to create a fluffy batter.
2. Fill each ramekin 3/4 full with batter, careful not to overfill, and bake for 25 to 30 minutes. Sprinkle with powdered sugar and serve warm.
Photo by Vanessa K. Rees