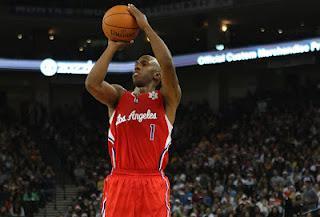 Photo: Getty Images
- Troy Ballard
Chauncey Billups' season was officially marked over after he tore his left Achilles tendon in the Los Angeles Clippers win on Monday over the Orlando Magic, but the long-time NBA player has no plans to reitre.
Billups, who will be turning 36 later this year, is often considered one of the most underrated players in the NBA. His career has taken him to a laundry list of teams, but at nearly every stop, he has been appreciated and loved. The trend continued this off-season when he signed with the Clippers.
Los Angeles was digging the two-guard system with Billups starting at the two, and allowing newly acquired All-Star point guard Chris Paul to take the reigns at the one. Needless to say, it was a system that was working, as the Clippers are leading the Pacific division at 15-7.
It would be almost too easy to say this would be the best time for Billups, a 14-year NBA veteran, to call it a career. Achilles tendon injuries are infamous throughout sports for ruining careers, especially for older players like Billups.
But what did Billups, one of the classiest and hardest working players in the NBA, respond with? 
"

I'm most definitely not retiring."
You better 
believe
 it. Billups, who as I stated before, has been bounced around the NBA, despite amazing play, isn't ready to call it quits because of an injury. He has more pride, dedication, and love for the game than to go out on an injury like this. 
Throw age, money, and numbers out of the picture. Billups will continue to play because he loves the game, and he wants to help a team compete. There are no 
ulterior
 motives. He's a straight shooter, both literally and 
figuratively
. 
I have always loved Billups, but the fact that he has the passion to bounce-back and not retire following a total deflating season-ending injury like this, it's amazing. Forget that people will say his value is decreasing, that he's getting washed-up, his jumper isn't what it used to be, his defense is lacking, and this injury will be the end of his career. 
That's not the case. Billups is going to keep working and proving people wrong. Just like he has his entire career. This isn't something that's new to the once young aspiring combo guard from Colorad. He's been dealing with adversity for what seems like forever. 
Adversity is what Billups feeds off of. That's how he can be so good in the clutch. So good on defense. Such a great leader on and off the court. Such a great all around player. 
Whether it be with the Clippers or another team next season, we here at Beard and Stache wish Chauncey the speediest of recoveries and can't wait to see him back on the court. 
Clippers Tickets
Clippers Playoff Tickets
Be sure to follow Beard and Stache on Twitter @BeardAndStache, and also Troy @TroyBallards, Like our Facebook page HERE!