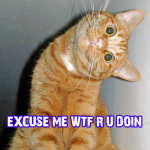 Charles Barkley is a paid spokesperson for Weight Watchers.  He is also paid to be a commentator on TNT's  Inside the NBA.  He decided to let those two worlds collide when the panel was discussing an upcoming game with the San Antonio Spurs and co-host Kenny Smith felt compelled to ask  "what kind of women are in San Antonio?"
Apparently not wanting to let an inappropriate question fail to live up to it's full potential, Barkley went on a fat shaming rant that the rest of the guys seemed to find absolutely hilarious:
Big old women down there…That's a gold mine for Weight Watchers….Victoria's definitely a secret. They can't wear no Victoria's Secret down there…they wear big old bloomers down there, ain't nothing skimpy down in San Antonio.
and on and on. And on.  Four grown men paid to talk about sports using their airtime to make fun of women because of how we look.  Keep it classy guys.
This is not ok.  Making fun of women for their appearance is never ok, and it's certainly not ok as part of a show that is supposed to be about basketball, especially in a show that has decided not to have any women on its panel.   TNT should be denouncing this and Weight Watchers should be denouncing this unless they want people to think that they encourage their spokespeople to promote their product in this way (which, on second thought, might be the case.)
Meanwhile, a slew of commenters indignantly pointed out that what Charles said was wrong because not all women from San Antonio are fat. I'm sure that is true, but I don't think it's the best argument against Barkley's hateful rant.  I think it would be cool if, instead of responding to fat shaming with "I'm not fat!" the response was "Fat shaming is not ok!"  or "Shaming women based on how we look is never ok." rather than suggesting that it's cool to shame women who look a certain way, as long as you're clear that it doesn't apply women who don't look like that.
This whole thing, top to bottom, is bullshit and it never should have happened, and as far as I'm concerned it shouldn't go without comment:
Activism Opportunity
Let TNT know what you think.
Let Weight Watchers know what you think.
Like my blog?   Here's more of my stuff!

My Book:  Fat:  The Owner's Manual  The E-Book is Name Your Own Price! Click here for details
Become a member: For just ten bucks a month you can help keep this blog ad-free, support the activism work I do, and get deals from cool businesses Click here for details
Dance Classes:  Buy the Dance Class DVDs or download individual classes – Every Body Dance Now!Click here for details 
If you are uncomfortable with my selling things on this site, you are invited to check out this post.