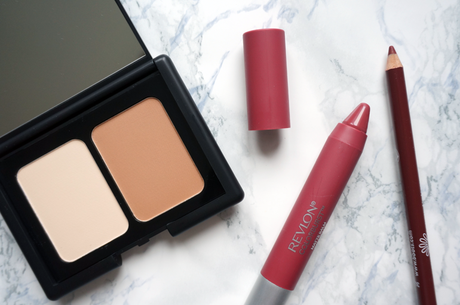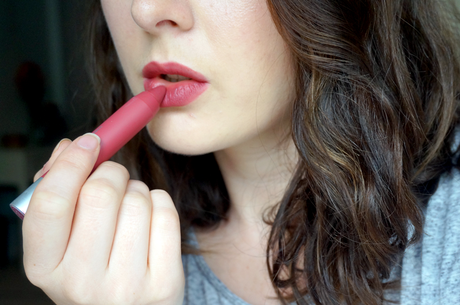 Now firstly let me address the fact that I am aware I have nothing Kardashian/Jenner about me, however this doesn't stop me from lusting over their perfectly contoured cheeks and lip plumped pout. Whilst I am not prepared to try the Kyle Jenner Lip Challenge, I am willing to dabble in some products to help me along the way.
Cheeks: I'm the first one to admit that my face doesn't shy away from a touch of contour, those of us blessed (..or not) with the oval/heart shaped face aka moon face will be sure to grab any opportunity for a slither of definition. When I spotted this handy compact with both a defining and contouring shade it went straight into my basket. The packing is really nice and similar to that of Nars with a matte effect and great mirror for traveling. If I'm honest on first application the darker shade did appear to be slightly too orange but after a bit of extra buffing it seemed to blend in nicely. I added the highlight on the tops of my cheeks and just under the brows before I  decided to see how it fared as an inner corner eye highlight. Whilst I don't deny that there will undoubtedly be better quality products on the market such as the Charlotte Tilbury Filmstar Bronze and Glow, this is a great way to try out the K-K way. 
Lips: Along with the rest of the population I have been after a nude that packs a bit more of a punch that your average "hardly-there-your-lips-but-better" shade, something similar to Mac Brave but without the price tag. After a bit of research I managed to find a dew dupes available to us here in the UK and after a long waltz around the aisles of Boots I went for Revlon ColorBurst Matte Balm Sultry and the Natural Collection Lip Lines Pencil in Mulberry. It feels strange for me to wear lip products with such brown hues as I normally opt for bright red/oranges but I have a feeling this duo are the perfect entry level shades into the world of nudes. The lip liner applied with a strong pigment so I made sure to smudge it with a brush to create a slightly softer look before then applying the lip color over the top. I applied straight from the bullet and it transferred easily with a true velvet feel without appearing too drying. I added a couple more layers after taking this photo and patted it down with tissue to lock the color in. It built up nicely and felt comfortable, however the only thing to note is the minty scent that comes with all Revlon Balms. Personally, I am a fan of the smell but it's just something to be aware of. Although I haven't tried it out for long enough to confirm it's longevity I will report back but so far, so good. 
Also, I may or may not have spent longer than I should have flicking through Selfish in Waterstones this morning.