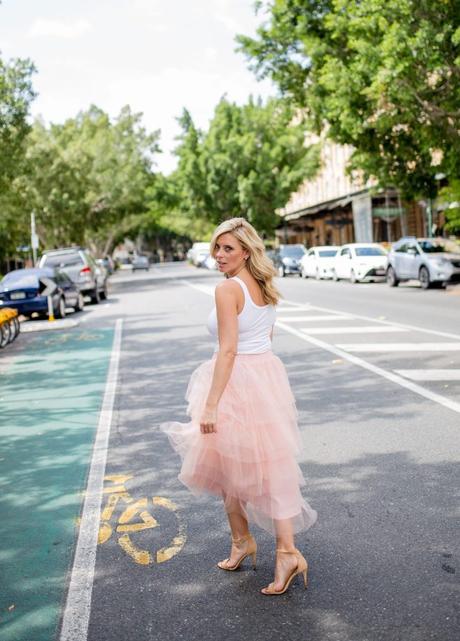 It has been two decades since Carrie Bradshaw first spun around in front of a New York City street in the opening credits of Sex and The City in what was to become not only one of the show's most iconic outfits, but also the most affordable.
Though the tulle skirt was only featured in the opening credits of the TV series, the creators brought it back for the first feature film, in the scene where Carrie was cleaning out her wardrobe ahead of her wedding to Big.
Sex and the City costume designer and stylist Patricia Field, the woman responsible for dressing Sarah Jessica Parker and her cohorts in high-end pieces no newspaper columnist could actually afford, paid just $5 for the tutu skirt after finding it in a showroom bin.
"I was in a showroom and there was a bucket on the floor, for like, five dollars each, and I pull out this tulle skirt, and I'm like, 'I don't know, let's just take this.'"
Field went on to explain that while the producer needed some convincing, the statement piece was an instant hit with SJP.
"When I showed it to Sarah Jessica, she loved it. And I said: 'So we'll put it with a little T-shirt,' and she loved it. She felt it,"
And while we're recapping Carrie's best tulle outfits, let's not forget the stunning mint green dress with tulle skirt which she wore in the final episode, An American Girl in Paris: Part Deux, when she ran into Big.
And while it has been 20 years, the tulle-for-grownups look is still as popular today as it was back in the late 90s and early 2000's as the iconic looks of SATC continue to inspire fashion lovers around the world, myself included.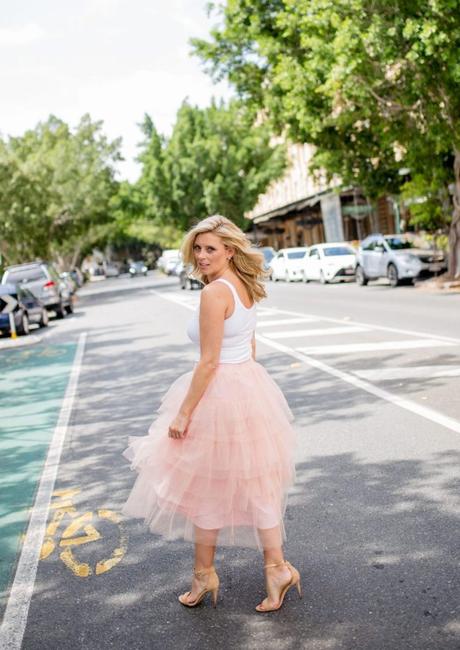 Tonight, one of my favourite online boutiques, Little Party Dress, is releasing two tulle midi skirts-blush and black-just in time for the festive season.
When Kel mentioned that she had these beauties coming soon, we (obviously) ended up talking about Carrie Bradshaw and our ongoing love for Sex and the City.
With my brief stint as a dating columnist and overflowing wardrobe, it's no surprise that I've been compared to the show's leading lady once or twice.
So it seemed fitting that I take another twirl in tulle, and show you how to get this iconic look for yourself (Over the next few weeks I'll show you a few other ways to style both the blush and black skirt).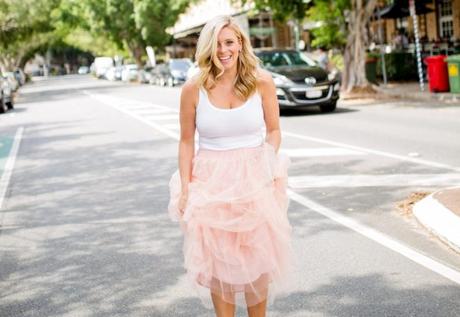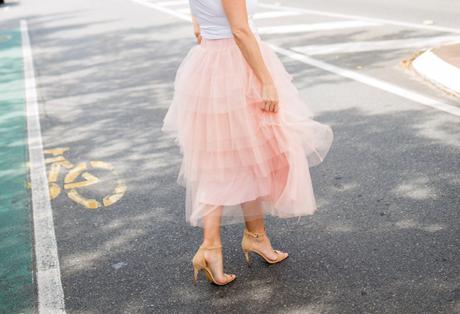 Always be yourself, unless you can be carrie bradshaw. Then always be carrie bradshaw.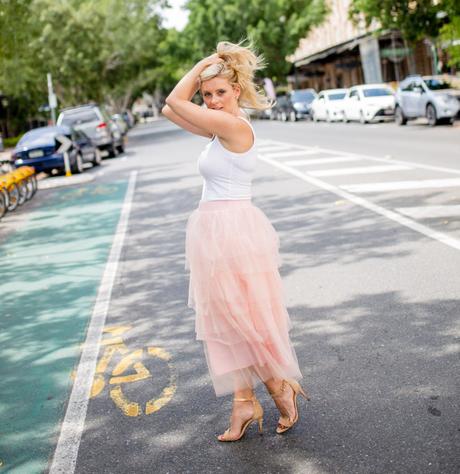 Get the look: Skirt | Witchery | Nine West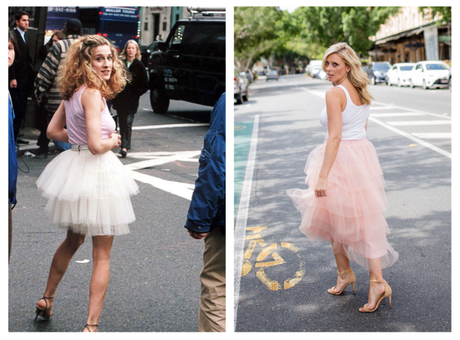 The Little Party Dress' Broadway Tulle Skirt (kindly gifted, $79.95) is available in sizes 6 to 18 and will be online from 7pm (EDST) tonight.
Photos by Kate Luke Photography.
Follow Blonde Ambition on WordPress.com
For all partnership and collaboration inquiries please contact me directly at [email protected]
BLONDE AMBITION ARCHIVES
A few months ago I underwent hypnosis at Brisbane Hypnosis Clinic in New Farm to get my addiction to lollies and biscuits under control. You can now read all about my experience on She Society (link in bio). Have you ever tried hypnosis? Photo by @katelukephotography _______________________________ #hypnosis #shesociety #sugarcravings #writer #loveyourself #wellbeing #health #thatsdarling #whatiwearing #ihavethisthingwithcolor #colourpop #spotmystyle #styleblogger #ootd #whatiwore #时尚 #30plusstyle #outfitpost #realstreetstyle #lollies #chocolate #makeyousmilestyle #brisbane #brisbanecity #everydaystyle #brisbaneanyday #wiw #girlboss #sydney #melbourne
It was a scorcher in Brisbane today, so after a fun morning photoshoot with @katelukephotography, I slipped into this super simple but stylish @viktoriaandwoods Vacant Tank Dress and my @kmartaus slides for a 1st birthday party by the water. Now I'm catching up on all the #teamstripes photos from today's @teamstylefile #stylefileinsta challenge. Don't forget to tag @katy_potaty and I so we can see your pics ❤️ _______________________________ #everydaystyle #love #stripes #springfashion #whatiwore #fashion #style #spotmystyle #monochrome #blackandwhite #womenwithstyle #brisbane #brisbanefashion #girlboss #30plusstyle #over30style #brisbaneanyday #sydney #melbourne #perthfashion #blondehair #weekendvibes #birthdayparty #affordablefashion #wiw #stripedress
Happy Friday! This is awkward to admit but I only watched Jurassic Park for the first time earlier this year. Same with ET. I don't know what I was doing as a youngster - probably watching The Sound of Music for the 757th time. But I loved it and couldn't resist buying this tee from @cottonon which was perfect teamed with my @dissh_boutiques leopard print skirt for today's #stylefileLEOPARD challenge. Is there a big or cult hit movie that you've never seen? _______________________________ #teamstylefile #everydaystyle #leopardprint #animalprint #casualfriday #friyay #weekendvibes #spotmystyle #brisbaneblogger #funfashion #outfitinspo #styleblogger #style #fashion #brisbane #womenwithstyle #fashionblog #sydney #melbourne #whatiwore #realstreetstyle #streetstyle #fblogger #realoutfitgram #ootd
Somewhere over the rainbow ... today is the day this divine Confetti dress from @maiocchi_ arrives in store (9am CBD and 9.30am Paddington) and online (midday). Get in quick to avoid missing out. Photo @katelukephotography ________________________________ #maiocchi #mymaiocchi #rainbow #stripes #teamstripes #friyay #stylefile #everydaystyle #shoplocal #brisbaneblogger #30plusstyle #over40style #realmumstyle #love #ihavethisthingwithcolor #ihavethisthingwithwalls #colorpop #australianfashion #spotmystyle #makeyousmilestyle #styleatanyage #OOTD #instafashion #happystyle #dressfun #sugarrepublic #brisbane
New favourite outfit alert! Stripes, metallic, leopard print ... the gang's all here and I love it! A metallic skirt may seem like something that would be difficult to style, but nothing could be further than the truth-metallic is pretty much a neutral (at least in my eyes), so I've pulled together a blog post showing three ways I'll be wearing gold leather mini skirt from @arlingtonmilne this summer. Link in bio. Photo: @katelukephotography ________________________________ #arlingtonmilne #everydaystyle #summerstyle #wbwpartner #stripes #teamstripes #love #brisbaneblogger #styleinfluencer #styletips #ootd #wiwt #over30style #30plusstyle #howto #summerstyle #realstreetstyle #spotmystyle #fashionblogger #makeyousmilestyle #styleatanyage #dressfun #sydney #melbourne #brisbane #perth
Today's @teamstylefile style challenge prompt was #stylefilefloral and this @shein_au pink floral pleated midi skirt was the first thing I saw that fit the bill when I looked into my wardrobe this morning. I teamed it with my @mummyswish limited edition Fabulous & Floral tee which has become a bit of an unofficial uniform in the office. _________________________________ #mummyswish #mumswithcancer #mwFabulousandFierce #everydaystyle #onwednesdayswewearpink #streetstylefashion #funfashion #floral #joy #slogantee #fabulousandfierce #brisbaneblogger #love #style #fashion #brisbane #womenwithstyle #fashionblog #styleblogger #brisbaneanyday #sydney #melbourne #realstreetstyle #streetstyle #fblogger #realoutfitgram #ootd #perthfashion
Fruity hues || In the latest @uonsunday I shared my tips for how to squeeze the most out of your summer wardrobe by embracing delicious citrus hues and let me tell you, it makes a refreshing and zesty combo! _________________________________ #uonsunday #fashioneditor #sundaymail #summerfashion #styleblogger #everydaystyle #ihavethisthingwithcolor #bonitakaftans #liveeverystep #sheikestyle #brisbaneanyday #queensland #brisbanefashion #citrus #summertime #over40style #colourpop #afforablefashion #30plusstyle #sportsgirlstyle #bethatgirl #spotmystyle #dressfun #styleatanyage #australianfashion #ootd #springstyle #realmumstyle #austeacherstyle
What constitutes 'workwear'? I guess it depends where you work. Thankfully, I work somewhere that lets me wear stripes and overalls to the office. So as part of today's #SpringStyleFile #stylefileWORK challenge, I give you, today's workwear-an old @witcheryfashion stripe tee, my favourite @yourockstyle_ denim overalls (kindly gifted), and pops of colour provided by my @hm earrings and @nextofficial_au shoes. ________________________________#fashionchallenge #yourockstyle #yourockstylebabes #tasseltuesday #everydaystyle #denim #stripes #teamstripes #ootd #stylechallenge #blonde #joy #springstyle #shoesaddict #brisbane #brisbaneblogger #styleatanyage #30plusstyle #iwillwearwhatilike #dressfun #fashionblogger #fashionista #streetstyle #stylish #hairgoals
**WIN A $300 SHOPPING EXPERIENCE WITH ME** Summer is just around the corner and I've teamed up with @dfoinsider @dfo_brisbane to give one lucky winner a $300 shopping experience with me next Monday afternoon to update their wardrobe! Here's how to enter: 1. FOLLOW @dfoinsider and @what_brooke_wore 2. COMMENT below on why you NEED this wardrobe update. 3. TAG a friend(s) for bonus entries. Entries close at 11:59pm on Thursday 15 November and the winner will be announced on Friday 16 November over on @dfoinsider . Please note that by entering you are agreeing to appear on a short video segment of the shopping experience for promotional purposes and are available from 12pm on Monday 19 November should you be drawn as the winner. *This contest is in no way sponsored, administered, or associated with Instagram, Inc. By entering, entrants confirm that they are 13+ years of age, release Instagram of responsibility, and agree to Instagram's terms of use. #DFOCollab ________________________________ #giveaway #shopping #dfobrisbane #dfo #giveawaycontest #giveaways #brisbane #imprettychuffed #spotmystyle #everydaystyle #brisbaneanyday #brisbanefashion #brisbaneblogger
Copyright. Blonde Ambition 2018. All rights reserved.