Hello beautiful Ladies, 
Today's review is one of my favorite blushes, Chambor Single Blush, shade no. 57, Star Candy. It was one of my hit in the dark buys when I bought it online. The words Star Candy were of some solace that its going to be a pink blush. So basically this one was a blind buy for me. The moment the package arrived, I tore the protective bubble wrap apart, took a deep breath and opened the blush case. And voila, here it is.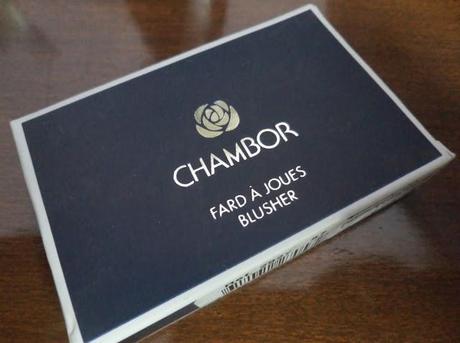 The Packaging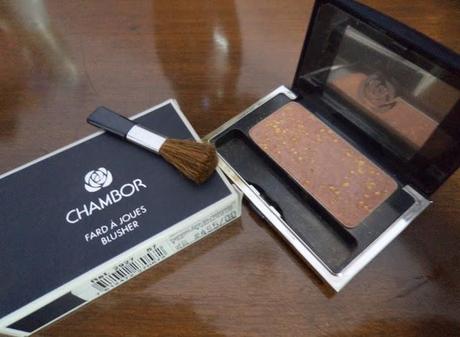 The Blush (with Mirror and brush)
It might look a bit peachy brown to you, but my camera was not in good mood today. So, let's just come back to the review. 
What Chambor claims 
Ultra-fine and simple to apply, the basic blush which is formulated to glide weightlessly onto the skin to provide sheer, sun-kissed color.

Builds effortlessly and spreads evenly.

Convenient to carry & used for re-touch. 

Lasts for long period of time.

Water resistant – Long Lasting. Comes in Powder Form, Can be converted to Cream form by mixing it with Foundation or Moisturizer.

Excellent blending & adherence capability.

Non Comodogenic.

No animal ingredients.
How to apply 
Wear blush/bronzer alone or over foundation or powder.

Using brush applicator, start at the apples of your cheeks and sweep upward on your cheekbone towards your hairline.
My Experience with the Chambor Blush 
The blush looks like a combination of pink and brown with specks of gold embossed in the blush itself. The result of these golden specks is that when you swipe your brush over it, the golden specks are mixed along with the blush. 
The blush itself has a very good color and the golden specks give a nice warm glow to the skin. It looks like a tiny hint of golden highlighter is dusted alongwith the blush. I just swipe my brush, no wait, I just touch my brush to this blush to get the color and apply. The pigmentation of the blush is really good and just a simple touch of my Sigma F 80 (yes, I have only that brush) is enough to apply on one cheek.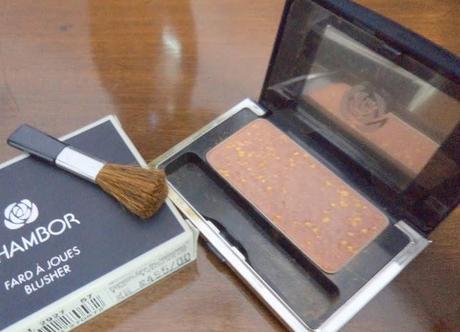 A closer look.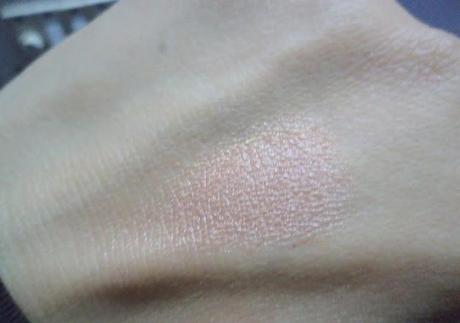 Swatched only once
Let me just come to the best things about this Blush
Price - I think it's a steal for Rs. 500. You get 6 gms of product which will last a long time.

Packaging - The case snaps shut with a click and you can carry it easily in your bag. It won't open. But the brush is almost useless, so you will need to carry a blush brush for this.

It used this for first time in winters after using a moisturizer and it stayed easily for 5-6 hours.

No need to use a highlighter with this blush.

Can be easily by beginners (that would be me) without going OTT.

It can be easily built up. A gentle swipe for the warm glow to 2-3 swipes for the disco ball look.

It can be easily applied with a blush brush or fingers too. I use Sigma F 80 for this.

Comes with an in-built mirror which is great for touch ups. 

Ladies who are fair, medium and dusky, Yes ! Everyone can use it. It will give a flush of color to fair skinned girls and warm glow to medium and dusky girls.
I can't think of any bad thing about this Blush. 
Chambor products are also available at Beautykafe