Recently I too got bitten by the red lipstick bug. ( I am always late and the undaring). I always feared that wearing a red lipstick would make my pale complexion even more pale and ghastly. My hunt for the perfect red lipstick continued till I saw this lipstick on Ankita's Blog. Read her review
Read her review here
. It looked just perfect for me. Not too loud and a very pretty shade. I grabbed it the moment I next went to a chambor counter.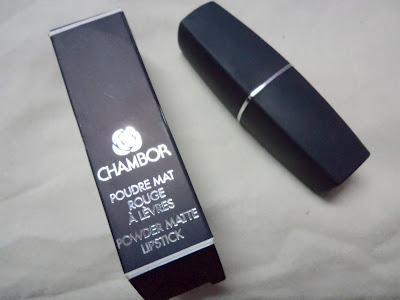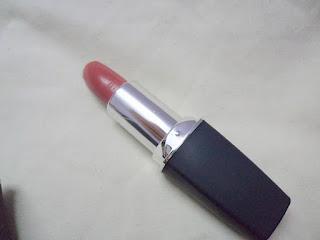 Texture - Very true to its name, the lipstick is matte and intensely pigmented. It's soft and goes smoothly over lips without making them overly drying. My upper lip is quite pigmented then my lower lip. But one swipe of the lipstick and it evenly covers both my lips. My upper lip does not look darker then my lower lip. It is matter but not very drying. I apply a waxy lip balm (Lotus Herbals Lip Balm) 1-2 hours before I have to wear this lipstick and there is no drying. When I forget to wear a lip balm before, I apply lip balm right before or even wearing this lipstick. Wearing a lip balm under or over the lipstick does not affect the staying power of this lipstick. It looks great when worn with a lip gloss. Sometimes, when I want to keep it looking reddish, I wear a clear lip gloss. When I applypeachy lip gloss over it, the color intensity gets toned down. Most of the times, I exfoliate my lips before applying this lipstick to keep the flakiness away. 
The best thing about this lipstick is that it does not melt in heat. It can be carried in your handbag and no need to store it in the refrigerator. At first I used to keep it in the refrigerator and when I used to apply immediately after taking it out, it used to look uneven and less smooth. But when I started keeping it on my dresser and applied it, it used to apply perfectly.
Price - Rs. 450 
Quantity - 4.5 grams 
Staying Power - I got a wear time of about 4-5 hours from this lipstick which is great. 
Colour - The color is a dark pink, rather reddish pink with warm undertones. For fair and pale complexion girls, this would lean more towards red with pink undertones. However, on dusky beauties, it would appear more like a dark pink. I totally agree when Ankita of Corallista describes it as "The color is out of this world and I am short of words to define the color.Its a coral, peachy pink, sometimes carrot plus pink, sometimes a little brick".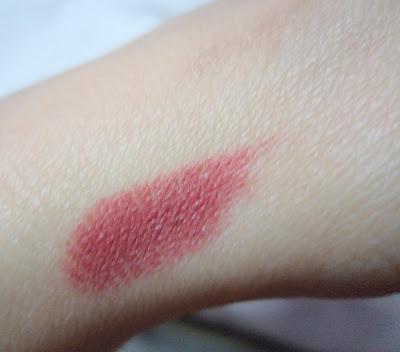 It just brightens up my face. The only drawback I found is the shape of the lipstick. It does not apply well on contours of lips like the corners and cupid's bow, but all that can be taken care of by a Q-tip.
Would I buy again - Of course. I will now buy the desert rose shade now.
The texture of this one is super smooth, soft and pigmented, nothing falls short. When you swipe the color, such a thick pigmented color comes off, like almost a liquid lip color you would.This would cover the most pigmented lips as well.
Here are a few pictures of me wearing it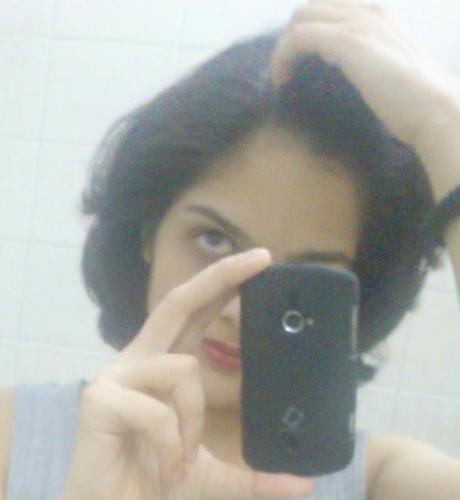 I was just trying to focus the camera and it got clicked. Touchscreen Phones :-D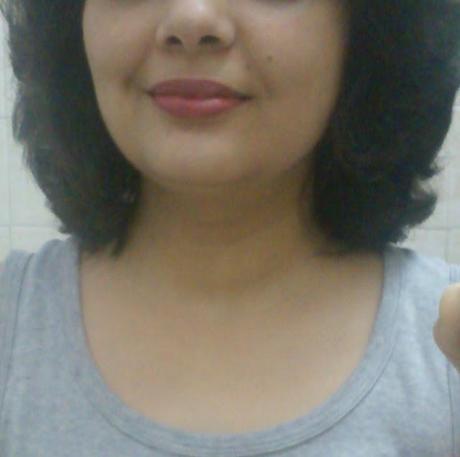 Still a bit hesitant to put full face Pics.

 XOXO