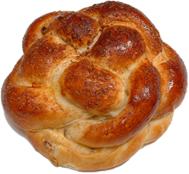 What You'll Need:
2 cups coconut flour
1 cup raisins, soaked in 1 cup water
1 cup water from soaked raisins
1 cup golden flax seeds, ground
2 tbsp coconut oil
2 tsp cinnamon
2 tsp nutmeg or pumpkin spice
1  tsp Celtic salt
3 grains buckwheat, soaked*
1 cup flax seeds, ground (for cutting board)
Optional: 1 apple, shredded
1 cup almonds or pecans,
soaked and finely chopped
1/3 C Turkish apricots,
soaked and chopped
or 1/3 C raisins, soaked
You'll need a food dehydrator for "baking" the challah bread.  If you don't have a dehydrator with ample space for the dough, you may optionally bake the challah in your oven with the oven door ajar.
How to Make It:
Process raisins and apricots in a food processor; transfer to a large mixing bowl and mix in cinnamon, salt and nutmeg. Gradually add the flax meal, coconut flour, and water. Add additional flax meal until a doughy consistency is achieved. Spread a few tablespoons of flax meal on cutting board to inhibit dough from sticking.
To begin with the shaping of your gluten-free primal challah, make the strands by shaping each ball of dough with your hands or a rolling pin.  Take your dough strands and roll them out gently as long as possible. Do this with four pieces of dough until they are all about the same length. Lay the pieces out in front of you, like a tic-tac-toe grid.
Each strand should be placed in opposite directions; one side is over/under, the next row is then under/over. There should now be 2 sets of 2 strands each coming out from the four sides of the woven middle, one under and one over in each set.  From each set, pick up the one that was "under" and pull it over its partner, thereby placing each of these "unders" over their corresponding partner, in a clockwise rotation. Practically speaking, this means that the left piece of each set will be placed over the right piece of each set.
When this rotation is done, work in the opposite direction, clockwise. What was formerly the right piece, will now go over the left piece in the counter clockwise direction; the pieces are not yet next to each other as they are still apart from the first rotation; pull them close to each other and bring the right piece, i.e. the one you did not touch in the first rotation, over the left piece of the neighboring strand.
After this second rotation is done, do a third one, now going back in the other direction.  Do one more opposite rotation if you have enough dough left.  To finish, pinch each set of two ends together firmly, then bring all four sets together towards the center.  Now carefully flip over your challah.  You now have a beautiful, woven, round primal challah!
Dehydrate at 105 for 6 to 8 hours, or longer until desired moisture and crispness is attained. Optional: Glaze the outside of the bread with a few drops of olive oil before putting the bread in the dehydrator.
*For a bread to be considered a traditional Challah it must contain a grain. You can add 3 grains of buckwheat to meet the criteria.