Challah everyone.This is a special challah. A challah filled with apple pie stuffing made low calorie because of the parents. A 4 braided round loaf stuffed with apples ,cinnamon ,raisins and walnuts. Dusted with pumpkin seeds and sesame seeds.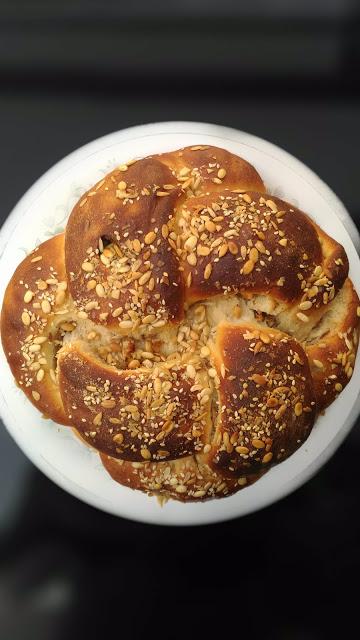 And it was the size of a large crown. Pretty and wholesome. Because it has a third of whole wheat flour too.So a totally healthy way to begin the day.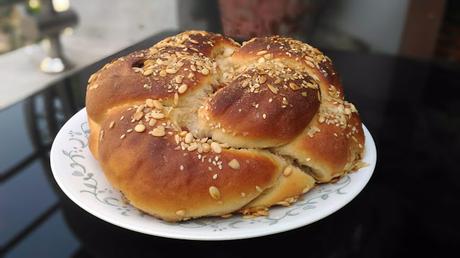 Since I kneaded and stretched the dough with my own two hands-as I hijacked mums stand mixer- I was unable to take pics while the dough was being made. And I also used the big balled dry yeast that I generally avoid, so now thats proof that anyone can bake bread. Its so simple just needs a whole lotta love and patience.
For the
Challah -Apple Cinnamon Walnuts and Raisin filled 4 braided Challah Bread
You need3 cups All Purpose Flour1 cup whole wheat flour or atta2 1/2 tsp dried yeast1/3 cup olive oil or any neutral vegetable oil3 eggs1 1/2 tsp salt1/3 cup sugar2/3 cup tepid water
Filling 2 small granny smith or green apples2 tbsp raisins3 tbsp chopped walnuts2 tsp cinnamonJuice of 1 lemon
Whisk together sugar , warm water and yeast and allow it to froth.Add in the oil, 2 eggs and one yolk, the salt and flours. Mix together till your spoon can't mix anymore. Then bring out onto your work top and knead atleast 10 minutes. Stretching the dough till its nice ita elastic.  Shape into a ball and place in an oiled bowl and cover and keep aside for at least an hour.Chop the Apples and mix the remaining stuff and set aside to wait their turn.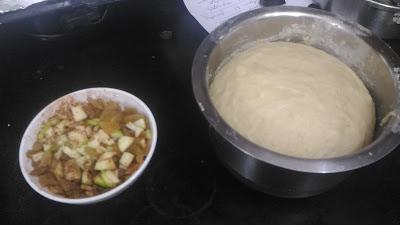 How the dough has doubled... divide the dough into 4 parts.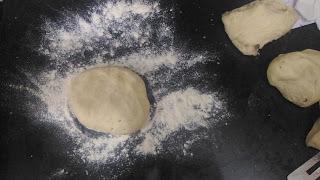 I added some more sugar to the apples and divide into four parts.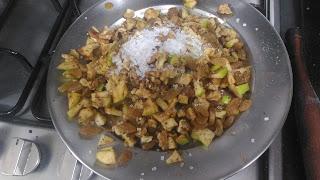 Roll the dough part into a long rectangular shape. Almost 4 inches wide and 12-14 inches long. One part of the Apple filling and roll into a tight rope. Tight. Because we have to braid the bread. You can dampen the other lengthso as ti allow it to stick. Brush off the excess flour and gently lift the rope aside.
Do the same to the othet three parts of dough. You should have 4 similar ropes.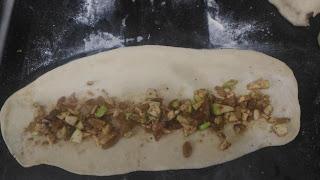 Place them like so. Like tic tac toe. One over ,one under.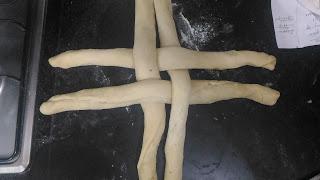 So say "Whats under goes over,whats under giea over." Of the two ropes on each side, cross whats under and take it over. Do this for all four sets.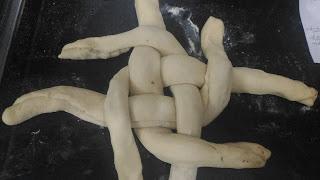 Now same set, turn it around and go in the opposite direction. For a video instruction you can check out this video.

Like so. Now pinch the strays and place on the center.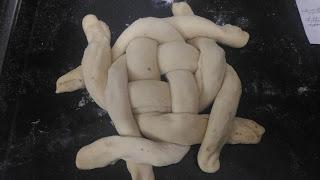 Now hold firm, flip over and place the pretty round challah on a greased baking tray.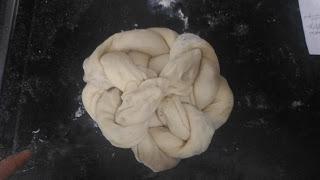 Like so. The underside looked ugly. But this side is all neat and strays tucked in.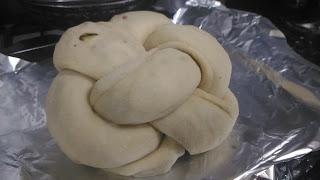 Cover with a greased al foil or film and set aside 40 minutes to an hour to proof.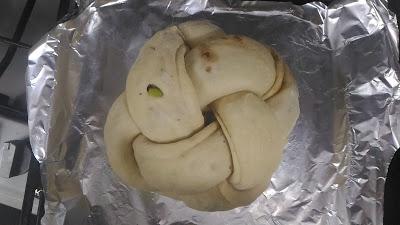 Brush with the saved egg white and sprinkle with seeds. Preheat your oven to 180C and bake in the center of the oven.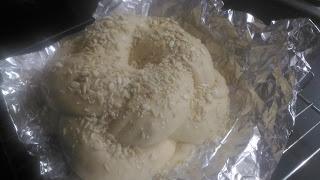 The bread took 42 minutes and I had to turn it around once to get an even color.
If I had a spray, I would have sprayed. I didn't want to brush with butter and riak removing the seeds.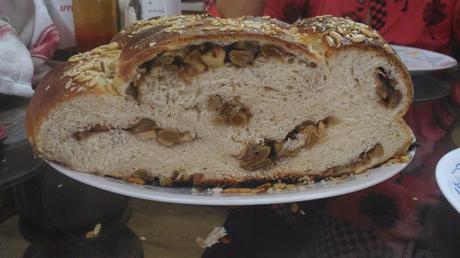 We sliced rhe bread after it cooled completely. Awesome.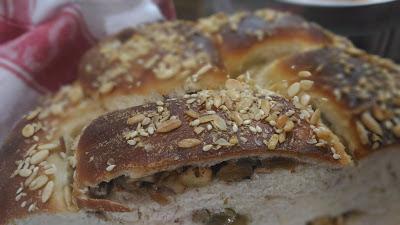 Sweet , but not a cloying sweet dessert. Sweet enough for coffee. Or tea.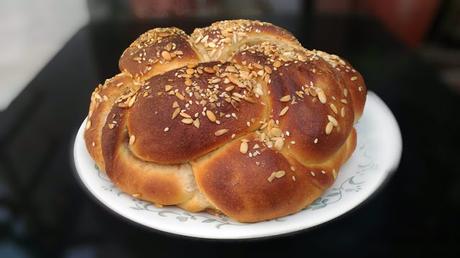 Or anything. More than anything,it was a pleasure to share these calories with the parents. Beautiful relationships deserve beautiful food.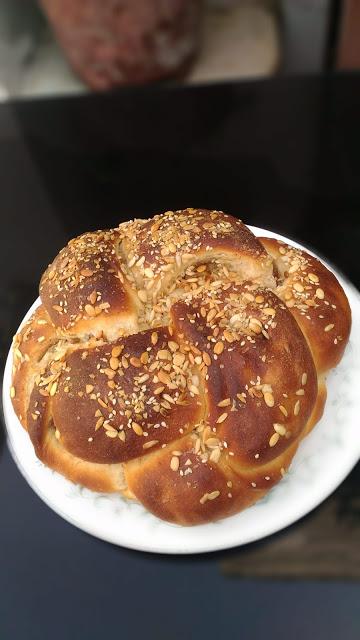 And some beautiful pictures.
Totally makeable at home. I can now braid challah bread in my sleep. Try it. Its so easy, and the pleasure of seeing a perfect challah come out of the oven is amazing.
The bread tastes faintly like a mix between an apple pie and a cinnamon roll. Only its low Calorie. Low fat.Doing a happy dance here.
My mom proclaimed it was too much and it should be frozen. We're way past half the frozen bread btw.
So what are you baking today???