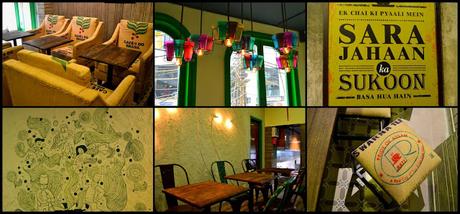 Chaayos has taken chai-love to an altogether new level. It is based on a simple concept of having the tea your way, which is so difficult to get when you step out of the house. They claim that their menu is designed in a way that if you work out every permutation and combination, it allows upto 12,000 different combinations in tea.


Now either that's too tall a claim or they are taking advantage of the fact that it is very difficult to do that sort of maths. But leaving everything aside it is true that tea is not only relished by every Indian, it is an essential part of their daily lives and a great stress buster. Our country not only consumes the largest amount of tea in the world but is also one of its biggest exporters.

I went to the launch of Chaayos' 9th outlet at Hauz Khas Village. As I took the stairs and entered the place the overall atmosphere felt very soothing. The interiors have various tones of green which are relaxing to the eyes. It's situated in a really spacious area on the first floor located just opposite Lights Camera Action. Seating was really unique with interesting text written on the sofas and the stools.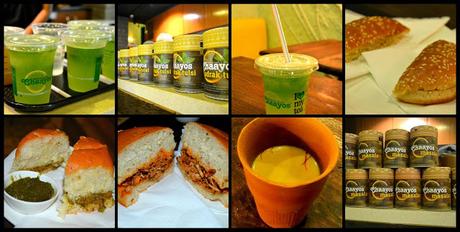 We were served with Mint Lemonade which was really welcome owing to the heat outside, and it certainly was refreshing.  After we settled down we tried Kullad Chai. The server told me that it's the Masala Tea that's inside the kullad. Actually, I found it too mild to be called a masala tea. I associate Kullad Chai with railway stations and the tea prepared by those small vendors is so strong that it gives a really good kick. Apart from being mild, the Masala tea served by Chaayos didn't taste much of spices. However I liked the fact that it wasn't too sweet and there was a good saffron flavor in it.     
We were not given the menu because the management had planned a blind tasting session, which unfortunately concluded after most of the people had already left. I tried four kinds of teas and each of them had a very distinct flavour, one had cinnamon, one had honey ginger, one had lemon grass and the last one, also the strongest one, consisted of spices like cardamom, cloves and black pepper. I loved the flavor of each tea. Two were with milk and two without.
In snacks we were served Bun Maska, Vada Pav, Keema Pav and Chicken Pav. The taste of the fillings was fine but the Pavs were too hard and dry, with an exception of Bun Maska. That, I guess, is a universal problem in Delhi, particularly because of the dry climate.
Chaayos overall has a great concept. With so many possible combinations in tea, some combination will surely strike a chord with you. Otherwise buy some tea leaves, which are also on sale here, and enjoy your own cuppa at home.
Disclaimer - This review was done on an invitation from the establishment. Views expressed in the review is entirely ours and without any bias. Pictures of the dishes are not the standard portions, they are sample portions.