A few months ago, my  foodie chum, my partner in crime, my chocolate sauce to my pudding decided it was a great idea to leave me and go overseas for a few months/indefinitely.
Even the most decadent, most filthiest, most delicious cake wasn't enough to cheer this sad little bean up.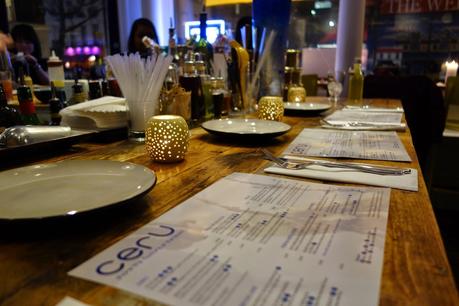 Thankfully nothing soothes the heart more than soul food from the Levant.
Ceru is a tiny new Mediterranean restaurant that has set up shop in Fitzrovia for 5 months only. It has previously been causing a stir up popping up and down the country. Tom Kime is the executive chef working his magic there, slicing and dicing (he has previously worked at River Cafe, Le Pont de la Tour and Rick Stein's Seafood Restaurant).
So you know that you'll be in safe hands.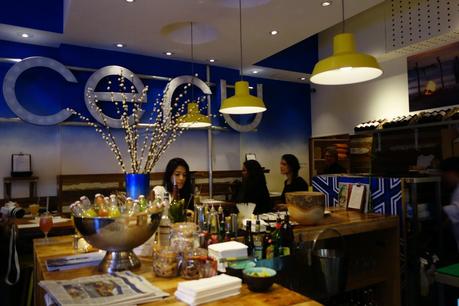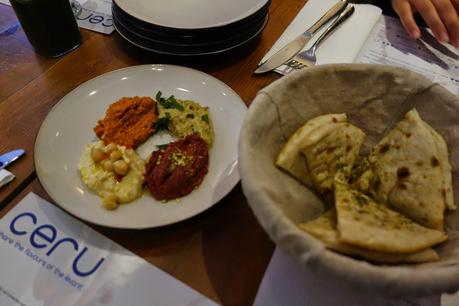 Selection of dips - Pancar, Fadi, Roast Pepper, & Houmous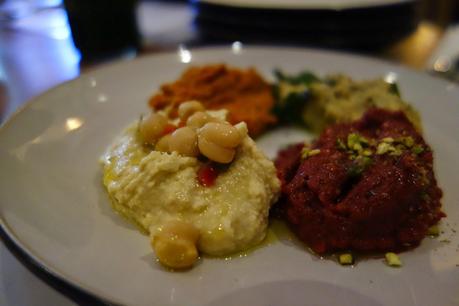 Everything is made to order using only the freshest of ingredients.
We started off with a selection of dips served with a basket of fresh Greek pitta bread.
1) Pancar - Roast beetroot, yoghurt, garlic & pistachio nuts2) Fadi - Fried baby courgette puree with tahini, roasted garlic, yoghurt & lemon
3) Spicy Roast Pepper Dip - Chilli, walnuts & pomegranate molasses
4) Houmous Topped with Chickpeas, Green Chilli & Lemon - Chickpea puree, tahini & lemon
My personal favorite had to be the roast beetroot dip, couldn't help myself but hungrily scoop that one all up. It was sweet, tangy and a little garlicy - a real winner.
Crushed White Beans & Parsley with Tomato, Chilli & Virgin Olive Oil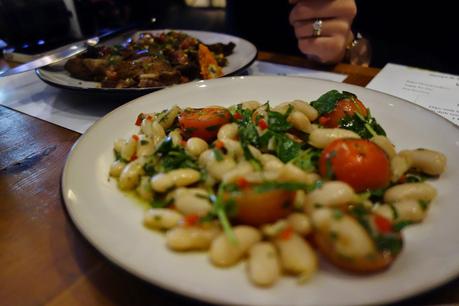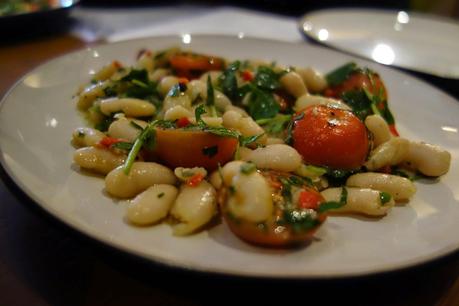 Roast Potatoes with Spring Onion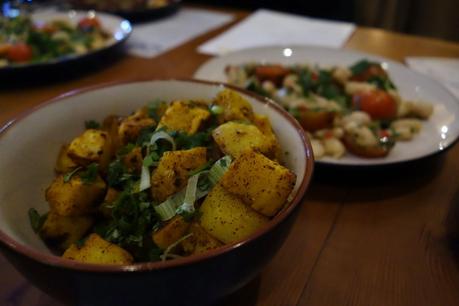 Kebab Karaz Spice Baked Lamb Meatballs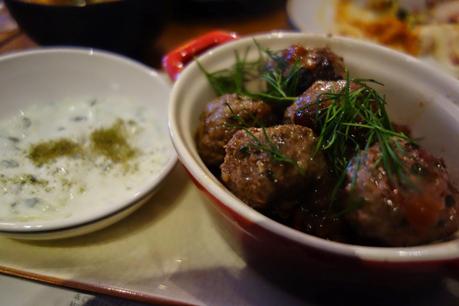 I went for the

 Kebab Karaz Spice Baked Lamb Meatballs £8.50, served with a sweet and sour syrupy cherry and cranberry sauce, with cucumber yoghurt and pitta bread. 

After initially suffering from serious food envy, as everyone around me plumped for the Slow Roast Lamb Shoulder and their food came FIRST. Hmmmpph.
Such food envy meant I spent most of my time gawking at their food, with my mouth wide open and my eyes firmly on those juicy slices of lamb instead of shooting it with my camera. Ooops.
Though, I need not have been such a fat cat as I have to say my Spiced Baked Balls were the BOMB.
The s
weet and sour syrupy cherry and cranberry sauce was just riiiight. Not too sweet and not too sour, just how Goldilocks would have wanted it - and it sealed it's marriage with the lamb with a kiss.

Ice Cream Baklava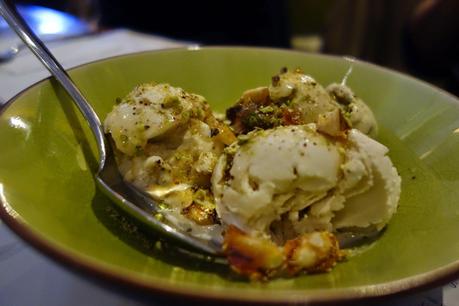 Yoghurt Walnut & Pistachio Cake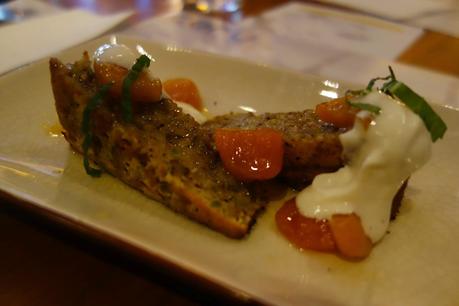 Dessert
Ice Cream Baklava - Pistachio Nut Ice Cream, Roast Nut Brittle & Burnt Honey Custard
Yoghurt Walnut & Pistachio Cake served with Vanilla Poached Apricots. 
These two desserts. Combined. YES. Please can I have some more? 
The food here was mind-blowingly delicious, affordable 
Ceru is an ideal place for friends as the portion sizes are generous enough for sharing. It also helps that the staff there are incredibly friendly and make you feel right at home.
Yummei's 9/10
  Quick head to Ceru before April before it disappears and goes galavanting around the country again.
Where?
Ceru
29 Rathbone Place
Fitzrovia
London
W1T 1JG