Mr Lancashire Food joined a walking group last year and one of the hot topics of conversation on the walks is cereal bars and flapjacks and the dubious quality of  the commercially available versions and also the expense of them.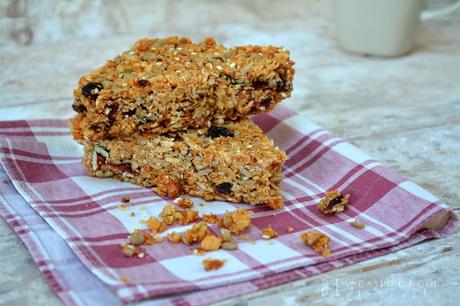 Quite a few of the walkers don't bake so over the last few weeks I have been sending Mr LF with parcels of different recipes. This one have proved the most favorite so far, making you own cereal bars is a much better idea as you know what ingredients are in your bar and also the cost per bar is around half what a commercially available bar retails at.What you need
225g oats

75g sunflower seeds

100g dried fruit (dates / raisins)

50g pumpkin seeds

25g sesame seeds

25g rice crispies

75ml vegetable oil

75g honey or maple syrup

50g light brown sugar
8" square tin (lined)
What you do 
Preheat the oven to 150c 

Place all the dry ingredients except for the sugar in a large bowl and stir until well mixed

In a small saucepan bring the vegetable oil, honey and sugar to the boil

Mix the honey/oil mixture with the dry ingredients and stir until everything is coated with the mixture.

Scoop into the prepared tin and press down firmly

Bake for 30 -35 minutes until lightly golden

Cool in the tin

Once cold cut into slices, squares or bars.
Serve to hungry walkers !