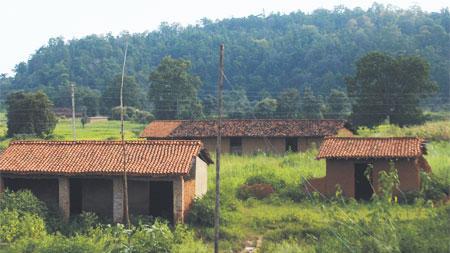 from World Bulletin
The tall, thin-trunked Sal trees that populate central India's Mahan forest are some of Asia's oldest. Spread over 1,200 hectares, the forest is home to several protected species, including sloth bears, a type of Indian gazelle, and leopards. Many of the local tribes depend on its natural produce. Below the forest floor lie coal reserves.
The prospect of exploiting those reserves is what enticed two multinational companies, Hindalco and London-based Essar, to form the joint-venture Mahan Coal. The forest sits in the Singrauli district of central Indian state Madhya Pradesh, which already provides 10 percent of India's coal and Mahan Coal plans to use the forest's coal for two more nearby power plants.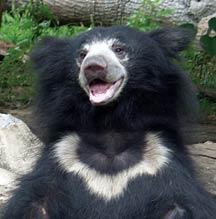 sloth bear
Those plans have not come without controversy. Local Singrauli tribes have teamed up with Greenpeace activists to protest the forest's destruction and in recent years, locals have visited state capital Bhopal and Indian capital New Delhi demanding both the State and Union governments stop the mining.
"We are ready to fight against these giant corporations. No one can stop us from protesting against them," says Kanti Singh from Amelia village, an area that would be affected by the mining. "We depend on these forests for our livelihood and these corporations have used their money and muscle power to get the permission for mining from the government."
Mining in the forest would lead to the felling of half a million trees, which are hard to replace because of their slow growth, in an area only 25 kilometers from a Tiger reserve and described in a 2011 report as "a viable and functioning ecosystem with minimal human pressures."
A letter written by India's former Minister for Environment and Forestry Jairam Ramesh in 2011, shared by Greenpeace India, highlighted concerns that Mahan Coal's plans would only provide coal for 14 years. "I am not entirely clear why such a good quality forest area should be broken up for such a partial requirement," Ramesh wrote.
The minister said the plans, which had initially been approved in 2006, could boost investment and economic activity in Madhya Pradesh but was also concerned clearing it would interfere with the ecosystem; lead to further coal-mining projects in the forest; and that the energy plants themselves would be polluting.
More than 50,000 people from the adjoining 18 villages are dependent on the Mahan forest for their needs and have their rights of ownership over the land, as well as to collect and use its natural produce, protected under the 2006 Forest Right Act — which ended long-established colonial forest laws. The establishment of the coal mines, the protesters say, means that in practice the government is not ready to give local residents the rights the law granted them.
Local activists claim the companies are heedless of the locals' dependency on the forests and have formed an organization called Mahan Sangharsh Samiti, which along with Greenpeace India is fighting Mahan Coal. At protests in early May, four Greenpeace activists were arrested and charged by district police with robbery, obstructing government work and assaulting a government employee.
"The companies are using everything they can to grab the forest. In a country like India, everyone is free to protest peacefully for their own rights," says senior Greenpeace campaigner Priya Pillai. "We are only favoring the locals whose lives are going to end with these forests."
Greenpeace India's head Samit Aich said in a written statement that "bullying tactics" were being used by Mahan Coal. "We are moved by the commitment of the community members and we are now even more determined to expose Essar's wrongdoings in Mahan," he said.
The campaigners claim the police walked into their accommodation during the night, questioned and then arrested four activists without providing a reason.
"The activists were preventing forest officials from their work after which they were arrested," says the area's chief administrator, M Selvendran. "The forest officials were carrying out a survey but they were stopped and threatened by the activists."
Since then, Greenpeace have increased the intensity of their campaign and on May 18 held solidarity events throughout India, and in other parts of the world, to raise awareness about Mahan. It has also called on India's newly-elected government to rescind the approval for the coal mines.
Final clearance for the mining project was given by India's government in February, despite official reports that suggest that it is detrimental to nearby villages; their fuel – wood, fodder, supplies and water are all found in the forest.
"We are totally dependent on these forests," says Kanti Kumar, a local tribe member. "Our source of livelihood is mahua and tendu leaf (minor forest produce used in India) which we collect and sell for survival. If you take away our forest from us then how shall we live?"