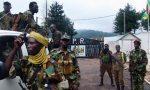 Seleka rebels. Picture courtesy The Guardian
This is yet another African state to fall under a UN mandate. Facilitating instability then playing the savior card through UN peacekeeping missions is becoming the trend for former colonizers and imperialist forces. If Africans are well aware of whose interests that UN really works for they should seek hard to get back as quickly as possible total sovereignty of the Central African Republic from the UN mandate.
France had already there a stationed military presence before the crisis. Francois Bozize's government fell in March 2013 toppled by the Seleka rebels whose leader is Michel Djotodia. Since the rebels who are mainly Muslim don't have wide support among the population [their national constituency represents only 20%] took power, instability increased between militia groups supporting different communities.
The former colonizer took the initiative to request from the UN additional international forces to support its own efforts to contain the deterioration of the situation on the ground. But it did it not necessarily in the best intention of helping the populations, but for its own economic, political and strategic interests. Central African Republic is a former French colony. It has gold, diamonds and uranium.
It is true that, even before his government fell to the rebels, the former president Francois Bozize who is currently in the opposition camp was fast to call for an increased presence of French forces to fight back the rebels. Another element that needs however being taken into consideration is the ongoing rivalry between the Americans and French on the African continent where the two imperialist nations compete aggressively, particularly after the end of the Cold War, either to maintain or gain influence in different parts of African former French colonies.
In most of these countries France has military presence on the ground; where this is not the case, there are strong military agreements of intervention in case of national necessity. For the Americans, the tactic has been to use their African Military High Command [AFRICOM] to train friendly African armies and deploy them in cover operations as UN peacekeepers with official humanitarian or stabilization mandates. For example the deployment of Rwandan and Congolese forces in Central Africa Republic that have been trained by AFRICOM teams of military experts is not necessarily aimed there at bringing peace as this is being claimed.
As we know, UN as an institution has rarely brought peace to Africa. Examples are rife: MINUAR in Rwanda during the 90/94 civil war, MONUC and MONUSCO in the Democratic Republic of Congo since 1999 until today, etc. All these missions operate in the ultimate and highest interests of some of the permanent members of the UN Security Council and their allies, this at the expense of civilians' security as pretext of intervention.
Please read HERE the full text of the 2127 UNSC Resolution for the Central African Republic UN mandate.