Today I have the pleasure to introduce on Center Stage Jeannette Katzir
She is someone who made me emotional after reading her book. I remember not immediately being able to say anything. I had taken a cursory look at the first page intending to read it later as I was just finishing a screen play and felt I should rest for a few hours at least. It was a mistake opening that first page. I was tired, needed to make dinner and I had Jeannette to thank for sleeping hungry and exhausted at the end of the read some eighteen hours later. My neck was stiff and I had lived through a thousand agonies of pain, fear, hurt and exasperation. In fact at the end of my reading I had to send Jeannette this short instant poem:
Channa. Just one bird, it flew the skies on one broken wing as her dream died at dawn unable to feel the heat of the sun the caress of the winds the soft murmur of a fresh spring for as a broken bird she flew the skies pain and fear through her soul Channa oh Channa.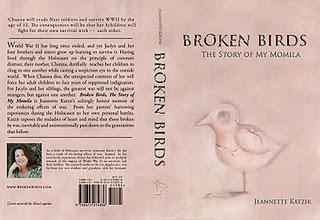 I am sure when I sent it to Jeannette she must have blinked and wondered what kind of person I am. I was that affected and immersed. Before I bring on my guest I would most earnestly recommend her book,"Broken Birds". To anyone who has been at the receiving end of injustice through racism. Let me share a few of the comments that this book has elicited, so you will know why you ought to get a copy soonest
" . . . The final hundred pages of "Broken Birds" are thrust and parry, insult and body blow. It's nasty, nasty stuff, and yet I didn't turn away. And not because I'm a voyeur; in that game, I'm an amateur. But stories are life, distilled; as a collector of stories, I'm All Pro, and so, I'd bet, are most of you. And when the storyteller is gifted, our capacity to hear them expands."
-Jesse Kornbluth,
The Huffington Post & HeadButler.com
" . . . Katzir's pacing was impeccable . . . I could not put it down from the first day I began reading it . . . I truly felt as if I, too was hiding from the Nazis and running for my life . . . [The] realistic portrayal of her beloved parents really
added depth and complexity to this memoir. . . "
-BookClubClassics.com
Let us now return to Jeannette, please enjoy the interview.
Please tell us a bit about yourself 
I'm a fifty-  plus year old wife, mother, grandma-ma, author, equestrian, photographer and travel-aholic.  I started seriously writing after my mother's death and haven't been able to stop. I'm putting the finishing touches on book #2 and am co-writing a children series with two of my riding buddies.
2.
Broken Bird is a very powerful story but it is a family story, is it personal? Your name is Jeannette and not the name of the author.
 It is a non-fcition memoir about myself and my family.  It can't come any more personal than that.
3.
You have explored several themes in the story, particularly about racism, and parenting, which one of the themes has impacted on you most? 
Being jewish in a predominately non-jewish world and suffering from the racism it invokes has instilled a wariness in me.    Parenting is something i have dealt with since i was old enough to care for my younger siblings.  It is something i enjoy, but not nearly as much as grand-parenting.  It has all the best parts of parenting  - with  none of the worry.
4.
Channa's story has made a very powerful impression, what would you say was the Achille's heel that finally defeated her?
I don't feel Channa was ever defeated, if anything the history of her youth and she herself were her worst enemies.  
5.
Parenting and family values also seem to have been given a lot of consideration in Broken Birds, both Nathan and Channa missed the point, didn't they and why do you think so?
 I think their time in the war jaded them, and although they both tried very hard, parenting didn't come easy to them.  
6.
Please why did you opt for Broken Birds as an Ebook? Is Ebook now gaining the upper hand over traditional publishing? 
Broken birds is available in both ebook format and as a paperback, but i think traditional publishing will go the way of the 8track.
7.
Who are your favorite Authors?
 DAN BROWN, JEANNETTE WALLS, KATHRYN STOCKETT AND J.K. ROWLING.
8.
You mentioned in your book that there grew a systemic denial of the holocaust, what is the situation now?
 I was in germany in 2005 and sadly found holocaust denial and anti-semitism  flourishing.
9.
Distrust, has had a devastating effect on Channa's marriage and ultimately destroyed a close knit family, do you think the story would have been different if Channa had received some counseling?
I don't know if counseling could have fixed her.  The demons that surrounded her were profound and ever present. When she died she carried those fears with her.
10.
Why do you call her Momila? What does it mean and signify?
 Momila is a Yiddish word for mother, it is a term of endearment and my mother was very dear to me. 
11.
What were the lessons you learned from the story of Channa?
 I learned that if you have children, and you do have a favorite try with everything you have not to show it.  And if you are going to be anything but fair in the handling of issues such as money, property, etc., don't be secretive, or leave the discoveries for a time after you're gone.  The children deserve to be told while you are alive so issues can be discussed.  If fairness is something you feel is unwarranted, at least tell the children to their face, because once you're gone they are left with an open wound and no way to heal it. (i am not saying you have to be fair, it is after all your right to do as you wish, but have the backbone to tell the child to his/her face).
12.
What genre of writing do you prefer?
Writing broken birds, the story of my momila, a memoir, was cathartic and i'm glad i wrote it.  My  second book is a fiction - and i have enjoyed writing it very much.  The children's book is also fictional and writing this one as a group effort is a lot of fun. If i had to select a genre, i think i only had one non-fiction in me, so i'd pick fiction as my favorite.
13.
Who would you recommend this book to? What has been the response to this wonderful book?
I would recommend this book to parents, so they'll understand the harm in favoritism. To grandparents, so they will know that if they leave money, property, belongings, remembrances  unevenly those left behind are left with a question in their hearts that will never be answered.  I also think anyone who wants to know what it was like to be the child of someone who suffered through such an atrocity would gain great insight after reading this book. Brothers, sisters, aunts and uncles or/and world war ii adicts would find it a fascinating read.
14.
Share your writing day with this blog
Unfortunately i wish i was able to write all day, but i can not, so i write whenever i have a couple of peaceful moments, sometimes very early in the morning and sometimes very late at night.
15.Please give links to anyone interested in buying Broken Birds.
 It is available on my website
www.brokenbirds.com
, on 
amazon.com
. 
Barnesandnoble.com
 and
smashwords.com
,.  A number of small bookstores also carry them on their shelves

.  
Thank you for coming on Center Stage.