The Boston Celtics just made a deal that nobody, in a million of years, would have thought have happened. They dealt forwards Paul Pierce and Kevin Garnett and guard Jason Terry to the Brooklyn Nets for forwards Gerald Wallace and Kris (Kardashian) Humphries, G MarShon Brooks, and a host of other players.
The only reason why his trade shocked the heck out of me because I thought that Paul Pierce and KG were going to retire in Celtic green. Pierce is one of the few players who has stayed with the same team for majority of whole career, and for him to be playing for another team is kind of mind blowing.
I think that Boston made this trade to start over. After the Celtics got bounced out of the NBA Playoffs in the first round by the New York Knicks, it was time for them to re-build. With the highly anticipated 2014 NBA Draft coming next year, it would make sense for the Celts to tank an entire season to get a shot at a top prospect like freshman Andrew Wiggins.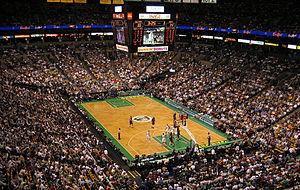 Photo of game between Boston Celtics and Miami Heat. (Photo credit: Wikipedia)
Do I think that the Celtics are dumb for making this trade? Absolutely not. As I stated, it is the perfect time for Boston to think about the future of the franchise. They have a great deal of talent that includes the likes of Rajon Rondo (for now), Avery Bradley, and Jeff Green. Besides, KG and Pierce are looking at their spectacular careers coming to a halt pretty soon.
As for Brooklyn, the trade is only a short-term benefit for the Nets. Adding the Big (and old) Three of Boston to the Nets will give the team a legitimate shot at taking down the two-time champions the Miami Heat. The problem is: the playoff run with this core will be short-lived. Before we can say that the Nets are the biggest threat to the Heat, we first have to see if the chemistry fits.
Let's look at the starting line-up with this new-look Nets:
G Deron Williams, G Joe Johnson, F Paul Pierce, F Kevin Garnett, C Brook Lopez, and G Jason Terry possibly playing the 6th Man role.
Yes, it looks great on paper. I wouldn't blame any one for placing them as a shoe-in for the Finals next season. However, we have to watch these guys play through a full season first before we jump to any conclusions. Plus, the older players (Garnett, Pierce, and Terry) have to stay healthy for an entire season, particularly for the playoffs. If they're healthy, this team will be hard to stop. If not, there will be problems…
So, for right now, it looks like the Celtics are rebuilding, while the Nets want to win right now.