WHAT IT IS:
CÉLETEQUE DermoScience™ Hydration Hydrolyzed Moisturizing Mist contains Hydrolyzed Liquids and NMF that restore moisture to the skin and improve its elasticity and softness. Water from Fuji has trace elements that rejuvenate the skin to make it feel more supple and refreshed. It can also be used over make-up.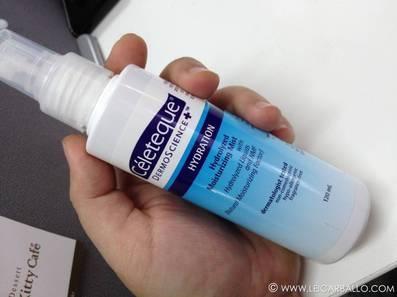 DIRECTIONS FOR USE:
After washing the face, spray the mist once or twice on the selected areas of the face and tap dry with a soft cloth. It is best to use before make-up or sunscreen application to moisturize and awaken the skin. Use as often as needed.

---

I got this product from
SampleRoom.ph
 last April and I've used it nearly everyday since then.
THE PRODUCT
I love that this product did not have any strong scent. It also comes in spray bottle which makes product application a breeze. It truly makes make skin feel more supple without the oily feeling. 
THE FEEL
It truly makes make skin feel more supple without the oily feeling. I'm also glad that it makes the skin feel refreshed after you spray on the product.
THE PRICE
I got this for free from SampleRoom.ph but its actual retail price is Php 349 for a 120 ml bottle which I think is pretty reasonable since it can last you for a couple of months or so.
---
THE VERDICT
: ♥♥♥♥♥
Overall, I think this product is really good. It delivers on its promise of hydrating your skin. I just wish it also comes in a smaller or travel-sized bottle which would be much more easier to take around. I would definitely consider buying this once my sample runs out.
---
DISCLOSURE:
The product reviewed was a sample from SampleRoom.ph. We do not do paid reviews. Statements made above were based on the author's personal experience and honest opinion upon testing the product.
---
XOXO,