False eyelashes add drama and intensifies an otherwise dull set of eyes. It has almost always been a must, especially for brides to wear natural-looking falsies to make her pre-nuptial and wedding close-up shots more glamorous. 
Ever since I got into make-up school, I have always preferred using lashes made of human hair and was constantly getting supplies from the local supplier our instructor shared with us who sold them for Php 50 a pair. But honestly, although these were made from human-hair, it still lacked the quality-control that most branded lashes go through, hence some would have uneven strands or the adhesive used to put them together were clumped on some parts.
I was pretty glad I stumbled upon this pair of Cala Eyelashes at The Landmark in Makati City.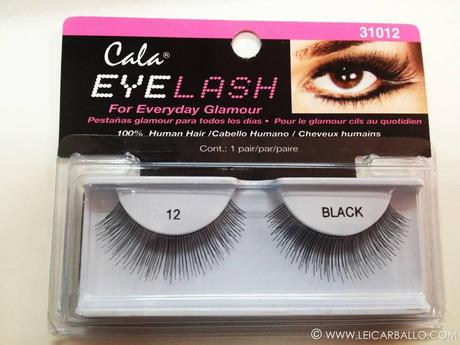 WHAT IT IS:Cala Eyelashes
(Php 149.50) are lashes made of 100% human hair. I chose the 31012 style, which was full yet subtle enough and perfect for the natural or bridal look.
HOW TO APPLY:
Measure false lashes against the width of the lash and trim if necessary. Apply a thin line of lash glue on the strip and let settle for a few seconds. Close eyes and press the strip gently to the lash line, starting from the middle then towards each end. Wait a few seconds to dry before opening your eye.
---
FEEL:
Since it's made of 100% human hair, it feels light and natural. According to it's lael, it's also suitale even for those who wear contact lens.
FORM:
I bought a few pairs and what's great was that their length and thickness was pretty consistent across all pairs. It is also perfectly curved so no need to heat and bend the strip prior to application. This was where cheaper ones would actually fail on comparison.
APPLICATION:
Applying the lashes was such a breeze given its shape perfectly hugs the curve of the lids. the strip also did not clump on any part so, unless you apply the glue unevenly, no portion of the strip would lift from the skin.
THE LOOK:
I just loved how full yet subtle the lashes looked. Perfect for the natural-look I was hoping for.
THE VERDICT: 
♥♥♥♥♥
Overall, I love this lashes and I have been using it on my clients! I've also gone back to Landmark a couple of times already and hoarded more pairs and styles. 
---
DISCLOSURE:
The product reviewed was purchased by the author. We do not do paid reviews. Statements made above were based on the author's personal experience and honest opinion upon testing the product.
XOXO,

---