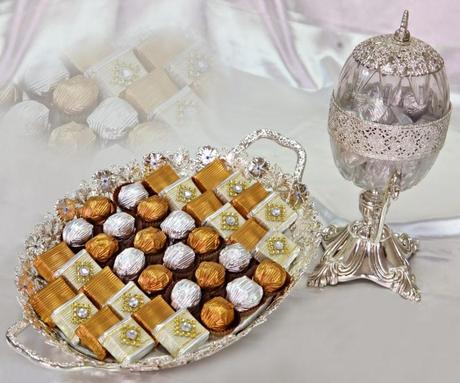 Silver Tray & German Silver Lamp
A sinful experience was on the cards when I was invited to a blogger meet at
Celeste Chocolate
. Having a sweet tooth, I was looking forward for this meet and who will not. Since it was a Saturday noon, I reached at their Ambience Mall Gurgaon boutique in time.
Celeste
is an artisan chocolate boutique with a legacy of one and a half a decade started by
Ms. Nidhi Bhagaria
. With three boutiques in Delhi NCR and forth one starting in a couple of months, Diliwalas will surely love to indulge in sinful pleasures.
Located on the first floor at Ambience Mall Gurgaon, the boutique is beautifully decorated with Victorian era props. It gives a warm and cozy feeling, perfectly suitable for a chocolate boutique. The shelves are packed with various gift packs which gives an impression that chocolate gifting has taken off in India and people are appreciating the finesse and artistry.
So coming to the real stuff. I tasted all the available variants. They were amazing, full of flavor and aroma. One could feel the real chocolate. I was told they hand-picked cocoa beans required for various flavors and the raw chocolate is prepared at their Wazipur factory. With over 150 variants in 9 flavors, they surely have something to suit every palate. The variants are inspired from the top chocolate destinations in the world like Belgium, France, Switzerland and the USA.
Celeste Chocolates
is more into custom gifting/orders and one make out from the intresting gift-pack donning the shelves. They also do High-Tea menus and are also getting into confectionery also and Nidhi had brought some of the samples like Chocolate Brownies, Walnut Brownies, Caramel Brownie, Baklava, Puffs, Flavored Nuts, Spinach Corn sandwich, Biscottini. I loved their caramel brownie. It was brilliant, full of flavor, not too sweet and soft. I was surprised, when Nidhi told us that they do 20 varieties of flavored nuts. They do 1000 kg of chocolates every day, which reminisce that they have a good client base.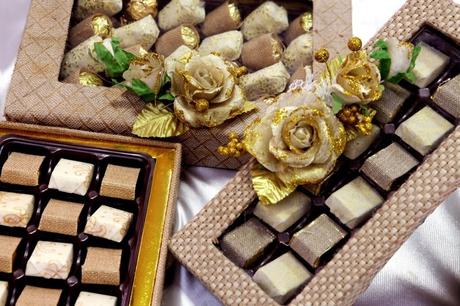 Jute Box with dates and chocolates rapped with silk and jute.
I was still awe inspired with so many interesting stuff and stories, Nidhi announced
that she will do the chocolates live. I was pumped up to see the master at work. She melted the chocolate bars and took out the raisins fermented in rum and some almonds. She dipped them in the melted chocolate, made the balls from it and put it on the tray for freezing. After some time, she asked everyone to taste them. I loved the almond rock and rum-and-raisin balls. One could make out the difference in aroma and taste of freshly made chocolates. It was simply brilliant.
With such sweet memories and a photo-op with Nidhi, I left the boutique with a promise to be back.
Website: www.celestechocolates.com