Celebrating gorillas at "the best Kwita Izina ever!" Rwanda's gorilla naming ceremony
Gorilla tracking is said to be a "once in a lifetime" experience yet I love this primate encounter more and more each time 💗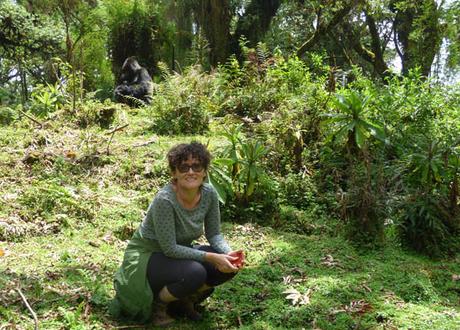 Oblivious to our presence, the Silverback mountain gorilla takes a snooze…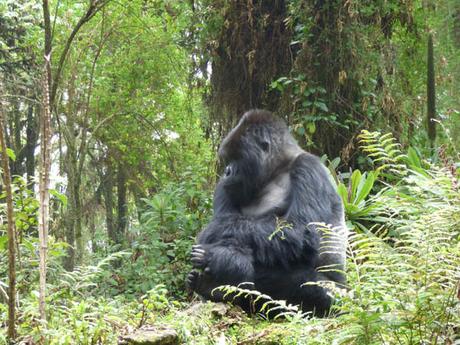 Did you know… if you track the mountain gorillas around the time of Kwita Izina, you can get a personal invitation to attend the gorilla naming ceremony?
Last week's mountain gorilla tracking was even more exhilarating than the last time – but I'll leave that story for another day. For now, imagine the calm here in Volcanoes National Park as a ranger guide watches a Blackback* male mountain gorilla …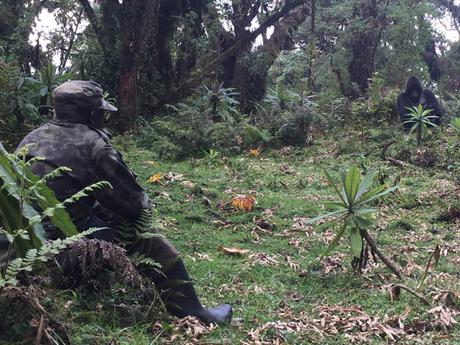 *A Blackback will one day mature to be a Silverback gorilla.
I have huge respect for the rangers, guides and researchers on the ground who protect these beguiling creatures (and the porters clad in overalls and gum boots who effortlessly help us track).
What is Kwita Izina?
During the first week of September every year, celebrities from around the world touch down in Kinigi, Volcanoes National Park, to name the baby gorillas born in the last year in Rwanda. There is nothing like this anywhere else.
From early morning, thousands of young Rwandese throng to the event site. They wait excitedly for their favorite musicians to perform for them live, free of charge. It's said 60,000 people attended Kwita Izina 2018!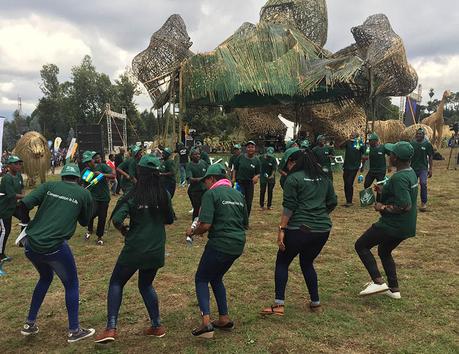 Dancers warm up the crowd at Kwita Izina. Behind them is the gorilla-shaped stage crafted from natural materials
The Kwita Izina gorilla naming ceremony is an opportunity to publicly thank the conservationists closest to protecting these great apes. It's also a global showcase for the country's tourism industry. Gorilla namers include Rwandan and international conservationists, sports personalities, renown philanthropists and diplomats. Read my blog from a previous Kwita Izina, in which I explain the derivation of the term and the history of its creation.
According to East African tourism expert Carmen Nibigira, this year's event was "the best event ever!"
Why is Kwita Izina such an important event for Rwanda and Africa?
Thanks to conservation initiatives like Kwita Izina, the Mountain Gorilla population in the Virunga Massif has increased from 480 in 2010 to to 604 in 2016 (results of last census). The Virunga Massif covers Volcanoes National Park in Rwanda, Mgahinga Gorilla National Park in Uganda, and the Mikeno Sector of Virunga National Park in the Democratic Republic of Congo (DRC). In 1981, Mountain Gorilla numbers had dropped to just 242 individuals, according to the Rwanda Development Board. (Results of the latest gorilla census are expected to show a further increase in gorilla numbers. However the species is still classed as Critically Endangered on the IUCN Red List).
Now in its 14th year, Kwita Izina has gone from being a one day gorilla naming event to a whole week of conservation and tourism related events. Tourism can be a powerful tool for lifting people out of poverty and Rwanda is pushing it at every level. One of the week's events is the two-day Conversation on Conservation (CoC) forum in Kigali which takes a strategic look at conservation in the country.
What were the highlights of Kwita Izina 2018?
My 11 hour bus journey from Kampala to Kigali was worth every minute. Here are a few of the amazing people I met in Rwanda.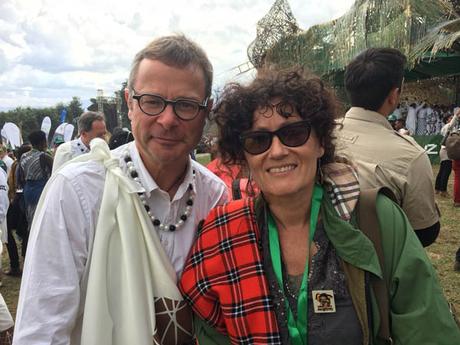 I couldn't resist saying hello to fellow Brit Hugh Fearnley-Whittingstall, one of 23 celebrity namers at the Kwita Izina gorilla naming ceremony. I've always been a fan of his TV shows and environmental campaigns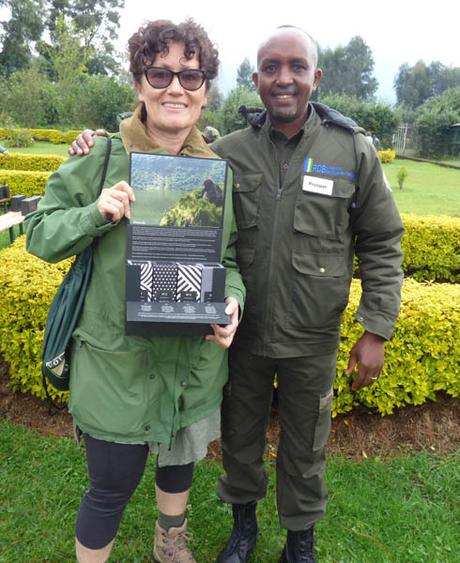 Prosper Uwingeli is the Chief Park Warden of Volcanoes National Park in Rwanda. Here I'm proudly holding my box of Rwandese tea 🙂
Prosper was very helpful when I was researching the ecotourism guidebook "Walking with the Gorillas" published earlier this year by Horizon Travel Press.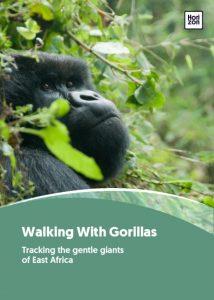 Click on this graphic to download a free copy of "Walking with the Gorillas." I was lead writer / researcher on this ecotourism guide. Contributors: Dr Gladys Kalema-Zikuosoka, Ian Redmond OBE and Emmanuel Bugingo
Did you know … trackers are now given beautiful presentation boxes of tea or coffee – Rwandese of course! (These replace the certificates we used to be given). Gorilla tracking in Rwanda now costs a whopping $1500 per permit as Rwanda pitches the country as a high-end tourism destination.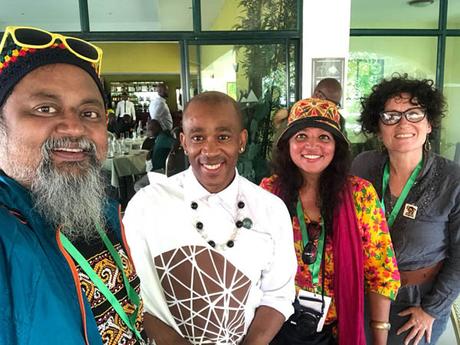 The South African duo Mafikozolo performed live at the Gala Dinner held at the Lake Kivu Serena Hotel in Gisenyi. Theo Kgosinkwe was one of the gorilla namers. (Thanks to Priya and Mallick of Red Scarab for letting me photobomb their moment with him!)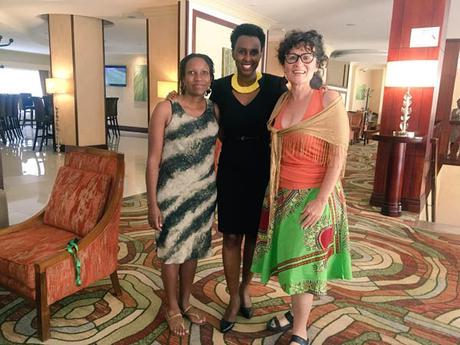 It's always a pleasure to see the tourism dynamo Carmen Nibigira (middle). Susan Muumbi (left) from the East African newspaper has been a wonderful travel companion from one corner of Rwanda to the other! Photo taken at Kigali Serena Hotel
Susan and I watched three lions in Akagera National Park, ate Sambaza fish on Lake Kivu, survived the jaw-dropping canopy walkway in Nyungwe Forest, and enjoyed a thrilling gorilla tracking experience with the Titus gorilla family.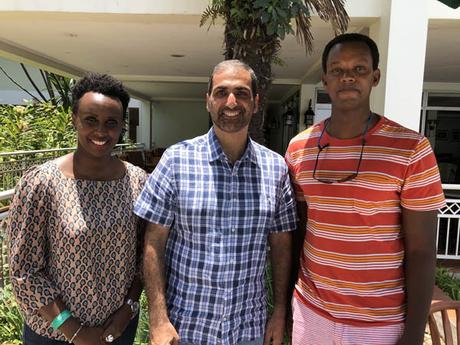 I had the honor of meeting His Highness 'The Green Sheikh' Abdul Aziz al Nuaimi (centre). To the right is Dr. Edwin Sabuhoro of the Parks, Recreations and Tourism Management. Thanks for the introduction Carmen Nibigira!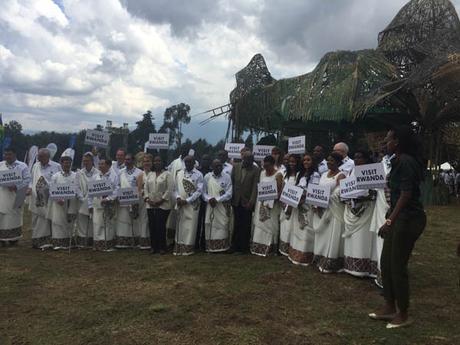 The 2018 gorilla namers with Belise Karisa, Chief Tourism Officer of Rwanda Development Board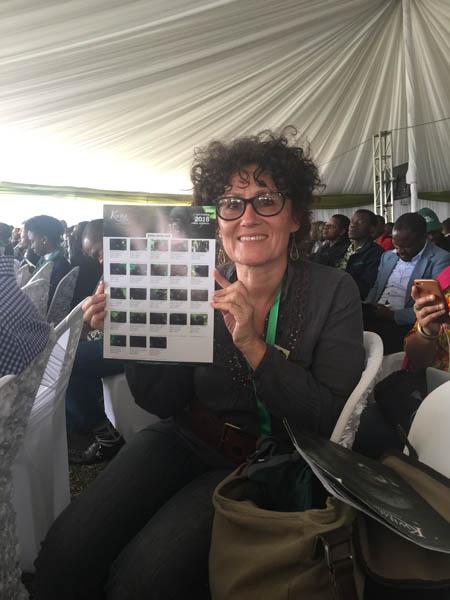 As each namer takes the stage, they read out the gorilla baby names in Kinyarwanda and English. It's fun to try and record the names on these Baby Name Cards
Anyone can get a flavor of the Kwita Izina by visiting Vecotourism.org – one click and you are virtually there!
Here's a full list of 2018's gorilla namers. Information courtesy of RDB.
– His Highness Sheikh Dr. Abdulaziz Ali Bin Rashid Al Nuami, the 'Green Sheikh', has dedicated his life to traveling and environmental stewardship.
– Dr. Noeline Raondry Rakotoarisa is the Program Chief of Capacity Building and Partnerships Section for UNESCO/MAB (Man and Biosphere).
– Madame Graca Machel is the former First Lady of South Africa and Mozambique. She is an international advocate for women's and children's rights.
– Aliaume Damala Badara Akon Thiam is an American singer, songwriter, businessman, record producer and actor of Senegalese descent.
– Samba Bathily is a Malian philanthropist, He is CEO of Solektra International and co-founder of Akon Lighting Africa with Akon and Thione Niang.
– Alexandra Virina Scott is a retired English footballer who played as a right-back for Arsenal Women. She made 140 appearances for the English national team and represented Great Britain at the 2012 London Olympics.

Arsenal Football Club's players will sport the VisitRwanda shirt sleeve starting from the 2018/19 season for three years. Photograph: Arsenal FC

– Laureano Bisan Etamé-Mayer, commonly known as Lauren, is a retired Cameroonian footballer, who played for the Cameroonian national team and Arsenal FC.

– Strive Masiyiwa is a Zimbabwean businessman, entrepreneur, and philanthropist. He is the founder and executive chairman of telecommunications, media and technology group Econet Wireless and Econet Media. Click here to read his great Facebook update about his experience at Kwita Izina.
– Adrian Gardiner. South African Adrian Gardiner is the founder and chairman of Mantis, a family-run collection of privately-owned hotels, eco escapes and lifestyle resorts, with a large presence in Africa.
– Michael O'Brien-Onyeka is the Senior Vice President of Conservation International for Africa, a non-governmental conservation and sustainable development organization.
– Thomas Krulis is the Coordinator of Young Presidents' Organization (YPO) and CEO, Loto Investments.
– Hong Liang & Xinyu Zhang. The celebrity couple host the popular online travel programme 'Lu Xing' (On the Road).
– Hugh Fernley-Whittingstall is the Vice President, Flora & Fauna International UK. He is an English celebrity chef, television personality, journalist, food writer and campaigner on food and environmental issues.
– Peter Riedel is the President and COO of Rhode Schwarz International, an electronics group specialized in the fields of electronic test equipment, broadcast & media as well as cybersecurity.
– Alexa Gray represents the Gordon and Patricia Gray Animal Welfare Foundation (a supporter / donor for the VNP Expansion Program through the Africa Wildlife Foundation).
– Michael Wale is the Group CEO of Kerzner International, a company that develops and manages luxury resorts, residences and entertainment resorts.
– Ambassador Peter H. Vrooman, US ambassador to Rwanda.
– Olusegun Obasanjo, former President of Nigeria. (What a wonderful speech!)
– Theo Kgosinkwe and Nhlanhla Nciza. The duo, known as Mafikizolo, are three-time winners of the South African Music Award for Group or Duo of the Year.
– Rao Hongwei is the ambassador of the People's Republic of China.
– Odette Nyiramongi is the proprietor of Paradis Malahide Resort, an eco-friendly hotel in Rubavu.
– Judith Kakuze, a former porter at the Volcanoes National Park, is now on the Advisory Committee of the Volcanoes National Park Porter Association.
– Jeannette Uwiragiye. In 2017, Jeannette graduated as the best female student in the Department of Forestry Conservation, IPRC- Kitabi.
I always come away from Kwita Izina inspired. Rwanda tourism knows no bounds.
A big shout-out to every one at Rwanda Development Board for attending to every little detail of our superb tour of what some call the 'Singapore of Africa.'
A special thank you to Rosemary Mugambi and everyone at Serena Hotels who hosted us at the Kigali Serena and Lake Kivu Serena. Your fabulous facilities were a real treat.
#KwitaIzina2018 #VisitRwanda
Have you tracked the mountain gorillas? Have you attended Kwita Izina? What were your impressions?
« Airbnb Africa Travel Summit starts drive to spread tourism benefits to locals