First of all, my thanks to Terri Giuliano Long, author of In Leah's Wake and the upcoming Nowhere to Run, for hosting Celebrating Bloggers 2013.
Blogging & Bloggers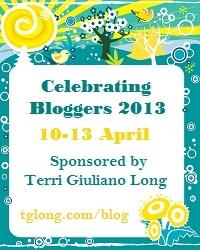 The first advice I would ever give to an aspiring author is to start a blog. The world of blogging is such a vast and multitudinous one that you will struggle to find things not to write about. For me, blogging gives me the opportunity to still write but have something of a break from the world of fiction. I can put a WIP aside for a few hours and blog about whatever takes my interest. I'm still writing. I'm still doing what I love but that freedom of expression in a myriad of forms curtails any risk of me losing my passion for writing.
Over the last few years I've blogged about books, games, films, top 10 features, my cats trying to kill me (true story!), the standard stuff really, but it never becomes boring for me. These days I have somewhat limited my book reviewing. Books are still a great passion for me but it's good to just enjoy them rather than always going through with a critical eye. I can't pack up my judgment side when it comes to films and games though. They remain on my review list and you'll find that films in particular are a regular feature on this blog.
I do believe that blogging prevents the onset of writer's block. I have struggled with books in the past but I've never had a dry spell when it comes to blogging. Writing a review may not have the same creativity as depicting a fantasy world or writing a tragic love story in 19th century England but it is comforting to me to still be writing. Blogging has helped keep me fresh and the more variety I have the better I feel. Mental fatigue plagued me with the completion of my latest novel but a switch to blogging was like an adrenaline injection. The change of scene was always the boost I needed.
This leads me on to another aspect of blogging which is the amazing book bloggers themselves. I've experienced the author/book blogger relationship from both sides and suffice to say there are good points and bad. Thankfully, the good shines brighter than the bad. What frustrates me with authors is the small minority that treat a book blogger disrespectfully. Many approach book bloggers with this belief that they are doing the blogger a favour by offering a copy of their book. Newsflash, it is always the book bloggers that do authors a favour by giving up their precious time.
Many book bloggers receive more than ten review requests a day, leading to more than 3,500 book review requests in a year! When you think of it like that it's hardly surprising that bloggers have to decline books but what is remarkable about so many is that even if they cannot fit your book in for a review, they'll often bend over backwards to try and promote you and your work in another way, be it a guest post, interview or excerpt opportunity. It is the duty of writers to appreciate the hard work book bloggers put in each day and voluntarily as well. If they did earn an hourly rate they'd all be millionaires in no time given the amount of time devoted to their passion.
Finally, I'd like to hail book bloggers for their amazing memory capacities. No matter how many hundreds of books they may have reviewed you'll struggle to find a blogger that doesn't remember you or your work. As an author, the important thing is to ensure that a book blogger remembers you for the right reasons. I've had bloggers review all of my books, just one, or none at all but I treat them all the same. Any blog I have featured on for whatever reason, I make a habit of going back and sharing a post. It's a tiny gesture given what I've received but to me it is an acknowledgement, a salute and a thank you, my way of saying I haven't forgotten you or what you did for me.
Blogging is a writer's safe haven from writer's block and one dimensional writing, while book bloggers will remain an author's best friends and the difference between success and obscurity.
Giveaway
a Rafflecopter giveaway
The rest of the hoppers!
Celebrating Bloggers 2013 | Thank you for reading Tweedle Dee and Tweedle Dave