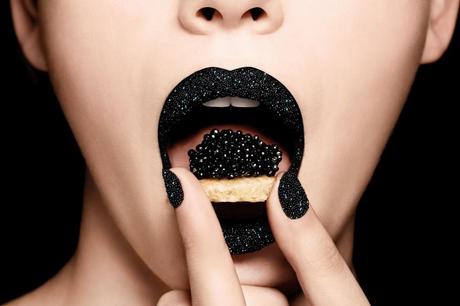 Caviar isn't only something you eat anymore, it is something you wear on your nails… supposedly. I have seen plenty images of this "caviar nail" all over the internet, and I figured it is my turn to voice my opinion. Ciate created this type of 3D polish technique, and it quickly spread to finger tips of polish addicts everywhere.
Don't get me wrong, I love having a fun and different manicure, but I personally think this is just taking it to far. I will do a fancy manicure with some designs and such, but sitting for 20 minutes to let little beads dry onto my nails just seems like too much work. Especially since the result isn't all that fabulous. Maybe I am missing something, but I simply just don't see the appeal of a fish egg inspired mani.
I want to ask you guys, do you hate it or love it?
P.S. for those of you who are obsessed with this look and feel it is an absolute must… do me a favor & don't spend $25 bucks on the stuff. Go to Michael's, grab some of these beads, and follow the directions on the Ciate website (also seen below).