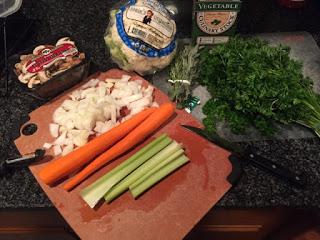 I was on Facebook the other day, and someone posted a video on Delish of a stuffing that caught my eye.  For one, it was breadless. We all know how easy it is to over eat at the holidays, so this piqued my interest.  While it wasn't vegan, it was easily adaptable, so I decided to whip some up to bring to my parents' house as one of my contributions to this year's holiday meal.
The base of this recipe is cauliflower, but mushrooms play a pivotal role in making this feel a bit meatier (pardon the irony.)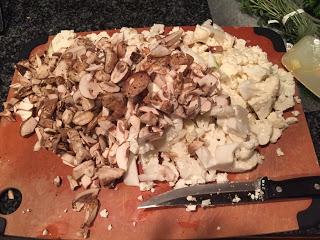 Here is the recipe, replacing regular butter for vegan, and vegetable stock for chicken.  When I reheat this before serving, I will also be adding a half cup of chopped, roasted chestnuts...
You will need:
4 TBSP vegan butter
1 onion, chopped
2 large carrots, peeled and chopped
2 celery stalks, chopped
1 small head cauliflower, chopped
1 c. chopped mushrooms
kosher salt
Freshly ground black pepper
1/4 c. chopped fresh parsley
2 TBSP chopped fresh rosemary
1 TBSP chopped fresh sage
1/2 c. vegetable stock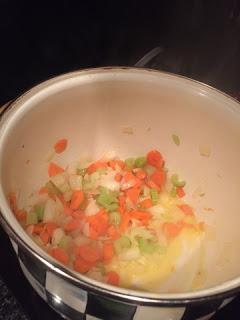 In a large skillet over medium heat, melt butter.  Add onion, carrot and celery and saute until soft, 7 to 8 minutes.
Add cauliflower and mushrooms and seson with salt and pepper. Cook until tender, 5 to 10 minutes more.
Add parsley, rosemary, and sage and stir until combined, then pour over vegetable broth and cover with a lid.  Cover until totally tender and liquid is absorbed, 15 minutes.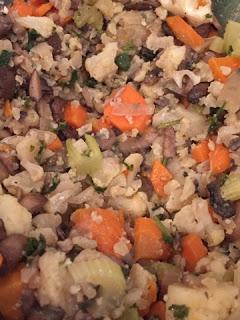 Serve and enjoy!
If you're looking for one more idea, I picked up two packages of shredded brussel sprouts and 2 granny smith apples.  I am going to sautee them in a little extra virgin olive oil with chopped yellow onion, and then sprinkle with pecans and maybe a drizzle of maple syrup...I am getting hungry already! 
Wishing you and your loved ones a wonderful holiday and much for wish to be thankful,
Yonni (a.k.a. The Trendy Vegan)