My sister is a big fan of Chinese food. We both can smell Chinese food from miles away… I am not a big fan, but yes, the smelllll, its divine!! Plus my family loves it. So cooking Chinese on a Sunday evening is perfect.
It's been long that we had Chinese, and being vegetarians, we are only left with some options. And when Indians try some other cuisine, they make it their own. They make everything more of Indo – cuisine, rather than just the cuisine :P.
I didn't want to make the regular vegetable Manchurian, so the cauliflower came handy!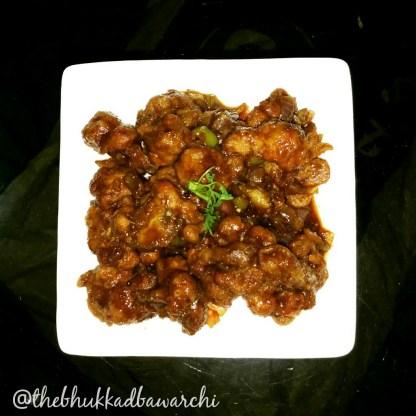 The recipe and the sauce are both very easy to prepare and turn out to be yummy. It is not as spicy or nor too sweet as served on the streets. However, if you like your food spicy you may add a little more of ginger garlic paste and some more chilli sauce. This Cauliflower Manchurian makes for a good starter/side dish or snack. Tastes heaven solely and even better with fried rice. Some beverage with Chinese is always better. Try my recipe for Choco Oreo Delight with Cauliflower Manchurian for a perfect meal.
Ingredients:
1 mid-size cauliflower
Oil for shallow frying
Spring onion green for garnish (I used coriander)
For the batter
1 cup all-purpose flour
4 tbsp. water
3 tbsp. corn flour
1 tsp. ginger garlic paste
1 tsp. soy sauce
1/2 tsp. salt (as per taste)
1/2 tsp. black pepper
For the sauce
1 capsicum chopped
1 spring onion finely chopped (I used onion)
2 tsp. ginger garlic paste
1 green chilly finely chopped
1 tbsp. soy sauce
1 tbsp. tomato sauce
1 tbsp. green chilli sauce
1 tbsp. red chilli sauce
1 tbsp. water
1 tbsp. cooking oil
1/2 tsp. salt (or as per taste)
1/2 tsp. black pepper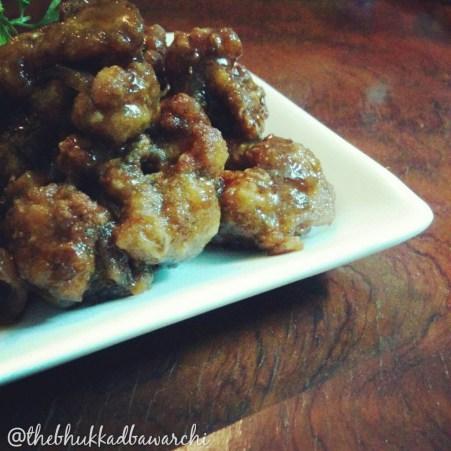 Method:
Cut the cauliflower into bite sized portions and wash them. Pat dry the bite sized portions with a towel. In a big bowl, take the flour, corn flour, ginger garlic paste, soy sauce, salt, pepper and water. Mix all these ingredients to make a batter of dropping consistency (add a little water if required).
Add the cauliflower florets to the batter and make sure that all the florets are covered with batter. Refrigerate this for at least half an hour.
Heat oil in a frying pan and take the florets out of the refrigerator. Shallow fry all the florets until they are crisp from the outside (do not fry the florets much in advance as they might turn soggy). Place them on kitchen tissues to remove the excess oil.
Keep all the fried florets aside and heat a pan over medium heat with cooking oil. Add onion, capsicum, ginger garlic paste, green chilli and stir fry it for 2 minutes. Add soy sauce, tomato sauce, green chilli sauce, red chilli sauce, black pepper. Add water and let it simmer for 5 minutes. Now turn the heat off, add the fried florets and coat them with the sauce properly. Put into serving dish and garnish with spring onion greens (I didn't have spring onion, so I used coriander sprig for garnish – the Indo – Chinese touch :D). Serve hot as a starter or with fried rice.