As far as I can remember, there was always a cat in the house or nearby. Besides the entertainment or the attachment one can find in an animal, I was always fascinated by their feline beauty and their ability to ... put elegance in Laziness. Nothing is more important than enjoying resting time. Here is below a pastel I did from a picture. Traveling in a Mediterranean country, along the docks of a little port, I saw this fellow nesting on a boat protection. I was wondering at the time what natural catastrophe could make this cat open its eyes...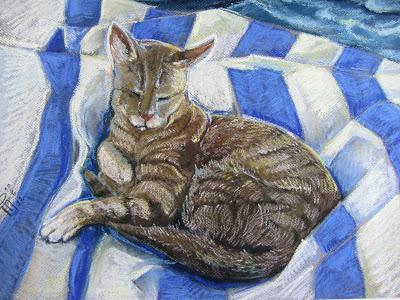 Resting... 
  Here is a cat which will be familiar to people living around Ranelagh Road. We often have the visit of this British shorthair. Naughty, unfriendly, but I love its gray fur.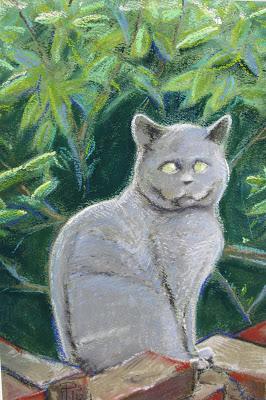 The Neighbours' cat
More cats might appear on the blog, as it's a subject enjoy, from times to time... And, as I like them, I keep finding them on my way!
***
   I also have interest in Figure drawing, and this demands study. Since last winter, I try to attend a Life drawing class once a month. Nothing for December, nor January... Too busy... But could attend one yesterday! Here is a compilation of the work done during this session: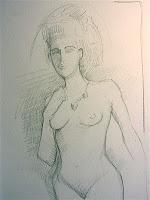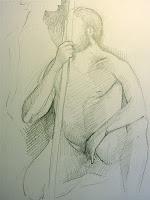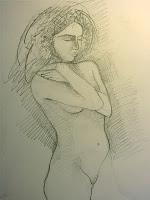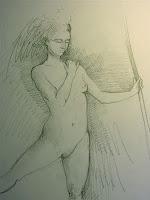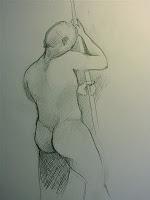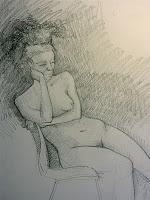 Not all sessions are as productive, and a lot is relying on the focus we can put in expressing the position, what we observe. The time is never as long nor as comfortable as it is with a Photography. But excellent exercise!!