Hey. It's Mothering Sunday here in the UK. I wrote this yesterday, cos right now I'm probably busy drinking a cup of coffee in bed and admiring my cards - no doubt glitter, pritt-stick and felt-tip heavy. There might even be some over-buttered toast and a macaroni necklace. It will be lovely.
I'm pretty certain there will be none of the items I mentioned in the post title. But I do feel I have to share this website, just in case you don't like your mother/MIL. And forewarned is forearmed. It may be an idea to set parental controls on the computer now - I know my mom was happier the year I bought her a Fry's Turkish Delight with my pocket money than the time I purchased a hideous mock ivory figurine of a cartoon housewife clutching a trophy, engraved with the legend 'World's Greatest Mum'. [It was the 80s, I bought it from the corner shop. Possibly only beaten by the occasion I bought my dad a 'Male Chauvinist' pig shaped soap for Fathers' Day. I didn't know what it meant, it just occupied a vague 'male' space in my mind, along with things like cricket boxes and that weird springy chest expander thing that he kept at the back of the wardrobe.] One day your children will have spending power and the internet.
Anyway, if like me you take perverse pleasure in reading those adverts at the back of Sunday supplement magazines - send no money now, simply enjoy displaying this limited edition Catherine, Duchess of Cambridge plate, with regal gold accents - then you should be in your element when browsing The Bradford Exchange. "Forty years of innovation, artistry and design" - plus they've kindly added a 'Mothers' Day Gifts' section to their site, so it's all there for me in three convenient pages.
'FLOWER OF WALES' PATRIOTIC LADY FIGURINE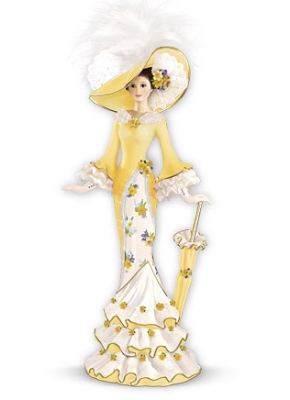 Apparently the 'flower of Wales' is Catherine Zeta Jones dressed as Eliza Doolittle, lovingly cast in 'artist's resin'. Personally my choice would be Ruth Jones dressed as Rizzo from Grease - that really would be "a marvelous display from any angle!", but until a designer of granny-beloved knick-nacks shares my vision, then I'll have to settle for CZJ.  After all, "it goes without saying that you are deeply proud of your heritage! Now you can honor your great country and commemorate its courage, beauty, proud identity and history with an exceptional first-of-a-kind treasure".
Oddly enough, they seem to have used CZJ as their model for the English Rose, Wild Irish Rose, and Flower of Scotland figurines too, but only the Welsh version is deemed a suitable Mothers Day gift. I'm off to stick a daffodil in my hair.

'MOTHER'S WISHES OF LOVE' PERSONALISED MUSIC BOX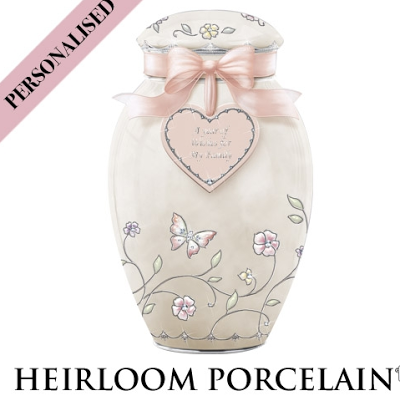 It has swarovski crystals and faux jewels! It plays the 'heartfelt melody' of 'You are the Wind Beaneath my Wings'! It can be expertly personalised with the names of up to six loved ones! It looks like a funeral urn!
It also comes with a certificate of authenticity. Just in case you were worried that someone might ask you to prove that it really is a hideous music box? 
ULTIMATE DISNEY CLASSIC CHARM BRACELET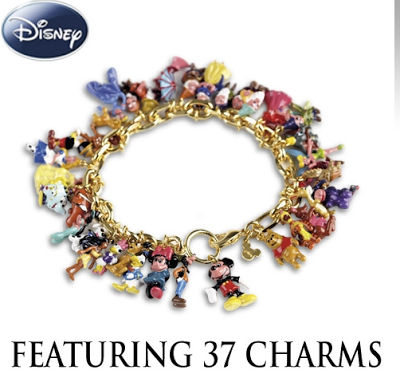 I would love this from one of my boys, and wear it proudly. If they'd won it for me on the pier at Brighton. If on the other hand they'd paid five instalments of £29.99 for this 'charming masterpiece' with 'lavish 24 carat gold plating', I'd think I'd failed in my duty as a mother. [£149.99. Are they serious?!]
OUR FAMILY IS A CIRCLE OF LOVE - PERSONALISED BIRTHSTONE RING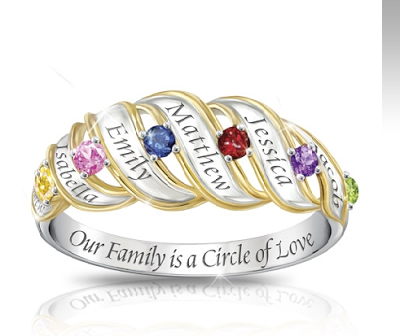 Ok, so this kind of overly sentimental design isn't to my taste. I appreciate others might like the idea though. And what mom doesn't think of her children as precious gems? Oh, except the 'free personalised birthstones' are all cubic zirconia and it still costs a hundred quid!
I'm not sure The Bradford Exchange has an exact grasp of what Mothers' Day actually entails. Why would you give your mother a bracelet engraved with 'Always my daughter, now too my friend'? Or a 'My Daughter, I love you' music box? Still, either of these would be preferable to ANOTHER BLOODY BABY. Are they insane? If you are a mother, you've had/are having these precious moments. With an actual real child. That one that destroyed your peace of mind/ability to wear crop tops forever.
OLIVIA'S GENTLE TOUCH BABY DOLL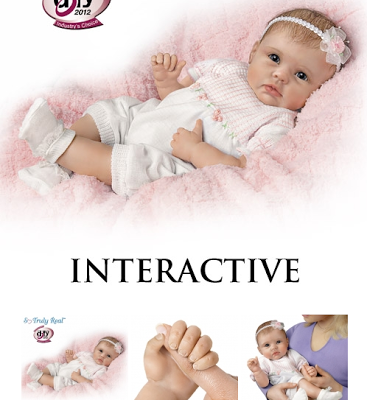 "Few memories are as precious as the first time your baby responds to you by wrapping her tiny hand around your finger. Now this lifelike baby doll allows you to recapture this tender moment whenever you wish!"
£149.99 and they can't even throw in the two AA batteries required? Mind you, if I'd had the choice I'd probably have utilised an off-switch on my boys more than once...
I hope you all have a lovely day, whether or not you can be with your own mom. I'll leave you with my favorite royal items from The Bradford Exchange - who among us can forget the glorious day that Christine Bleakley wed Christopher Walken?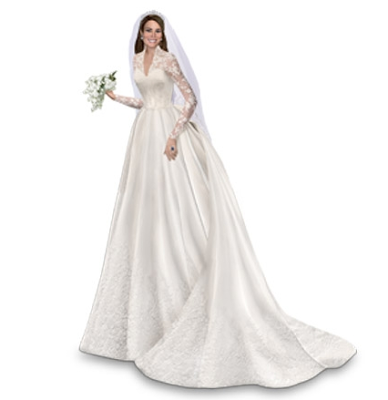 Christine Bleakley. On stilts.£29.99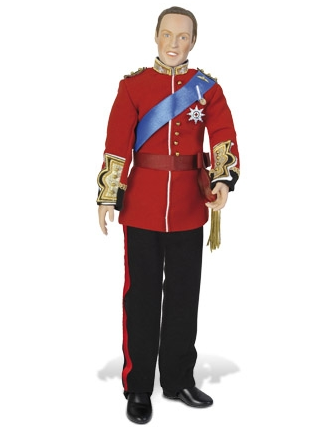 Christopher Walken, Prince of the Realm£149.99
But be quick, there's just 95 casting days for the bride figurine - and the factory only churns out 10,000 a day!
Lakota x