Simple or Dramatic, Cat Winged Eyes is my Signature Style (if you know what i mean). I am hardly seen without my eyes lined, whether i do subtly or over dramatic depends on the place and occasion am heading to. As mostly i go taking my kid around, i keep it simple and classy. A mom needs to be that!!But when am meeting my BFF's or catching up with my old friends, i like to notch up a bit and take it to next level of drama. Yes, believe me am a Drama Queen too like you *.*But often choosing the right lip color for the Cat Eyes is the hardest part they say. I say, pick any color just tweak its shade a little up or down to get that desired look! After all you should feel pretty to yourself too, so wear what you like to!!And for me i did try quite a few colors and today am showing you some. So here's the Lip colors i paired with my Cat Winged Eyes  ~


*~ Subtle ~*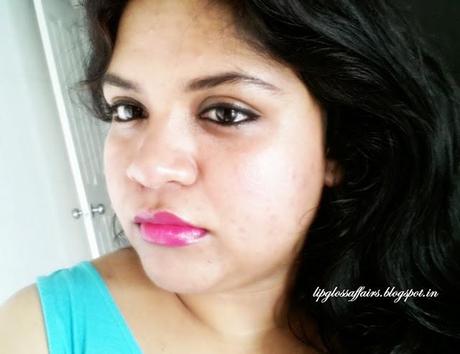 I have Karadium Lip Tint Stick in Lilac Pink on my lips here. As the color was bright and playful, i kept my eyeliner simple just giving that extra depth adding the Kajal/Kohl.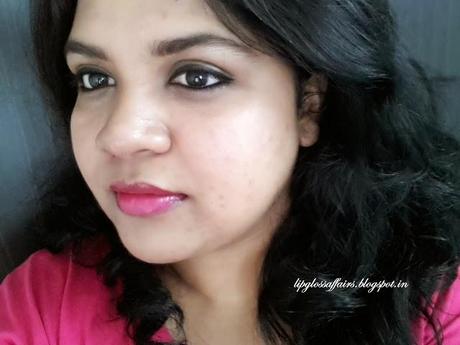 I have Etude House 55 Kissfull Tint Chou in Color Tone : 2 here. The color is a lovely glossy pink. Though the gloss fades over time, the tint remains and its rich pink color. So again, i kept my winged eyeliner simple with good lining of Kajal/Kohl.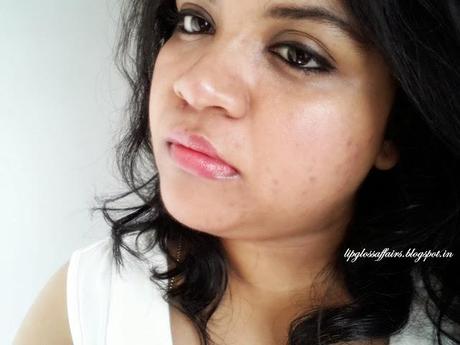 I have Karadium Lip Tint Stick in Orange here. Orange often tends to wash me out a bit and make me look more tanned than usual but i do like it. And this subtle orange gives out a feel of tanned skin which reminds me so much of holidays and summer. So again i kept my eyes simple with subtle winged eyeliner and lined with Kajal/Kohl eyes.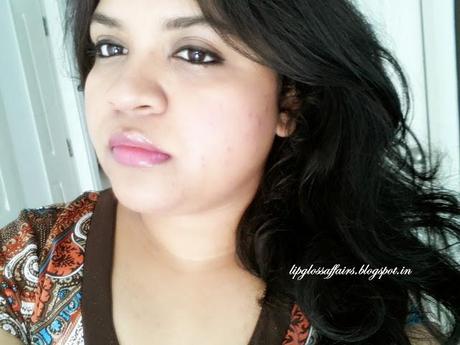 I have Karadium Lip Tint Stick in Apple Green here. Don't be alarmed reading Apple Green, the stick is in Green color but when applied it gives out the most natural pink color which almost can be mistaken to the natural color of the lips. While i could still opt for a little dramatic winged eyeliner look here, i again opted for simple one. Keeping both the eyes and the lips simple, gave out a very natural and close to no-makeup look. I like that!! And again i did finish it off with Kajal/Kohl tight lining the upper and lower lash lines.


* ~ Dramatic ~ *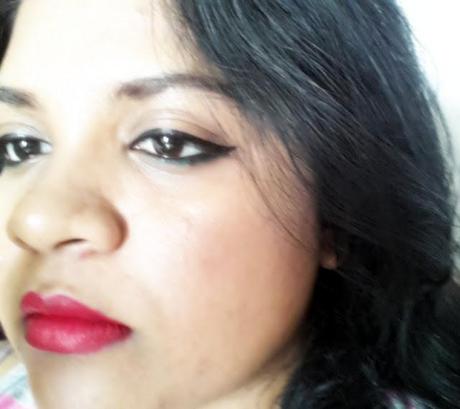 I have Rimmel London Kate Moss Lipstick in shade 22 here. Its a gorgeous bright red lip color which is creamy and has a soft look rather than glossy and into the face kinda feel. So i notched up my winged liner a bit for that Glam look here. And except for tight lining my upper and lower lash lines with Kajal/Kohl, i kept the rest all minimalistic.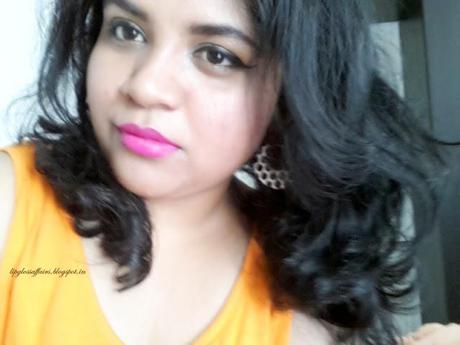 And the last one for today, here i have Rimmel London Kate Moss Lipstick again in shade 20. Its a bright pink color with undertones of blueish lilac. Its kinda pop of color so i did add that extra length to the winged eye liner here but opted out of using Kajal/Kohl.
So those were my cat winged eyes with various lip colors!! What do you think was the best? Or what should i have opted for in lipcolors for simple or dramatic??Am yet to try other styles in Cat Winged Eyes. What about you?? 
 ♥ Sangy