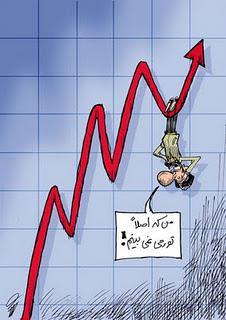 "I see no inflation", by Nikahang Kowsar
As it was predicted by the experts, the subsidy reform planned by Ahmadinejad's government will be revised, Deutsche Welle says. Ahmadinejad had called those reforms "the country's biggest ever economic plan", although he was warned by the Iranian economists that the country will face huge problems, if Ahmadinejad would fulfill his plans.

Seyyes Emad Hosseini, an Iranian MP an the spokesman of the energy committee of the parliament to Shargh newspaper, that this committee has suggested the government a new plan.
Why the plan didn't work
On the one hand, many families couldn't pay the water, electricity and gas bills, which has caused the failure of  realization of anticipated revenues by the implementation of this law. On the other hand, the cash injection has caused a rise of inflation.
Easy for experts to predict, hard for Ahmadinejad to listen and think! I think, Ahmadinejad is able to think and understand. He is not that stupid, he just loathes real experts.