There is nothing better than chilled flavored milk in this hot summer days. No matter how much ever cold substances we consume we are still craving for more.Personally if I am allowed I would love to skip even regular meals and live on cold liquid diet on hot sultry days :)Flavored milk is a great way to make children drink their milk.Carrot milk is something I grew up with,my mom used to make absolutely yummy drink that we would feast up on. Today I took her much trusted recipe and made few modifications and added few ingredients and it was a winner. Carrots and dates along with almond and cashews with cinnamon steeped milk makes such a tasty drink with sweet earthy nutty flavors-all in one  What would be the better way to add carrots and dates in our diet other than having it as a cold yummy treat,just try this for once and it would leave you wanting more :)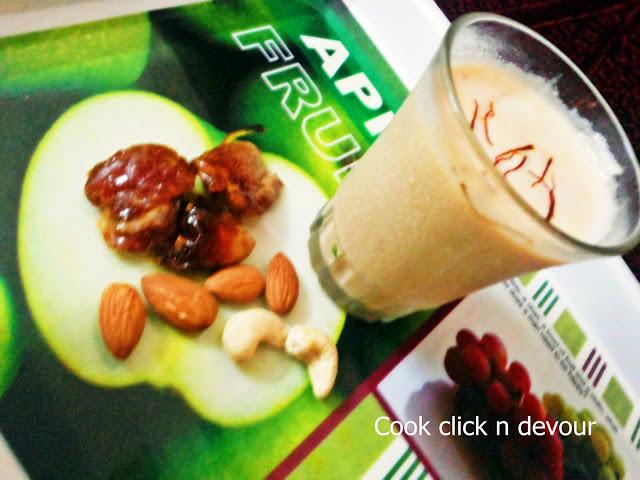 Ingredients:
3 cups whole milk
1 carrot
4-6 pitted  dates
10 almonds
10 cashews
1 small piece cinnamon
1 large cardamom
2 Tbs sweetened  condensed milk
2 tsp sugar or honey
Few strands of saffron
Method:
1.Pressure cook carrots and dates up to 3 whistles.Soak almonds and cashews in warm water for 30 minutes. Once pressure is released grind the carrots,dates, almonds and cashews to a smooth paste and keep aside.
2.In a thick bottomed vessel bring milk to a boil along with cinnamon sugar,cardamom and condensed milk.Mix in the ground paste and boil in low flame for 5 to 7 minutes.Garnish with saffron and serve cold.
Time:
20 minutes
Serves:
4
Notes
:
1.Generally this is made a bit more thick,I have increased the amount of milk as we like our drink a bit dilute.
2.This can also be served warm.