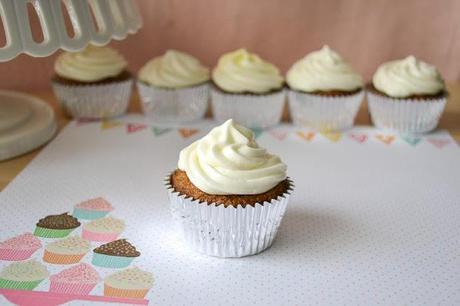 I love me some veggies in my cupcakes, who doesn't!  Its a great way to sneak in some vegetables and not feel so guilty eating a delicious cupcake or 2 ;)....okay who am I kidding, there's not that much veggies in a carrot cake cupcake, it would be better if you just ate a carrot.  But at least you dont feel as guilty eating carrot cake as you would say a chocolate cupcake :)  
I made these moist and delicious cupcakes for a birthday party last night, paired with a slightly tangy lemon cream cheese frosting it was the perfect addition that put these cupcakes over the top and made them a huge hit at the party.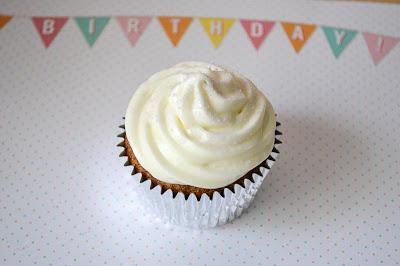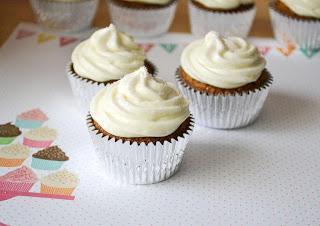 Carrot Cake Cupcakes
Adapted from Paula Deen
Yields 24-28 cupcakes
Ingredients 
2 cups flour1 3/4 cups sugar2 teaspoons baking soda2 teaspoons cinnamon1 teaspoon salt4 eggs1 1/2 cups canola oil3 cups grated carrots
Directions
- Preheat oven to 350 degrees, and line your cupcake pans with 24 liners- In a electric mixer combined your flour, sugar, baking soda, cinnamon and salt and mix together on low for 30 seconds.- Add in your oil and eggs and mix until completely combined- Mix in your grated carrot and mix until fully combined into the batter.- Using a ice cream scoop, fill your cupcake liners 3/4 full and bake for 17 minutes or until a toothpick comes out clean, remove from oven and cool on a wire rack.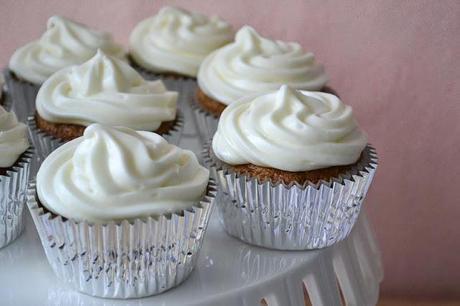 Lemon Cream Cheese Frosting
Ingredients
6 tablespoons butter, at room temp 12 tablespoons cream cheese, cold1 tablespoon lemon juice4 cups powdered sugar
Directions
- In a electric mixer beat the butter and cream cheese together until smooth and fluffy, about 5 minutes.- Add in the lemon juice and slowly 1/4 cup at a time add in the powdered sugar until all of the powdered sugar is completely incorporated. - Beat the frosting for another 2-3 minutes and pipe onto your cupcakes.