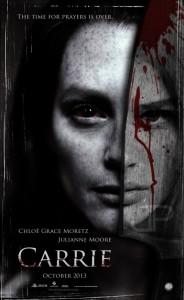 Movie: Carrie
Director: Kimberly Peirce
Cast: Chloë Grace Moretz, Juliane Moore and Judy Greer
Rating: **
Why a 'Carrie' now after all these years? This question constantly kept popping in my head as I forced myself to sit through the latest version of the film, which incidentally is a shoddy remake albeit thrills and frills. Originally made in 1976, based on the work of Stephen King, 'Carrie' is an absolutely spell bounding horror flicks of all time. Its remake, though, is not even remotely close to the word scary, not even by a degree you would expect a worst horror flick to be.
We are introduced to Carrie (Chloe), who according to her religiously fanatic mother (Moore), is a product of sin, and, therefore, is constantly abused and forced to pray in a closet under the stairs. Young Carrie isn't spared at high school too, where she is incessantly bullied. Meanwhile, she realizes that she possesses telekinetic powers, and when she's pushed over the edge by her classmates, she breaks and takes a bloody revenge.
It's as though the story needed a modern-day spin, we see that Carrie's story gets revamped in a digital age. Her bullying episode is taped and circulated on Youtube, eventually making her the joke of the school. I don't mind the modern-day twist, but it should have been more faithful to the original's structure, story-line and certain events. The unnecessary romantic angle transforms what was supposedly a horror flick into a romantic-comedy, at the cost making Carrie find true love. These minor changes fail to work in the favour of the film, forcing the audience to withdraw from it and laugh at its incapability to strike fear in our hearts.
In the classic 'Carrie', the transformation of Sissy Spacek, from a shy, friendless and abused girl to a revenge-seeking Carrie White, shook the viewer. In its remake, it fails to create a replica, and Chloë, who is a good actor, doesn't quite deliver what Sissy managed to do with ease. Chloe is miscast, but she certainly fits the role age wise, playing her character far too casually when she was required to exhibit some vigor in her performance. Moore tried her best but unfortunately what could she have done more with the help of clumsy writing.
Kimberly Peirce has directed one of my all-time favorite films – 'Boys Don't Cry' and also featured in the documentary "This Film Is Not Yet Rated". Her association with the project certainly heightened my hopes, but it didn't last long as I was utterly disappointed by the time I finished watching it. She should have gone for a stronger lead, to play the role of Carrie, who needed more than just plain acting skills, but the aura to transform into someone powerful, frightening and uncontrollable.
The new 'Carrie' is a lazy remake that goes completely wrong in almost all departments – from acting to writing. If you really like to be scared, I suggest you revisit Brian De Palma's "Carrie", which was a rare horror film to have been nominated for two Academy awards.