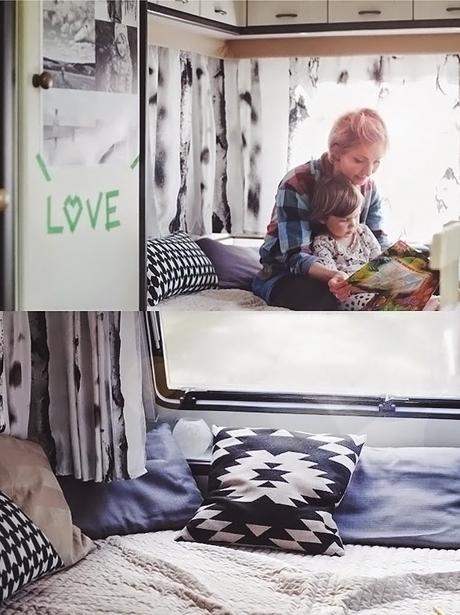 we are currently giving our caravan a little spring clean, before we head out
for our this years first adventure (post coming soon) .
  So meanwhile I took the chance to take some detail pics
because I think I still owe you a little update according to our caravan restyle project.In last years post I spoke about some easy but effective methods to restyle an old space,
with the help of a new floor, textiles, textures and colors.this time I thought I just share some bits and pieces according to some
budget friendly decor ideas and functional gimmicks.
so again lets start with the textiles, mostly all of the pillows, curtains and textiles are from H&M home and Ikea, ( mostly from 2013/ 2014 collection, but you always can find pretty new stuff ) 
the tree curtains are also from H&M home 2013 collection,
I bought some long ones and shortened them, so got 6 curtains out of two!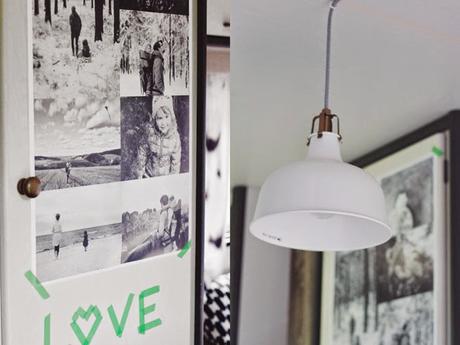 on the wardrobe door I added a poster collage, putting together some of our favorite memories pics on the road and printing them online. For a pop of color, I fixed it with washi tape, which just is always a fun method for easy removable decorative wall/door ideas.
All our lamps are lightweight and from Ikea, like this one , I think they have good, budget friendly solutions for quality and design orientated products as lamps and such.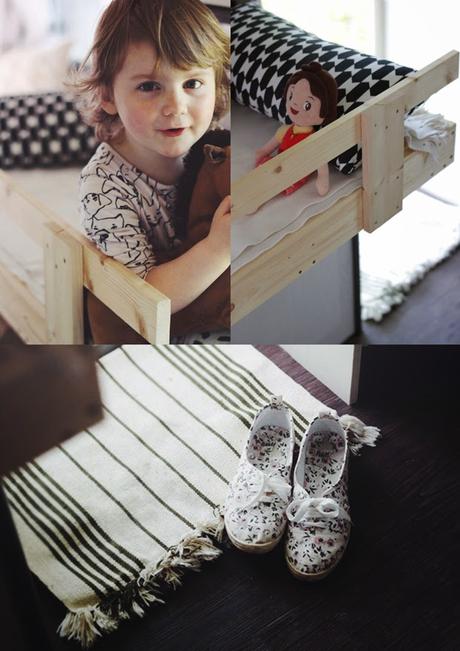 Above you can see snippets of Emmis bed. It is self made built by Andi made of light spruce wood,
it´s also removable and can be put in the wardrobe if we need to extend the space.
To create a homey atmosphere we use some mini rugs, ours are, guess? from Ikea :)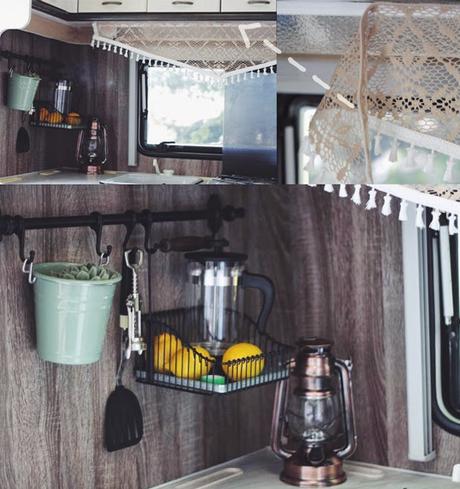 For easy open shelving and storing some kitchen stuff we used these hanging facilities,which are quite light weight and which you can change or extend how you like.
Another practical camping gimmick I really love is this battery LED retro lantern from eaxus,that can be used for in and outside.
The  lace curtain you see above is self made, hiding a typical mid nineties halogen lamp,which is practical but not so good looking. To easily remove and fasten the curtain I used hook and eye fastener.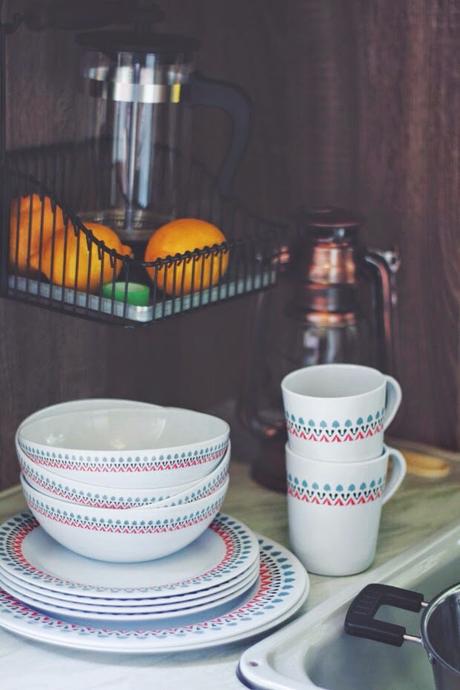 well and last but not least , we love our melamine dishes from olpro,
hence I need to buy them cause they had this cute badger print on it;)
 that`s basically all for now,
maybe the one or other got some ideas for easy decorating on a budget,
if having any questions or suggestions, would be fun hearing from you....
happy caravaning !