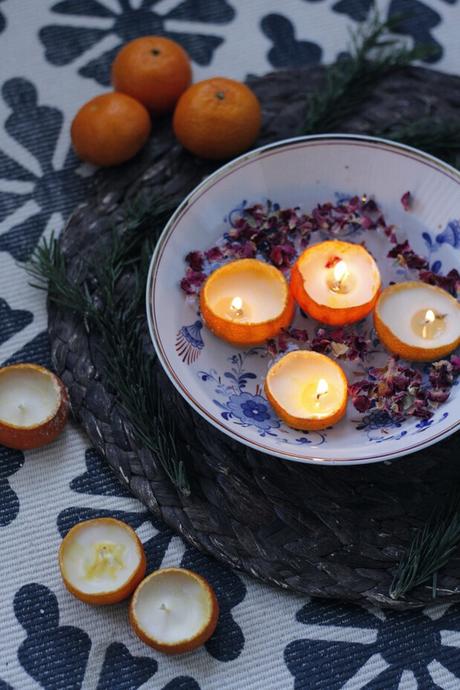 (Post in English und in Deutsch)


H

e

llo friends,hope you all had a good start into the new year.In our case the new year had loads of fresh show instore,So another reason to make onself cozy at home.Thatswhy we currently have a lot of candle lights, tea and cacao these days.


Hallo ihr Lieben,

ich hoffe ihr seid gut ins neue Jahr gestartet.

Bei uns hatte das neue Jahr jede Menge Schnee parat.

Ein Grund mehr es sich zuhause schön kuschelig zu machen.

Deswegen gibts bei uns gerade viel Kerzenschein, Tee und Kakao.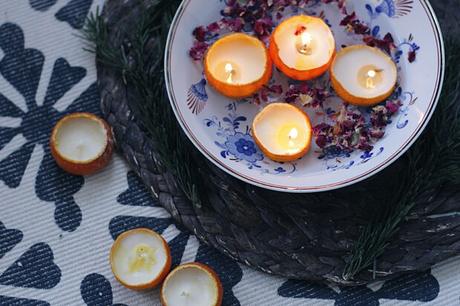 so these mandarine cinnamon scented swim candles are just perfect for this.initially we made them as small christmas give aways but made a wohle lot of themin the heat of the moment, so we had some left for ourselves.
Not that bad, they fill each room with a wonderful fragrance and ensure a cozy winter atmosphere,so just right fir some snowy winter afternoons and evenings.
and as already known here, simpel to make.


Da machen sich unsere neuen Mandarinen Zimt Schwimmkerzen u.a.perfekt.

Ursprünglich haben wir sie als kleine Weihnachts-Give Aways gebastelt und

haben im Eifer des Gefechts gleichzeitig aber soviele hergestellt, dass wir selbst

noch ein paar abbekommen haben.




Wie immer sind sie natürlich ganz einfach herzustellen.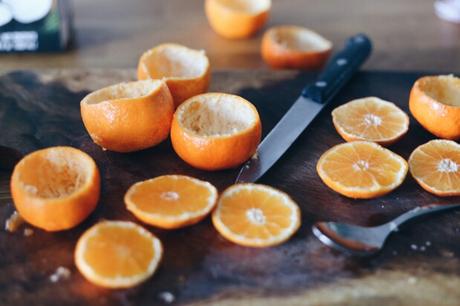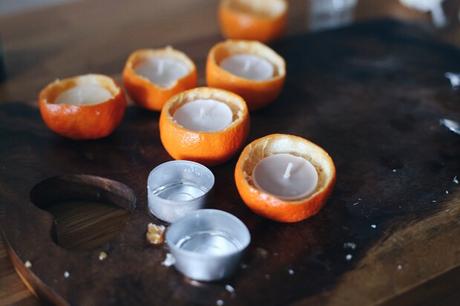 let´s get started:
cut 1/3 of a mandarine, use the bigger 2/3 and take out the pulp,use a tea light without it`s mold and put altogether with the wick into the mandarine,now shortly melt the wax in the oven (5 minutes at 180°C ), take the candles out of the oven afterwards anddrip one drop of mandarine and one drop of cinnamon essential oil into it, let it rest and solidify you are a done !now you have a beautiful swimming little scented candle which by the way also looks just pretty.


So gehts:

1/3 einer Mandarine abschneiden, das Fruchtfleisch aus der restlichen Schale lösen,
Teekerzen aus ihrer ursprünglichen Form lösen und mit Docht in die Mandarinen geben,
anschließend das Wachs in den Mandarinen im Ofen kurz schmelzen (5 Minuten bei 180°C),
die Mandarinenkerzen aus dem Ofen nehmen und 1 Tropfen ätharisches Mandarinenöl und 
ätherisches Zimtöl in das noch flüssige Wachs hineingeben, das Wachs erstarren lassen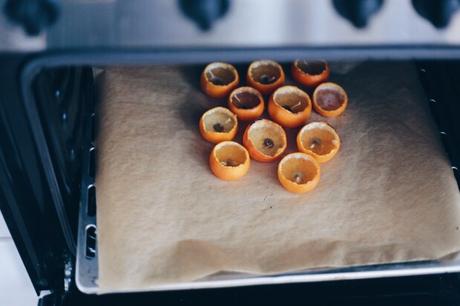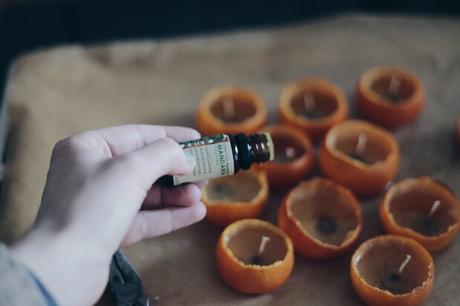 so have fun amd have some comfy winter hours, bye for now!you are a done !now you have a beautiful swimming little scented candle which by the way also looks just pretty.


und fertig!

Eine tolle, schwimmende Duftkerze die außerdem auch super dekorativ aussieht.

Viel Spaß und ein paar gemütliche Winterstunden, bis die Tage!