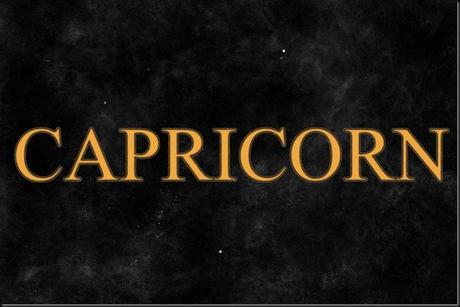 The following monthly forecast is only valid for those of you with Capricorn as your rising sign, which is probably different from your Sun sign as it is dependent of the time of your birth rather than on the date of your birth. If you do know exactly or approximately when you were born, please click on the following link to find you Ascendant sign - FIND YOUR ASCENDANT SIGN
Capricorn Rising – January 2013
For you Capricorn, January is your personal month when the Sun and Mercury this time are passing together through your first house. This is a time to focus on yourself and your own wishes and ambitions and to let everyone know about your personal views, for you will feel a little more self-confident than normal. Because of your focus on yourself, relationships with others may be a little strained and you may find that you have more problems dealing with people on a one to one basis than is normally the case. On the 6th you may be especially powerful and determined in your views and arguments as Mercury makes a conjunction with Pluto and a sextile with Saturn. In the last week of January as the Sun and Mercury enter Aquarius together, they join Mars in this sign. Mars in the 2nd house is impulsive, self-confident and likely to spend too much money, but for sure you will be in a lively and exuberant mood. Your need to have and acquire possessions is now strong and you will tend to identify yourself with them. With a Capricorn ascendant you are not prone to too much arrogance, but just for now you may fall into the trap of being a little too selfish and aggressive for your own good.
Venus by contrast begins the month in the backwaters of your 12th house, so socially you may want to keep your own space, at least in the first week or so of January. You will open out much more when Venus moves into Capricorn on 9th, as well as being far more self aware not only of your own actions but of your appearance too. Venus runs into the Uranus Pluto square in mid month and tensions in relations with close relatives and at home may rise considerably. It is possible you may be upset or disappointed by their actions. At work colleagues may be unusually in a good mood in the last week of January as the Sun makes a trine to Jupiter and your optimistic approach to doing those mundane tasks may rub off on those around you. The Leo Full Moon on 27th January occurs in your 8th house. Issues of shared assets and property may be highlighted by his full Moon as may matters of sex and intimacy. Is a friend trying to influence or interfere in your plans now? If so, you may have a decision to make about how you treat them.
Other Ascendant Sign Forecasts
Aries Taurus Gemini Cancer Leo Virgo Libra Scorpio Sagittarius Capricorn Aquarius Pisces
For A More Personal Look At The Future
As with all general forecasts, this can only be a rough guide to the movements of the planets and how they may affect you. Would you like this forecast made even more relevant for you?
Get in touch with me at [email protected] providing your birth details or please go to the following link, and I will endeavour to see what the planets have in store for you personally in the next couple of months. Please note I am unable to do personal readings for free.
Get an astrology report by clicking here...