On Tuesday morning, as I took part in my standard morning multitasking madness of making lunch, trying to find something to wear to work and taking photos of unwanted items for eBay, something strange happened … my phone threw a tantrum.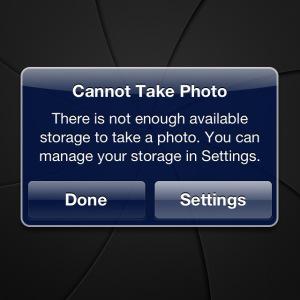 "What do you mean there is not enough available space," I muttered, "I've only taken … (long pause while I flicked to my Camera Roll) ohhhhh… 7540 photos. Bugger."
While I have always had more than a passing interest in photography, it seems that with constant access to my camera (and Instagram) I have become a bit of a prolific snapper, capturing everything from my favorite outfits to my lunch, friends and family to funny signs. 
And it seems I'm not alone. In their latest commercial, Apple claims that the iPhone is now the most popular camera in the world (Flickr's camera finder stats back this up) and taking photos has become an everyday experience for most people.
While scrolling back through the past two and a half years of my life in preparation for a download, I decided I'd share some of my favorite shots with you.
Some are kind of impressive while others aren't so much … but it is often those photos—the ones that seem so inconspicuous or a little bit weird (like the two pairs of tanned feet that kick off my montage)—that, to me, capture so much more than just that fleeting moment captured by camera.
Those two tanned feet belong to my mom and I. We took the photo while on holidays in Fiji in January 2011 (just after I received my first iPhone) and looking at that photo instantly reminds me of cocktails by the water, being harassed in the pool by wayward children, walking along the lantern-lit shoreline at night and a chilled-out afternoon spent at the nearby day spa  after which we took this photo, marveling at how lovely our feet looked.  
So, yes, I do take a lot of photos and, yes, some of them are total crap and unnecessary, but I won't apologize for it because they bring back some of the loveliest memories.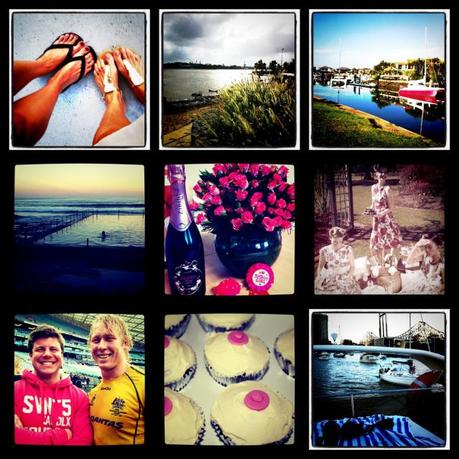 (L-R) Mum and I in Fiji, the Brisbane River before the 2011 floors, lazy days in Raby Bay, afternoon swim in Cronulla, my favorite kind of birthday presents, photoshoot in New Farm Park, Michael and Beau after his debut for the Wallabies, cupcakes for Breast Ever Brunch, waiting for Riverfire 2011.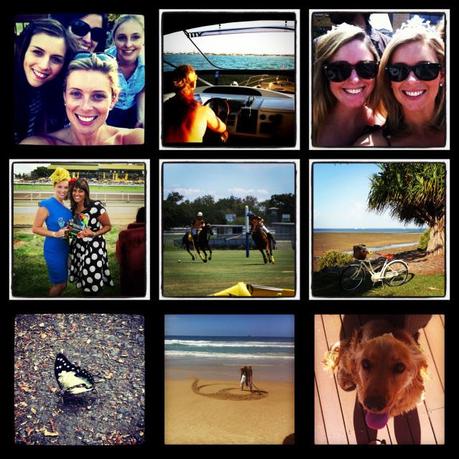 (L-R) Team bonding with the girls, summer boating, waiting for the Queen with Lady Erin, Melbourne Cup Day 2011 at Eagle Farm Racecourse with Reshni, Paspaley Polo in the City, taking my new wheels for a spin on Christmas Day 2011, a perfect little butterfly spotted on my morning walk, beach art at Byron Bay and the gorgeous Miss Lucy who was approaching her first birthday.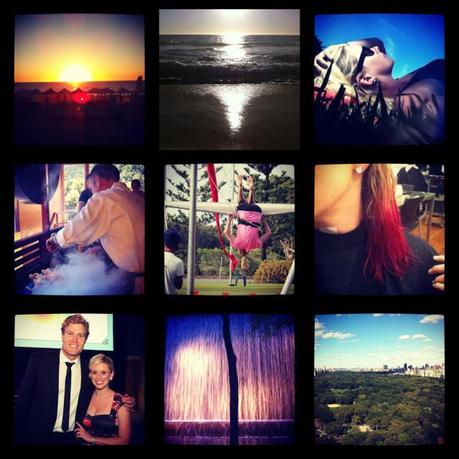 Two very different sunsets over the beach in Perth, an afternoon snooze in Perth's Kings Park, learning how to get my grill on at barbecue cooking class, an epic dismount durning my trapeze lesson, time for a color change, with Bondi Vet's Chris Brown (my co-host) at our work gala, a beautiful inner-city waterfall I stumbled upon off 5th Avenue in New York, an impressive view of Central Park from New York Athletic Club (it's all about who you know!).
"A photograph that has not been shared or at least printed, is almost an unexistent photograph, is almost an untaken picture." —Unknown—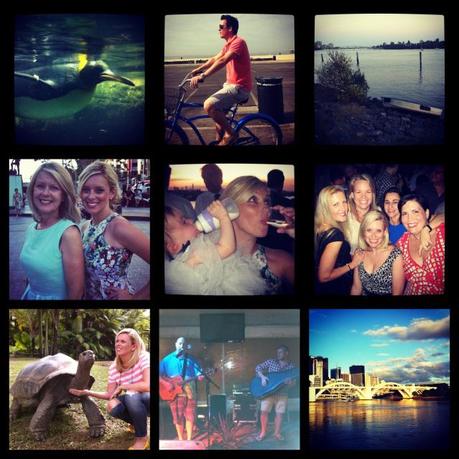 A Sunday afternoon spent in Central Park checking out the penguin exhibit, Ross riding to LA's Venice Beach, a quiet afternoon along the Brisbane River, mom and I at Cass' wedding in December 2012, drinks for the girls with baby Alice before the wedding, celebrating the Mayan apocalypse with some of my favourites, meeting the giant tortoise at Australia Zoo, Michael took to the stage with Tuffy and the city I love turns on a spectacular afternoon.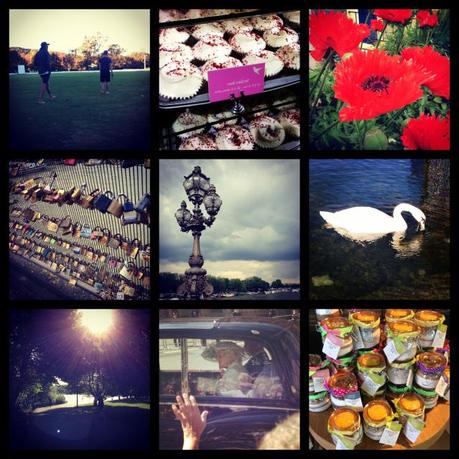 The boys test out the cricket pitch at Bowral in April 2013, my all-time favorite cupcakes from Hummingbird Bakery in London, fresh flowers growing in someone's garden in Notting Hill, the bridge of love in Paris, the weather takes a turn in Paris, I stumbled upon swan lake during my morning walk in London's Hyde Park, winding my way through Hyde Park, Prince Charles and Camilla make an appearance ahead of the Queen's Jubilee Mass at Westminster Abbey, tasty treats at Jamie Olivier's Recipease in Notting Hill.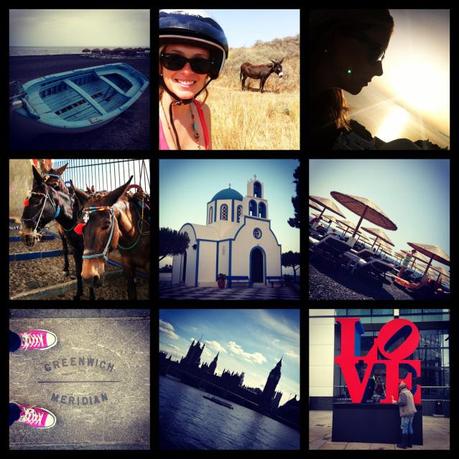 (L-R) Beach boats in Santorini, making new friends on my quad bike, the sunset in Oia, the fragrant locals in Fira, a local chapel, beachside luxury, the Greenwich Median in London, Westminster, even love needs a spit and polish now and then.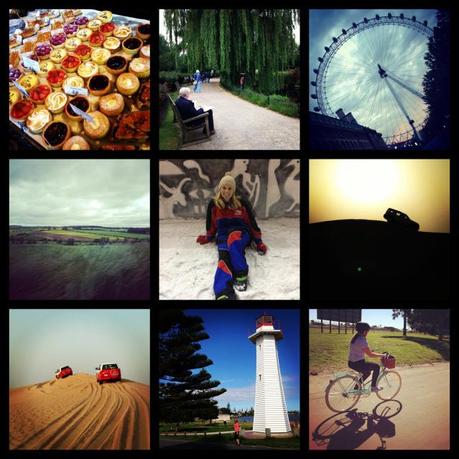 Sweet treats from the Borough Markets in London, an old man sits and paints at Regents Park in London, The London Eye, the Cotswold countryside snapped out the car window, snow time in Dubai, some of my favorite shots from my desert safari, an afternoon walk with mom to the lighthouse at Cleveland and Rish bike riding home from the markets (taken while riding my bicycle).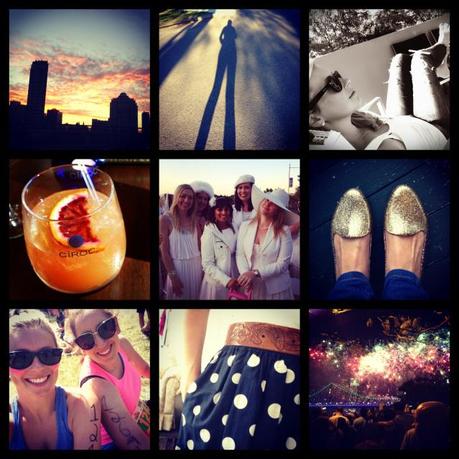 (L-R) Sunset in Brisbane, morning walks with my long legs, Sunday afternoon in the sunshine, cocktails at the Mercedes Benz Fashion Festival launch, Le Diner en Blanc with the girls, new shoes, ready to take on the Stampede, spots or dots and Riverfire 2013.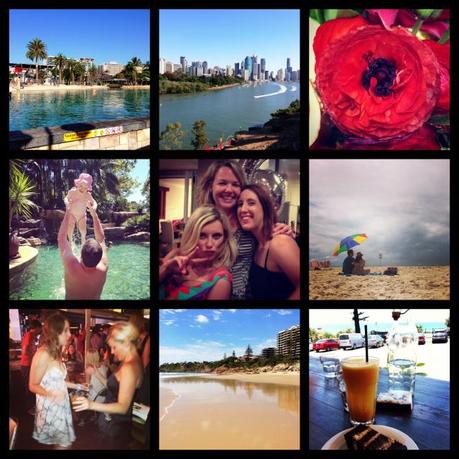 (L-R) Morning walks at Southbank and along the Brisbane River, a beautiful delivery of flowers, Dave and Soph brave the chilly water at JB's 30th, Dad's 60th with my favorite girls, beach time turns dismal on the Gold Coast, hitting the dance floor for Rish's hen's night, Coolum turns on the charm and a post-wedding recovery breakfast by the beach.