Happy Canada Day!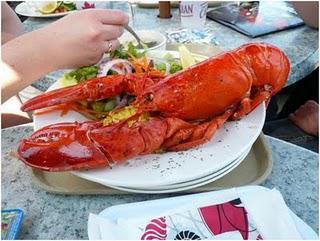 No we've not cooked a lobster, nor have we eaten it for sometime, but this year we're planning on celebrating Canada Day from afar. In previous years we have made the trip over to Halifax in Nova Scotia to perform in the Royal Nova Scotia International Tattoo, which begins its run of shows on Canada Day.
We're going to attempt to make some of the type of food we enjoyed over there tonight and update with the successful attempts! Tonight's menu consists of Crab and Spinach dip, Baked Shrimps, (both inspired by The Keg), a little steak (inspired by Maxwell's Plum), Caesar Salad (The Keg and Cheers) and Poutine (practically everywhere). We may even attempt Beaver Tails, but using Gluten-Free flour, who knows if these will work. We might even feature a couple of recipes from the Royal Nova Scotia International Tattoo 30th Anniversary cookbook and other books we bought on our trips.
Meanwhile, just a few pictures of out time over in Halifax for the Tattoo....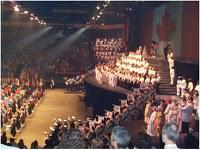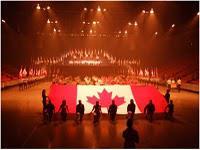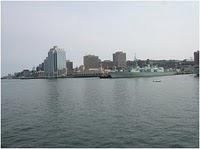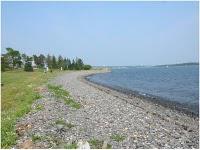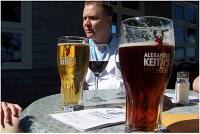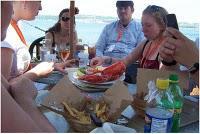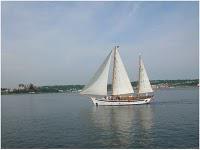 In preparation for our Canadian feast we did make a rather yummy seafood chowder some time ago. It was full of flavour, but sadly missed out on the Nova Scotian delights of vast quantities of lobster and scallops. We used this recipe (copied out below) and used smoked salmon and pouting and a few cocktail prawns at the end.
For the vegetables

10 g

butter

1 1/2 large Spanish

onions

, coarsely chopped


1/2 red, yellow or

orange pepper

, finely chopped


1 handfuls

mushrooms

, thinly sliced


1 large

leek

, sliced diagonally into 1cm thick slices


1 canned

sweetcorn


For the chowder

1 tbsp

oil




1 - 1.5 kg

fish

, cut into chunks


50 g

butter


50 g

flour




milk




water




200 ml

double cream




2-3 tbsp

parsley

, coarsely chopped


1-2 tbsp

tarragon

, coarsely chopped
1. To prepare the vegetables: heat the butter in a large pan and when hot add the onion, pepper, mushrooms, leek and the sweetcorn. Cook for about 10 minutes until just cooked. Set aside.
2. To make the chowder: heat the oil in a wok or large frying pan and add the fish. Cook until the fish is just cooked. Strain off the juices from the pan and reserve.
3. Heat the butter and when melted stir in the flour. Cook for 1-2 minutes until it becomes a paste.
4. Add the reserved fish juices, a cupful at a time, mixing well before adding the next cup and allow to heat to almost boiling.
5. Add milk and water until the mixture is fairly thin.
6. Gently stir in the cooked vegetables, followed by the fish. Stir gently, to avoid breaking up the fish and season with salt and pepper,
7. Add the double cream, parsley and tarragon and heat through but don't allow to boil. If the chowder is allowed to boil after the tarragon is added, it loses its delicate flavour.
8. Serve immediately and enjoy.