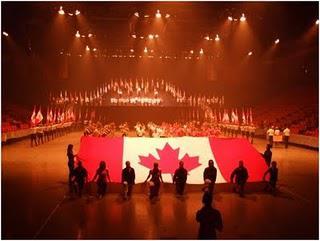 Well we tried to celebrate Canada Day with some of our favorite foods from our trips over there. Some worked, some didn't quite match our hopes and some weren't even attempted!
We'd decided against the Beaver Tail thing. Perhaps another time. We did however make the crab and spinach dip, baked prawns, steak, caesar salad and Poutine.
The Crab dip was excellent, and the left overs were eaten as a spread on crackers the next day. The baked prawns were nice, but nothing like how I'd hoped. The steak was OK, the caesar salad good (bought dressing!), and the Poutine - well I think that was the success story of the evening.
Crab, Spinach and Cheese Dip (This recipe)
We followed the recipe(copied out below), but cut down the quantities by about 2 thirds, mainly because crab meat is expensive and the amount made would have been massive!  
1 lb.Crab Meat
1/2 lb. Parmesan cheese
1 lb. cream cheese
1 lb. sour cream
1/2 lb. Gouda cheese
10 oz. frozen chopped spinach
1 tsp. Seafood Seasoning
Method
Thaw spinach, drain well, chop into half-inch pieces and lightly saute to evaporate remaining liquid, set aside. Place crab meat into a large bowl, handle gently, carefully examine for shell, set aside. Place all cheeses, sour cream and spice (except for about 2 Tbsp. of Parmesan cheese) into saucepan. Heat over medium until smooth; do not boil.
Fold spinach into hot cheese mixture.
Fold crab meat into mixture.
Remove from heat, place into lightly greased baking dish or bread boule.
Sprinkle remaining Parmesan cheese over top.
Bake in preheated 350F/180C oven for 10-15 minutes or until top is lightly browned.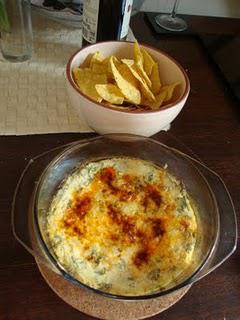 Baked Prawns
(I have since found a recipe claiming to be the recipe from The Keg Steakhouse. Not sure if it would have worked for us though, as apparently you need an escargot dish and different cheeses. Below is my attempt without following a recipe)
Place a handful of prawns in a shallow gratin dish and top with a mixture of grated cheese (we used gouda) and crushed garlic.
Bake until cheese is bubbling.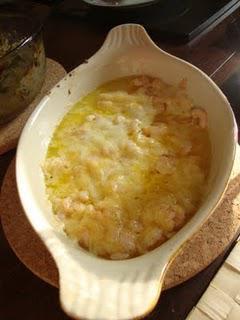 Poutine
For those who don't know. Poutine is a dish of chips and cheese curds covered in a brown gravy-like savoury sauce. According to Wikipedia it originated in Quebec but can be found across Canada. We did find it in most places we ate (apart from the more specialist places e.g. Murphy's on the Water and The Keg)
It is rather calorific, and we did actually call it a heart attack on a plate once. Obviously, its not to be eaten every day. But Canada day is once a year!
After some research into poutine recipes and what the actual poutine essence is, we came up with something rather simple. I found a great deal of different options for the sauce, but the traditional sauce is a simple gravy. Obviously we had to make this from scratch as most pre-prepared gravy mixes, or takeaway versions will have wheat flour in. Looking at different option ideas, I added a chopped shallot for added savouriness.
Gravy
1 shallot finely chopped
1/2 pint beef stock
ground black pepper
salt
cornflour
Gently fry the shallot until soft.
Pour in the beef stock and keep on a high heat.
Add plently of pepper and then salt to taste.
Thicken to the desired consistency (think not quite as gloopy as KFC "gravy")
We used chips from the local kebab shop as these bore the resemblance to those served at Maxwell's and follwing the advice of one website we used chopped mozerella instead of the proper ingredient of cheese curds.
To assemble, place the chips in a heat-proof dish. Sprinkle with the cheese and pout over the gravy. We put the dish in the oven for a small amount of time to ensure that the cheese was melted.
Our take on Poutine. Yum!