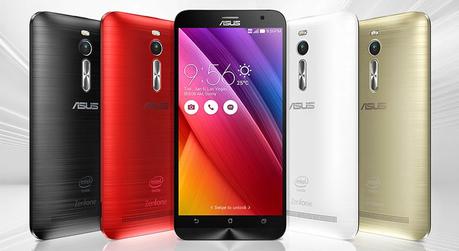 My fingers are beginning to slip lust fully over that red thing in the picture...
What is that?
That , my dear fellow lust-er of beautiful phones is what every one is waiting for.
And with a bated breath.
That is why the #CantWait4Zenfone2 seems to be all around.
Why should one lust for that??
Yes ,you may ask.
Me ,myself I have 5 solid reasons.
I am one who treats her smart phone like her lover... last thing before I go to sleep and first thing when I wake up. And of course a few time supposedly checking out the time in the middle of the night.
My 5 solid reasons.
1. The 4GB RAM . Face it ,it IS only the world's first smart phone with a processor of this speed. Now ,I am not a nerdy person with all in depth knowledge of Tech Specs ,but even I know this smooth thing will work at lightening speed . Much , much faster than the phone I hold in my hands as I blog. When I bought my Samsung Galaxy home it worked so fast ,I had to keep my eyes open almost with Tooth pics to keep track of the speed.
And now ,oh the apathy...it forgets words midsentence. I have that need for speed...that only only this 4GB RAM will give.
2. Battery Life and Charging. Draining has taken over a new meaning with battery power of the new age smart phones.  Across the board ,all major brands sweat out power as if they have been subjected to a Swedish Spa. And of course you need to travel with your charger or a power bank. So with a ZenFone I can smirk while everyone around me goes scouting for a plug point and I can watch my offline "Humsafar" episodes and travel with ease.
3. The phone and the calling.  What was a phone really built for? Calling no?Mine does everything other than that. Wipe the smirk of your face-reveller in others phone miseries-you . I know of many like me who carry a tiny phone as a back up. Because if the battery stays the phone will hang and will be unwilling to place the phone call.  I also get messages saying that the number is not registered on the network when I want to call hubby dear or the parents.  I mean?? I would understand if the message flashed when the in-laws call...
So you understand my need to carry a phone even my maid wouldn't have- in the recesses of my already capacious tote bag.
4. The Camera. No flash,low light photography, 2 PixelMaster camera-honestly ,all I know about that is that it is better than 13MP and all that is associated with front and back cameras. Wow. So my blog will have much , much better pictures than it does. Its not that I don't have a DSLR ,but it is too much effort to transfer pics to the desktop and then upload. ..its easier to shoot and upload. So better camera will mean better pics. Right? The food ,as always, will be fantastic.
5. The looks. That shouldn't be the first. Ever. Soul over substance.
I believe very strongly in that.
And without doubt, a thing of beauty is a joy forever. So I am lusting for this beauty.
If you, like me #CantWait4Zenfone2 check out all features and more at the ASUS ZenFone website.
A wealth of features come with this super awaited ZenFone.
I now seem to count my life by my smiles and my unmusical laughter and I want to count my age by the number of smart phones I own and master .


So let this follow.