The Campus Food Trip series focuses on places near schools and universities that offer appetizing, filling, and budget-friendly food for students or just about anyone.
Since I'm around the area, my high school buddy, Patrick and I went out to catch up and get dinner. The place we intended to eat was closed, so we walked a little to the recently reopened Ning's Thai House of Noodles and Restaurant, which is about 250 meters from University of the Philippines Los Banos, south of Manila in the province of Laguna.We had to pass through a short, narrow path from the main road to get to the place, and it's more like a hole-in-the-wall restaurant. We were presented with a menu, and compared to Thai restaurants in Manila, it is way more affordable. Rice meals range from 100-120PHP, and bigger platters average 350PHP. Patrick and I both got khao kapi (bagoong fried rice with fried egg), since we're not too adventurous when it comes to Thai food. I also ordered another Thai favorite, yom ga gai (chicken red curry in coconut milk), to share. Read more...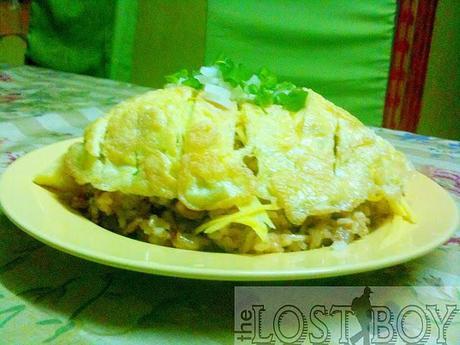 Khao Kapi (Bagoong Fried Rice with Fried Egg)
Our orders came after some time, and we were overwhelmed how plenty an order was--an order of bagoong rice can be shared. Being famished boys at the time, we instantaneously dug into the food. I immediately noticed the color brought in by the red curry, basil, eggplant, and pepper, while savoring the Thai aromatics. Thai cookery greatly utilizes spice and herb to amplify the aroma, while enhancing the taste in the process. I noticed this in Tom Yum soup before, but unfortunately, I don't like its flavor. The bagoong rice, meanwhile, had a good contrast of salty from the bagoong or fish paste and sour from the generous green mango shavings.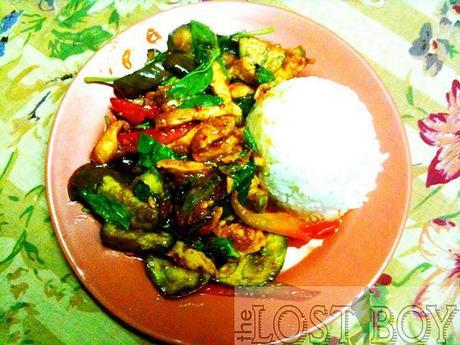 Yom Ga Gai (Chicken Red Curry in Coconut Milk)
We were already full, yet we still had some red curry left. For two guys, it's a miracle we couldn't finish everything. We asked for our check, and surprisingly the owner, a woman in her sixties, walks over to our table and gives the computation herself. She asked us if this were our first time, because she saw me taking pictures of the food.
Since she was very accomodating, I asked her if she's Thai. In Filipino and with much gusto, she said no and that she herself is a graduate of UP Los Banos. She continues her story, and we listened.She married a Thai native, who finished his doctorate degree in the same university. They married, flew to Bangkok, and started building a life there. She liked cooking, hence she would take note how their helper cooks Thai food. Because of the language barrier, she could only ask or assume what the ingredients were, and every time, she would ask her husband what that dish is called by enumerating the ingredients. Not long after, by mere observation, she learned Thai flavors and would cook for their home herself. She calls her cooking Bangkok-style, which according to her, has a distinction from the cookery in the provinces of Thailand.Come 1991, they had two children, and the children wanted to study in the same university as their parents. Left alone in Thailand, the father found a new partner with whom he had two new children with. She narrates this story with such cheerfulness, that I couldn't trace any regret in her voice.Long after, she was diagnosed with breast cancer. Fortunately, her husband, genuinely concerned, asserted that since she is still his legal wife, she is entitled to medical benefits in Thailand. To this day, she comes back to Thailand every six months to seek treatment. His son has decided to live in Thailand with his Filipina girlfriend, and she would live with him in her trips.
thelostboylloyd
She sources some of her ingredients in Thailand until now, and even after they separated, his ex-husband would drive him around to buy ingredients. At first, the husband was unaware that she opened a restaurant back where their story began and that she named it after their daughter. 
Bottomline: For the price, Ning's Thai is very affordable. You could get a rice meal for 100PHP and 10PHP for a softdrink. As for the taste, Patrick and I found the food a bit greasy and salty. However, I was pleased that the unique flavors of Thailand were there. And of course, I will always remember the owner's interesting story everytime we eat there.P.S. I learned from the owner that Suvarnabhumi, as in the airport, is pronounced as /soo-wah-nah-boom/ and not /soo-var-nah-booh-mee/.NING'S THAI HOUSE OF NOODLES AND RESTAURANTLopez Ave., Los Banos, Laguna, Philippines (near Los Banos Doctors Hospital) (Google Maps)
Hours: 5:30pm to 9:00pm, Mondays to Saturdays
Contact: +639193599263 (accepts bulk orders)
Serves: University of the Philippines Los Banos
Price Range: rice meals, 100-120PHP (~$2.20-2.80)
thelostboylloyd
The menu is available here: (Page 1) (Page 2)