Cambodia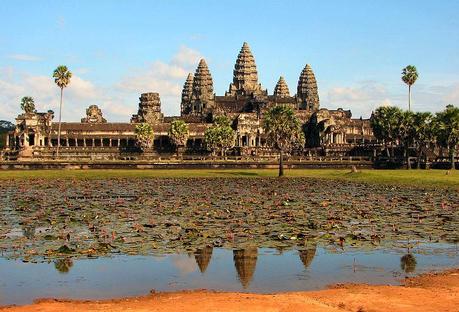 Cambodia, in the heart of mainland Southeast Asia, is a country of breathtaking scenery and rich cultural heritage which visitors are just beginning to appreciate, in contrast to the fairly efficient developments in neighbouring states of the region. This is truly a pristine land of ancient temple cities and serene rice fields, but also of attractive seaside resorts and bustling modern cities that blend old and new elements to create a unique fusion of urban styles. Cambodia has one foot and a few toes of the other in the past, which is one of its great charms and what makes an authentic holiday in Cambodia such an attractive proposition for your next SE Asian adventure.
Phnom Penh, capital of Cambodia, was built by the French, but in contrast to their rather grim legacy of concrete, fortified hill stations that still dot the country, this city is a fine example of Gallic elegance. It is in fact generally considered to be Indochina's loveliest city, so maybe the colonial era was not a complete waste after all. Its foundations go back to 1372, and today its old colonial mansions, charming riverside cafes and sweeping boulevards are a real treat to stroll around. The Toul Sleng Genocide Museum is a reminder of a darker side to Cambodia's earthly paradise.
Siem Reap is probably the most popular town for tourists these days, as it is the gateway town for accessing the incredible Angkor Wat and other temple complexes, glories of the ancient Khmer Empire. Visitors use hotels in the town as their base for touring the ruins and they can also take a boat out onto Tonle Sap Lake, which merges with the River Mekong down at Phnom Penh, and explore the small fishing villages that have probably hardly changed since imperial days almost a millennium ago.
In the Gulf of Thailand, Sihanoukville to the southwest of Phnom Penh is the premier seaside resort of Cambodia and is also the country's main port. There's a distinctly laid-back atmosphere on the white sandy beaches and it can be used as a convenient base for visitors intending to visit nearby Ream National Park, with its mangrove forests, offshore islands and coral reefs.
To experience the more traditional face of this endlessly fascinating country, head out for Battambang, the main area for rice production. The province's capital of the same name is second only to Phnom Penh in size but it has a serene and quiet riverside location. There are numerous picturesque temples scattered across the countryside, such as the famous Wat Ek Phnom structure built in the early 11th century by Suryarvanam I. For a fine selection of indigenous Khmer arts and crafts pop in to the Wat Poveal Museum in Battambang.
The capital of eco-tourism in Cambodia is Ratanakiri Province up in the northeast. It shares a border with Laos and is a magic region of dense forests, hilly terrain, endangered species and hill tribes. These exotic, tattooed animists haven't changed much since the Stone Age and sport pierced ears bedecked with ivory tusks, smoke interesting herbal substances from long wooden pipes and worship ancestral spirits.     
David Elliott is a freelance writer who loves to travel, especially in Europe and Turkey. He's spent most of his adult life in a state of restless excitement but recently decided to settle in North London. He gets away whenever he can to immerse himself in foreign cultures and lap up the history of great cities.