Dear chefs and foodies,I am here with my first event on this wonderful world of blogging finally.It has been more than 6 months I started this blog,I just started this as a pass time and to record what ever I cook,little did I knew that I will be addicted and wake up to my blog everyday.You see,I just wake up an hour early to check and update,reply to emails as once I start the house work along with attending my daughter,I hardly get time to blog :). Though I spend very less time everyday in this space,I just love each and every minute I spend, I want to put in more and more effort and dedication to improve this space.With lots of encouraging emails,a decent number of G+ and FB fans,I think I am moving ahead,though tiny steps I am definitely moving ahead and that makes me feel great.Stagnancy is scaring and moving forward is a wonderful thing in any kind of journey right.Okay for more than a month I have been thinking about an event in this place and finally I have gathered the courage to organize one.Here I am calling all those great home chefs and my dear blogger buddies to cook up something interesting and seasonal.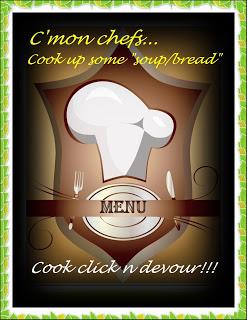 Calling all chef's-Cook up some....Its going to be soups or bread as the season demands.
Monsoon has already started and its pouring cats and dogs in some places,little drizzling in some places and in some place its just misted air and pleasant climate (I know still there are people in some part experiencing scorching sun :)). But given to the official monsoon/winter season,its time for some hearty comforting soups with carb filled breads.So please link in your delicious and nutritious soups and bread(any recipe prepared with bread also counts)here and yes there is an exciting give away too :)A lucky winner will be selected and gifted with a fabulous cookbook.I am thinking of a Tarla dala/Sanjeev kapoor book from their amazing series.
Now very simple to follow rules
1.Cook any vegetarian soups/bread or recipes made using bread.
2.If you are a blogger blog about the recipe between Nov8-Dec8 and link it to this page giving a back link to this announcement page.Usage of logo is appreciated.
3.Non bloggers please send your recipes along with one pic to cookclickndevourATgmailDOTcom
Done with the rules :)Start linking your delicious recipes.
I am looking forward to each and every recipe of yours as this is my first event.Hope you would make it a successful one
Thank you!