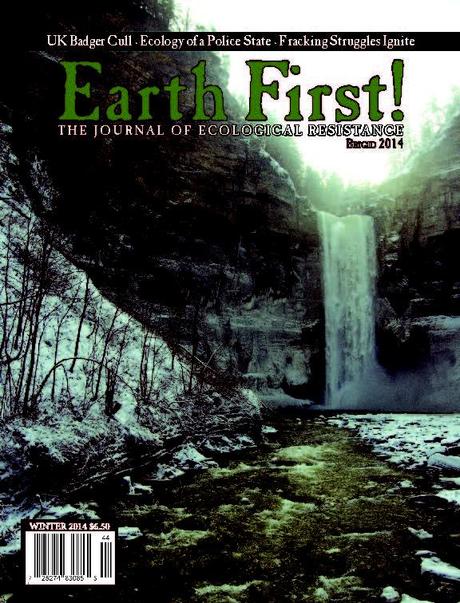 Cover of Earth First! Journal, Vol. 34, Issue 1, Brigid/Winter 2014, hitting shelves soon!
The first 2014 issue of the Earth First! Journal, Winter/Brigid 2014, has been sent off to the printers! Soon copies will be arriving on doorsteps, in infoshops, at prison gates, and hopefully in your hands (until Sunday subscriptions are on sale—$20 for four issues). Thanks to everyone who donated and volunteered to help make this issue possible!
Now we're collecting content for the next issue of 2014—that's right, we're printing more than one issue this year!
So send us what you've got. This is the Spring issue, a time of renewal and organization. What's inspiring you lately? Reflections on a Winter of action-packed organizing, or of solitary reflection? Blades of grass peaking out through the snow? (Is that a thing? We've been in South Florida a while; enlighten us!)
As always, we're looking for anything with a biocentric perspective—writing and art that reflects a love of the wild. We're especially interested in:
- Stories of international struggles and indigenous resistance!
- Movement strategies!
- Letters to the editor (Dear Shit fer Brains)!
- First-hand accounts of actions and campaigns!
- Funny stuff!
- Biocentric prose and poetry (HOOOOWWWWWWLLLLLL!!!!)!
We're excited to hear from past contributors and people we've never heard from before!
You can email submissions to collective[at]earthfirstjournal.org, or mail them to:
Earth First! Journal
PO Box 964
Lake Worth, FL 33460
For the Wild,
- the EF!J Collective