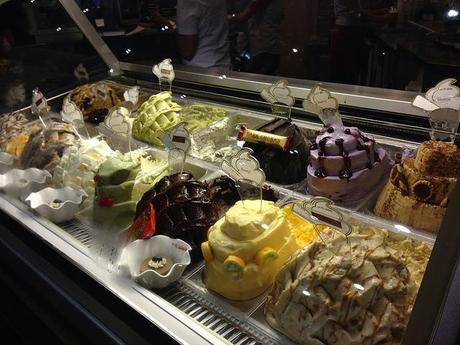 A gelato kingdom.
After being seriously stuffed at our Casa Armas dinner, we dropped by Caffe Ti-Amo for some dessert. Now, before you say
Ti-amo rin!
, I just want to clarify that
Ti Amo
is Italian for "I love you" and is not a shortcut of any set of curse words. :D Sweet, huh? Let's find out!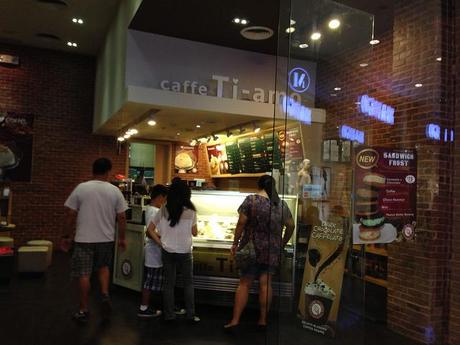 Nice homey red brick walls.
I opted not to get my own ice cream and just grab a coffee cause I was so full. I just scavenged a few bites from Alvie's bowl.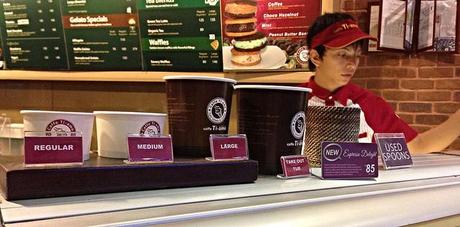 That take out tub would look tempting under more normal circumstances.
Alvie just went with the regular bowl, which was also surprisingly dense and filling. Not bad! Even with the help of free tastes, choosing a flavor was difficult because many of them looked good!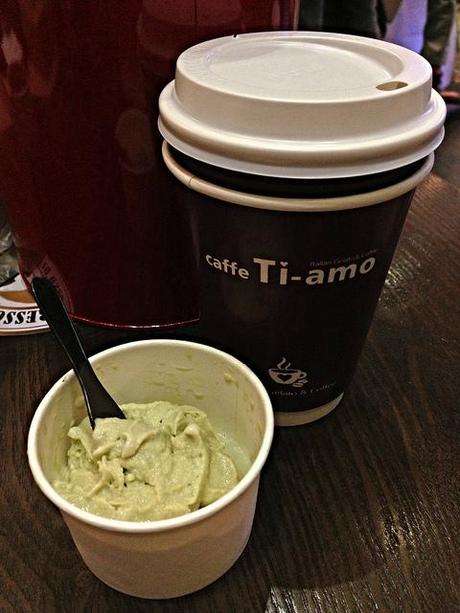 Pistachio Italian Gelato (Regular/Regolare), P95.00 and  Hot Latte (Regular), P100.00
There was actually more to this order of gelato, this picture was taken midway. :) We didn't know we could order two flavors, either! Some bloggers we are.. Haha! Anyway, it was pretty good, and for the smallest size, it was very, very filling. We were the last to finish our cup, and I was rushing it! The pistachio taste wasn't that strong, but there was enough for you to mildly appreciate it. Not bad for the price, since two can share this for a snack. I also tried Choco Banana, which had a much more potent taste. It was also good.
I'm not really a coffee person, and I drank the latte more for need of a warm drink and a perk rather than the taste. It was alright for me, with the usual brewed coffee taste. It was creamy but a bit strong, so I needed two Splendas to be able to drink it. For a regular size, it was also quite big and I was drinking it throughout our stay and all the way until I was halfway driving home. I like their portions!
Verdict:
Pistachio Italian Gelato: Good
Hot Latte: Okay
Not a bad place at all, nice ambience and I feel I'm getting value for money. I look forward to trying their other interesting flavors! :)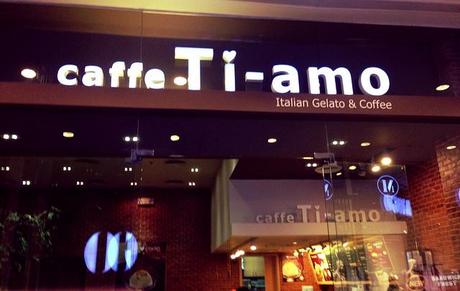 Love Caffe Ti-Amo? Hate it? Let me know by commenting below, or just
tweet
me!

CAFE TI-AMO
G/F Greenbelt 5, Legazpi St.,
Ayala Center, Makati City
(02) 501-3785
Operating Hours:
Sun - Thu: 9:00 am - 9:00 pm
Fri - Sat: 10:00 am - 10:00 pm
Facebook: Caffe Ti-amo
View Larger Map