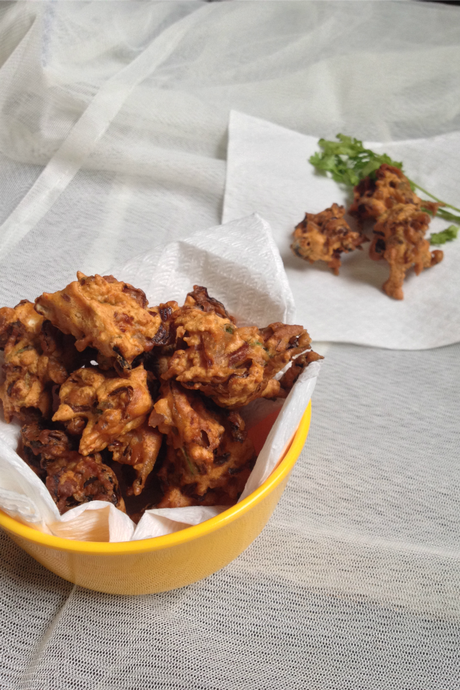 Cabbage and coriander both the ingredients are really good for health and here comes the pakora which i made last week in home.Here in Pune,its raining and i am really looking for a crunchy snack which would be healthy one too and am in diet now.Here comes the weight loss and also the healthy one even though it is fried in oil.You know the fact that oil is essential lubricating ingredient as we need it everyday.So fried ones are not that much enemy of weight loss regime.Soon you can expect some recipes related to weight loss here.Stay tuned for that...
V(my H first letter) bought cabbage along with fresh coriander leaves and i want to make snack from it.The idea came into my mind in a sudden,so start to chop cabbage and finely chopped coriander.I added hing along with cumin powder and also red chilli powder eventhough i added green chillies to the recipe.Roughly chopped onions or  sliced onions makes your pakoras flavorful aromatic and crispy.This is best when it is served as it is as it has all flavors inside ,so need of any sides with this one.Lets move onto the recipe and sure you can enjoy this without hesitating and enjoy with chill climate.Lets imagine this garam a garam pakoras with a cup of coffee,Wow na?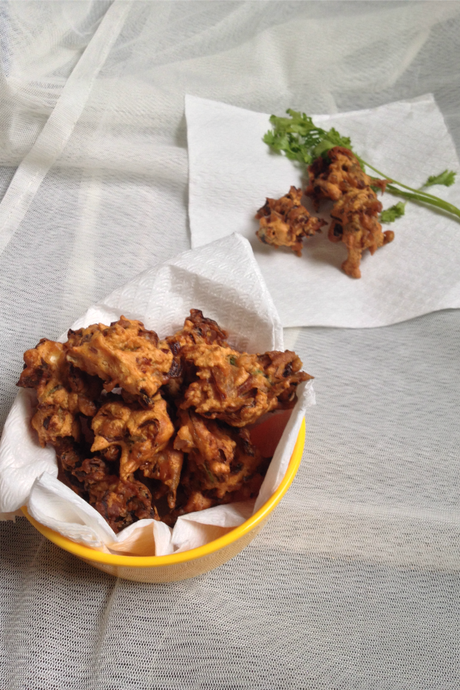 Cabbage Coriander Pakoras(2 Persons)
Ingredients for making
Cabbage - 1 cup finely chopped
Coriander - 1/2 cup finely chopped
Onion - 1 roughly chopped
Green chilli - 2 finely chopped
Gram flour -1/4 cup
Maida/APF - 2 teaspoons'
Red chilli powder -1/4 teaspoon
Cumin powder - 1/2 teaspoon
Hing - a pinch
Salt  - to taste
Oil - for frying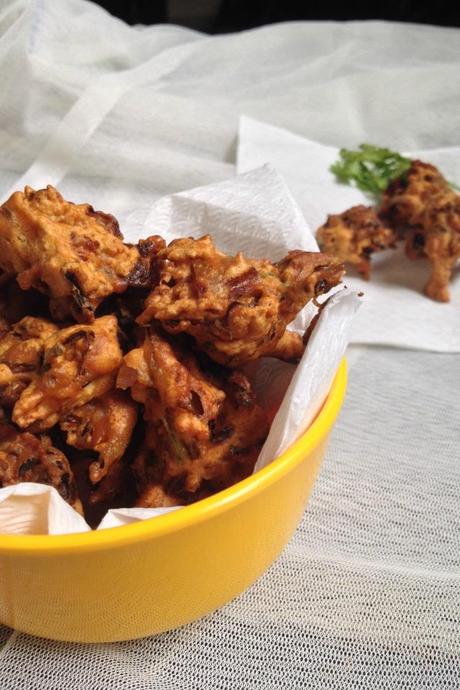 How to make
Chop the ingredients as specified in the ingredients list. and in a mixing  bowl take the gram flour along with maida.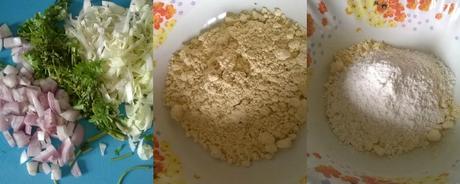 Add the red chilli powder,cumin powder,hing,salt and mix well.
Now add finely chopped ingredients to it and mix well.Add little water and make rough dough like below.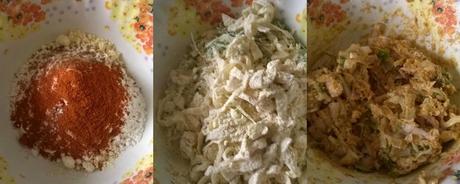 Heat oil in a wok in high flame.Reduce the flame when making pakoras.
Take small amount and gently drop into hot oil in low flame.Do not stir after adding the pakoras.
When it get cooked it will rise up and then you have to place the spatula inside it.
Remove cooked pakoras and drain excess oil in tissue paper.
Serve as it is or with cup of coffee.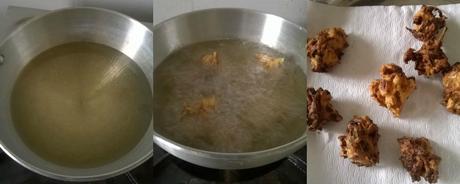 Your garama garam pakoras are ready now.
Cooking tips
Add any veggies like broccoli ,beans to it but chop them finely and make your healthy snack.
Make pakoras in low flame as it takes cooking time a bit.So be patient till it rise up after dropping it.
Use rice flour if you want more crispy pakoras.