How much ever I want to talk about this serum it's just so less. I am not knowing how to express my opinion in words with you regarding this serum. This has been a delayed review and I apologize about that. This is one of the best serums I have come across. Read on to know more about the same.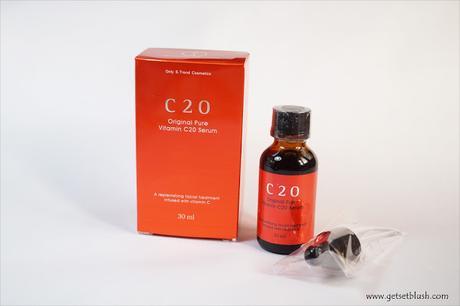 About C20(OST) Original Pure Vitamin C Serum: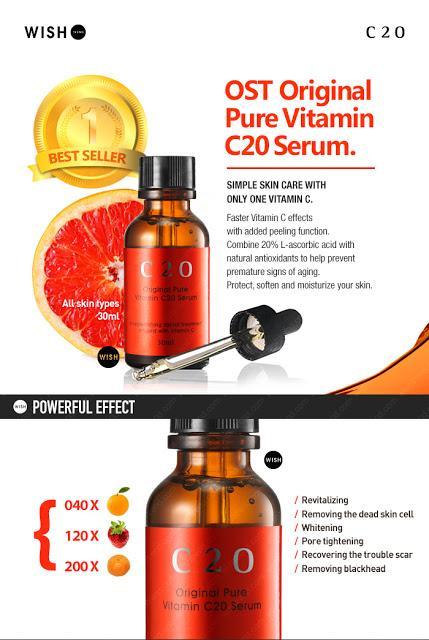 PRICE:
for 30ml of product , it is priced at $24.99 but currently they have a 40% discount and you can
buy the product for just $14.99
You can buy the product here
also check Where to buy Korean Cosmetics/Skincare in India for discount codes
How to use:
1) Use day and night after cleansing and prepping the skin with toner.
2) Put about 1-2 drops of the C20 Vitamin Serum on to the hand and apply to dull and sagging areas.
(Avoid sensitive areas such as the eye, lip, or any scarred area, and use on the face as a whole.)
3) In daylight or outdoors, always apply sunscreen (with at least SPF15).
4) A slight tingle sensation may be felt at first use due to the pure vitamin nature of the product.
TIPS:
Please keep in fridge to use it for a longer time.
Ingredients: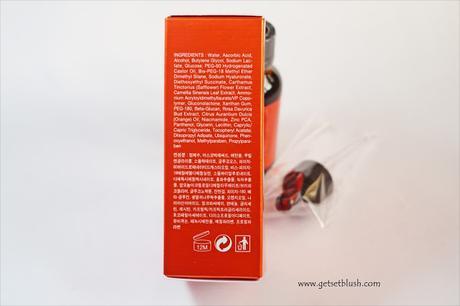 For those who are keen in reading the ingredient list and do not have patience to check the tiny letters..here is the list.

I tried my best to capture the letters written on the outer cover. Half of the script is Korean which I can read a bit but thankfully we have things written in English as well.Cheers to this feature because not many Korean products have the labels in English.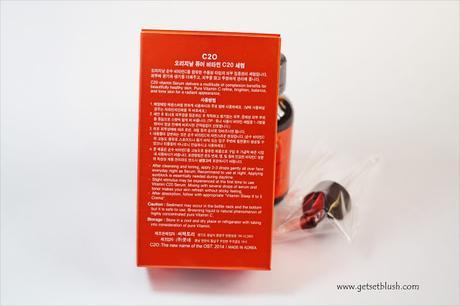 My Take:
I was just waiting for this section of my blog post like crazy. This is because I have never found a serum to be so magical. I am new to the serums and I have started incorporating the serums recently. This has to be my first serum and also the first vitamin serum. I have known so much about the Vitamin C and it's benefits for the skin. Vitamin C helps in reducing acne,spots,anti-ageing and prevents from wrinkles and many more. I have seen many youtube gurus using the viatmin C serum in their skincare routine and I always wanted to try one for myself. When I found this product on Wishtrend.com I couldn't wait but order it immediately.
It took me 10 days to get my hands on this product. The product came in a perfect condition and with loads of other samples.
Coming to the point..Did it WORK ??
Well..the answer is yes! I have started using this when I had acne and whiteheads/blackheads were too common on my skin. The redness and the spots left by my acne was too much to handle. This could be one reason on why I have ordered it without any second thought.
You can notice the difference in your skin's texture, marks in a week or ten days. Continuous usage of this serum brightened up my skintone and my acne never returned. Once in a month I do get the timely eruptions but this serum works on them like magic and never they left a mark.
Obviously, I have ordered one more bottle but this time I have ordered their new improved version in C21.5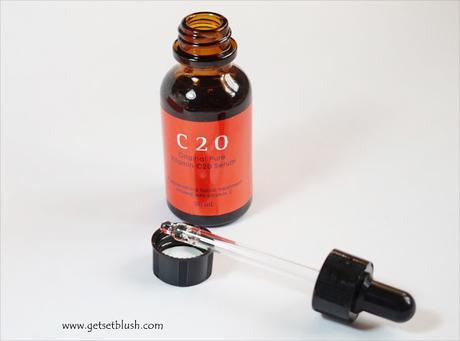 Swatch:
The serum is super light in consistency and I clicked this picture just after spreading a drop of the product. It gets absorbed in a minute and you feel nothing on your skin. It smells like a medicine but it goes off once it gets absorbed into the skin. The dropper does a good job in picking just the required amount of the product. I store it in a refrigerator and thus it gives a super cool sensation whenever I apply. It tingles a bit but since it is Vitamin C, it is expected to be so.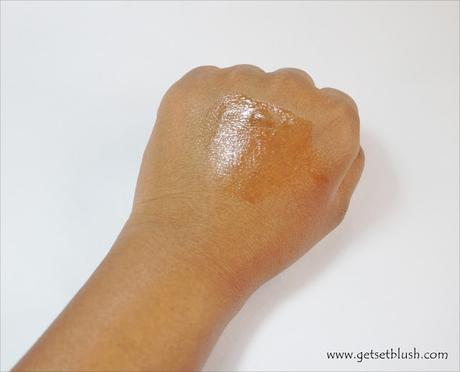 Final Words:


This has to be one of the amazing serum that every girl with skin issues would want to try and compare the results.
Check the video below to know more on this product. You can get the latest version of the product by clicking the image below.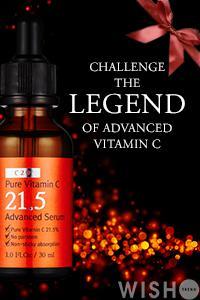 Also... Check my love for KOREA!!!
**PR Sample