A guest post by Hi-Tec, the leading manufacturer of hiking boots and mens walking socks.
Of all the clothing and equipment that walkers kit themselves out with, it is perhaps walking socks that are most frequently overlooked. 
The truth is, if you have a good pair of walking socks on when out and about, you won't even notice them.  However, if you select the wrong socks for your excursion, you could end up in pain and discomfort, which can ruin what would otherwise be pleasant day in the countryside.    Thankfully, there have been real advancements in walking socks in recent years, with high performance fabrics developed and designs focussed on wearer comfort.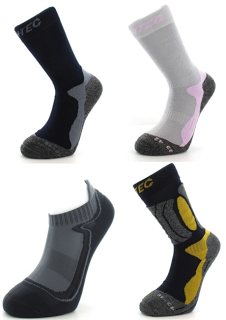 Gone are the days when walkers would have to use a two sock system and it is now possible to achieve the desired comfort from a single pair of socks.  Whilst some walkers do still prefer to wear lining socks, it shouldn't be a requirement if you select the right technical walking socks. 
Before we move on to offering advice on how
to spot a good pair of walking socks, we should
first break down the role of walking socks, which ultimately falls in three areas:
·

  

Provide cushioning to your feet ·

  

Improve insulation ·

  

Wick moisture away from the skin surface
You shouldn't underestimate the importance of
the last point, as skin that is damp loses some of its elasticity, meaning it is more likely to tear under friction.  This will of course cause swelling and perhaps even blistering. 


The right sock for the right footwear

Choosing the right sock for a particular day's walk will usually come down to two factors; the terrain you will encounter and the weather.  Essentially, you require different socks for different seasons. However, as you are likely to change your walking footwear throughout the year, dependant on the weather, it is perhaps easier to think in terms of pairing socks to footwear, rather than the seasons. When walking during warmer weather you are likely to wear lightweight footwear such as walking shoes or runners.  In most instances the best option here will be to go for a lightweight sock with a low cut design, which will allow air to circulate around your feet and prevent overheating.  Be sure that your chosen model has padding in the important areas; heel, toe, ball of the foot and forefoot. 
For normal walking boots, usually worn from autumn through to spring, a mid-weight walking sock is better suited.  The thicker material will provide more comfort throughout the whole of the sock, with even more padding in the critical areas.  However, the socks aren't so thick that they will cause overheating. 
If you are wearing mountaineering boots, which are designed to give additional support, it is important to look for thicker socks, which will be marketed as mountaineering or possibly hiking socks.  These will give you the necessary insulation and comfort required when walking in extreme conditions and whilst wearing footwear that could otherwise cause friction issues. 


Considering fabrics

Wool was in the past the popular choice for walking socks.  However, there are now many new fabrics available which offer improved performance, with most manufacturers producing and copywriting their own materials.  By doing a little research on the different fabrics that are used, you will soon get an idea of the kind of performance that you can expect from each sock model.  The key points to look for here are fabrics that provide wicking and which are breathable. 
If you are going to be negotiating tough terrain in hot conditions then you will have to opt for mid-weight walking socks, rather than the lightweight and low cut alternatives.  In such instances it is a good idea to look for socks that are specially manufactured to provide high wicking.  A good tip here is to check that the socks utilise a fabric called Cool-Max®. 


The importance of design

The final factor to consider is how your chosen walking socks have been designed.  We have already touched on the importance of cushioning in all the key areas to prevent soreness or blistering.  In addition, elasticated sections in the sock are also vital; serving to ensure a tight fit which prevents foot movement and also offering support.  Typically, walking socks will have elasticated bands across the forefoot and heel area.  You will of course also expect an elasticated cuff across the top of the sock to prevent it from falling down during your walk.