BEAUTY
❤ ❤ ❤ ❤ ❤ ❤ ❤ ❤ ❤ ❤ ❤ ❤ ❤ ❤ ❤ ❤ ❤ ❤ ❤ ❤ ❤ ❤ ❤ ❤ ❤ ❤ ❤ ❤ ❤ ❤ ❤ ❤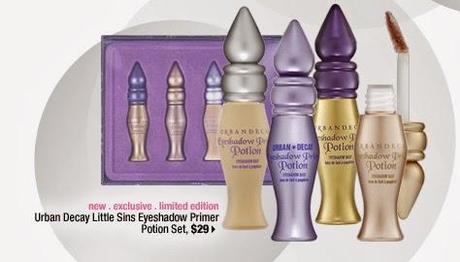 Image Via Sephora.com
To look sexy you need a stunning eye makeup, to get a stunning eye makeup you need perfect primer and when you need primer - the first thing that comes to my mind is
Urban Decay Primer Potion
that most of the beauty bloggers and vloggers are crazy about.
And, when it comes to buying Urban Decay products in India, it is like finding a shell with pearl in deep sea. So, when I found that Brandsvillage is selling Urban Decay products and primer potion is one of those products, I had to bring it to your notice.
While most of the buyers who have access to UD products unlike us, prefer buying single pack. Sine we don't get to buy so easily, we can choose this pack of minis.
Quick Note:
- drawback of buying from Brandsvillage is that shipping and delivery is too late to believe. (Yes, I have bought from them). - Price is two times higher (Actual price : $29 = Rs. 1,805.05; Brandsvillage Price : Rs. 3,375).
- Products on BRandsvillage are for limited period. Urban Decay sale will last for 5 ore days. So hurry - 
Before you purchase - Register yourself on Brandsvillage.
SHOP NOW