I first picked up one of Buxom's Full On Lip Creams quite a while ago. I decided I wasn't sure how I felt about it and tucked it away, forgetting about it completely. I found it a month or two ago and decided to give it another go. After all, I didn't dislike it, I just wasn't sure how much I did like it. Well, thank goodness I gave it another try because now I'm in love with it!

J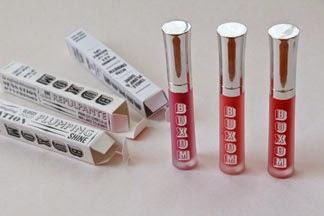 I think part of my initial hesitance with the Full On Lip Cream is because it's a gloss. I'm not the biggest fan of glosses. I think they look pretty, I've just never liked how sheer they usually are, plus they never seem to last too long. And if they're sticky, forget it! I typically don't like glitter or shimmer bits in my glosses either. Well, the Full On Lip Creams are none of these things! Though they do have shimmery glosses in the Buxom line, every shade of the Full On Lip Cream is just that – a cream. The shades that I have are quite pigmented, while still remaining glossy and incredibly comfortable on the lips. They're definitely still a gloss and not a liquid lipstick, but they are pigmented enough that I can actually detect a color, not just a shine with a minimal whisper of color. These are absolutely beautiful glosses!

J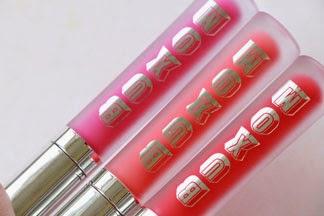 As I just stated, these glosses pack a good punch in the color department. They show up on my lips with one pass, but can be made even more intense with further swipes. The color is still sheer, but it is a definite creamy color. Of course, I only have shades on the deeper side – I have "Cherry Flip," which is a gorgeous red, "Berry Blast," which is a beautiful berry shade and "Mai Tai," which is a stunning peachy-coral. I love them all, but at the moment I think "Mai Tai" is my favorite.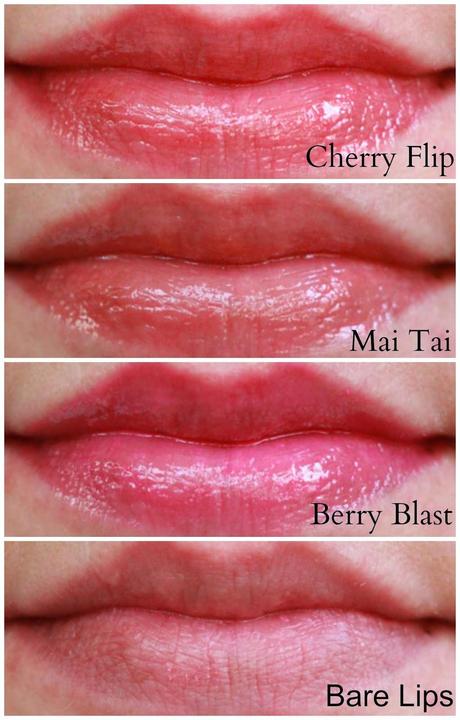 The gloss aspect of the Full On Lip Creams is also suburb! I'm not a huge fan of uber shiny gloss. These have just the perfect amount of shine. They give off kind of a healthy glow, not a glass-like effect. The consistency is excellent as well. They're not a terribly thin gloss, but they are incredibly lightweight. You don't really notice that you're wearing a gloss, yet your lips feel very hydrated and protected after they've been applied. They are not at all sticky, but they do seem to last reasonably well. They also wear off nicely. Some glosses seem to leave my lips looking dried out and just less than attractive after the gloss fades, but the Full On Lip Creams leave my lips feeling more hydrated and supple as they lose their grasp on my lips.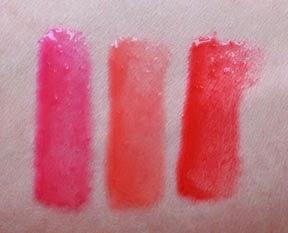 Though they are billed as being a plumping gloss, unlike other plumpers, I find them to be quite comfortable. The gloss has a minty tingle that I think is the "plumping" factor, but I find it kind of refreshing, not irritatingly troublesome. I'm not sure I would go so far as to call it plumping. Maybe lip smoothing, but I don't notice any actual plumping. If you're not a fan of any tingling in your lip products, then this is probably not for you because you will feel the slight cooling sensation. I would say it's nothing more than that – a cooling tingle. Since I'm not big on the plumping factor anyway, I'm perfectly happy with a slightly minty tinge to my lip gloss.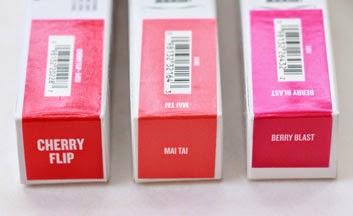 I couldn't write a review of the Full On Lip Creams without mentioning the taste! You would think they would be minty given their "tingling" characteristics, but noooo. They have the most delicious cake batter-like flavor! I literally want to eat them whenever I smell it!

J

 

These are probably the best smelling / tasting lip glosses I have ever tried. If nothing more, you should grab one just for the flavor.

J




Overall, I think the Buxom Full On Lip Creams are fantastic! The shades I have tried are gorgeous both in color and comfort on the lips, the shine is beautiful and healthy, and the taste is divine! Buxom really nailed the formula with these glosses. They may have just turned this lipstick lovin' girl into a gloss goddess!

J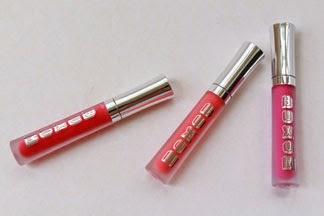 The Buxom Full On Lip Creams are exclusive to Sephora. They retail for $19 each and are available in 10 different shades. They are free from parabens, sulfates, phthalates, GMOs and Triclosan.