When i first saw the name Butterscotch Praline Cream Pie, i was very vague on what was going on.
Frankly speaking, i don't know my butterscotch from my toffees, or my toffees from my caramels. All i know is that sugar cooking is involved.
So to set things straight, here goes!
Caramel is a beige to dark-brown confection made by heating any of a variety of sugars
Toffee is a confection made by caramelizing sugar or molasses (creating inverted sugar) along with butter, and occasionally flour
Butterscotch is similar to toffee, but for butterscotch the sugar is boiled to the soft crack stage, and not hard crack as with toffee
-Thanks Master Wikipedia !
Right, now that we are all a little bit smarter, let's get back to the matters on hands.
Butterscotch Praline Cream Pie- A tender, flakey pie crust containing a deep, smokey butterscotch custard.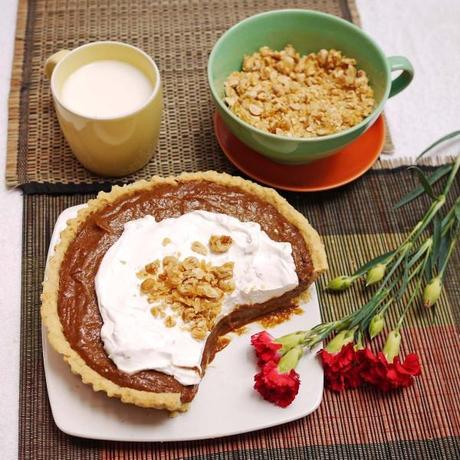 Let's start with the pie crust. A buttery patee brisee with a scant amount of sugar.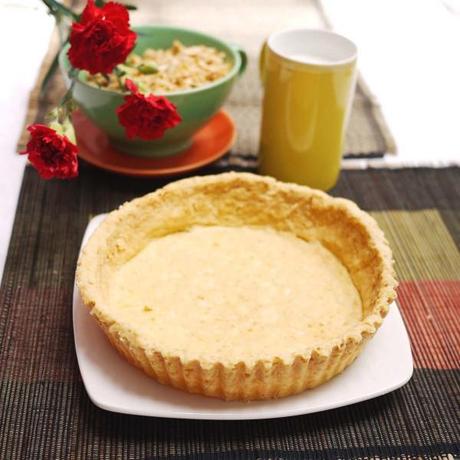 And you know something, between all that rolling, chilling and blind baking, I am never one to agree with the term "easy as pie".
They should really change it to "Easy as pie eating". That i can definitely relate to.
So anyways, into this crust, i pile on the butterscotch custard.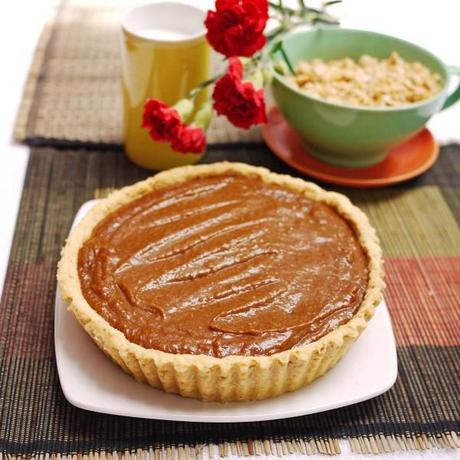 I met with a bit of a technical difficulty with this butterscotch. It was not the lush luscious custard that i was expecting.
If you can see it closely, it is quite lumpy. They are not really serious and significant, but they are still visibly noticeable.Thankfully, the sandiness didnt present itself when u spoon the custard into your mouth. I suspect it's globules of fats from the cream which was not well incorporated as i poured it into the hot caramel. Thankfully it was not intolerably rough, but it was enough to make me grit my teeth (no pun intended).
Grits or no grits, i soldiered on to the whipping cream, which was pleasantly folded with praline.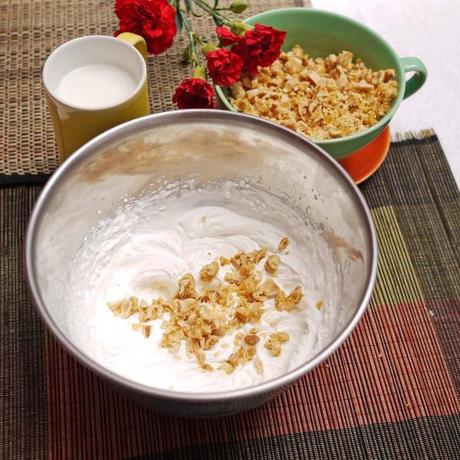 Praline – a family of confections made from nuts and sugar syrup.
Although the suggested nut in the recipe was hazelnut, i used good ole peanuts. Just because that's the only nuts i have.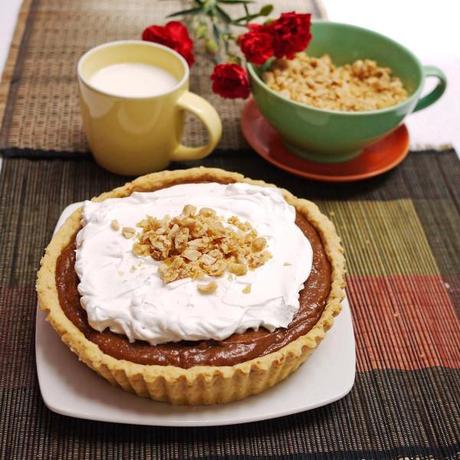 I wouldn't advise on skipping the whipping cream to save the calories though. The lightness of the whipped cream was so pleasant against the dark, smoky butterscotch custard. A good balance of complex and simple flavours. But then again, i wouldnt skip on the praline either, just cause it gives a good crunch.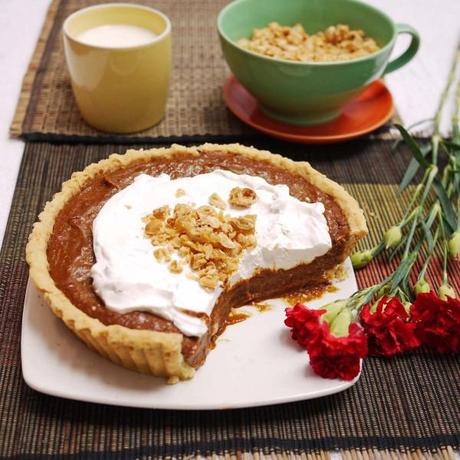 And so there you have it, A crash course on toffee, butterscotch, caramel, and a Butterscotch Praline Cream pie!
Taken from Martha Stewart
Ingredients
All-purpose flour, for surface
1/2 recipe Pate Brisee
3 ounces (6 tablespoons) unsalted butter
1 cup dark-brown sugar
2 cups heavy cream
1/4 cup cornstarch
3/4 teaspoon salt
2 cups whole milk
4 large egg yolks
1 teaspoon pure vanilla extract
Crushed Hazelnut Praline
Directions
On a lightly floured work surface, roll pate brisee to 1/8-inch thickness. Fit into a 9-inch pie dish. Trim edges, leaving a 1-inch overhang. Tuck overhang under dough so edges are flush with rim, and crimp edges. Lightly prick bottom of dough with a fork. Refrigerate for 30 minutes.
Preheat oven to 375 degrees. Line dough with parchment, and fill with pie weights or dried beans. Bake until edges begin to turn gold, 15 to 18 minutes. Carefully remove weights and parchment. Bake until crust is golden brown, 12 to 15 minutes. Let cool completely on a wire rack. (Crust can be stored overnight.)
Melt butter in a medium saucepan over medium heat until butter browns. Stir in sugar until it dissolves, about 5 minutes. Slowly pour 1 cup cream down the side of the pan, stirring constantly until smooth (caramel will bubble). Remove from heat.
Whisk cornstarch, salt, and milk in a small bowl until smooth. Whisk into butter mixture until well combined. Cook over medium-high heat, stirring constantly, until bubbling and thick, about 7 minutes total (about 2 minutes after it comes to a boil.)
Whisk yolks in a medium bowl until combined. Pour in milk mixture in a slow, steady stream, whisking until completely incorporated. Return mixture to the saucepan, and cook over medium heat, stirring constantly, until it returns to a boil, 1 to 2 minutes.
Immediately remove from heat, and stir in vanilla. Let custard cool in saucepan on a wire rack, whisking occasionally, for 10 minutes.
Pour custard into piecrust. Press plastic wrap directly on surface of custard. Refrigerate until custard filling is chilled and firm, at least 4 hours (or overnight).
Whisk remaining 1 cup cream until stiff peaks form. Reserve 2 tablespoons praline, and fold remaining praline into cream. Spread cream over pie, and sprinkle reserved praline on top. Serve immediately.
Crushed Hazelnut Praline
Ingredients
Vegetable-oil cooking spray
1/2 cup sugar
1 teaspoon light corn syrup
1 tablespoon water
Salt
1/3 cup hazelnuts, toasted, skins rubbed off with a damp cloth
Directions
Coat a rimmed baking sheet with cooking spray. Heat sugar, corn syrup, water, and a pinch of salt in a small saucepan over medium-high heat, stirring constantly until sugar dissolves. Continue to cook, without stirring, until deep amber. Remove from heat, stir in nuts, and spread evenly on baking sheet. Let cool completely on sheet on a wire rack.
Break praline into medium pieces, and transfer to a resealable plastic bag. Using a rolling pin, crush into pea-size pieces. (Crushed praline can be stored for up to 1 month.)