When I saw the recipe chosen for the Southern team by Northern team for the month of September in SNC group,owned by Divya pramil ,I was first worried and as well as excited.I thought is it really possible to make falooda at home?.To those who doesn't know read about falooda It is one of my favorite frozen dessert though I can never complete a full glass :P). My sister used to order this when ever we go out and I keep sneaking a spoon here and there from hers :).I was excited because for me falooda always lookd like an art work or to say rangoli made inside a glass.It is always a feast to eyes first to see a perfectly arranged falooda with Ice cream and some wafers on top.So with the mixed thoughts I set to work and I should say making it was a real breeze following Minnie's recipe,the host for Southern team this month.Thanks a lot Minni for choosing this wonderful dessert :)She had given two options with this recipe,one is falooda with kulfi and other is with ice cream and I chose the later.This is my second challemge in SNC and I am already loving the group,for those who are not familiar,check out here.Now coming to my falooda making-well I followed minnie's recipe completely but with some changes in flavoring and a short cut in procedure and there I was with my beautiful looking and decadent falooda.I also increased the quantity as I had guests to serve.I did not have rose syrup in hand as mentioned in the original recipe,so I chose to do butter scotch flavored falooda as I had butterscotch Ice cream and syrup on hand.I also added some caramel syrup for added color and to complement the butterscotch flavor.Here is how I made it .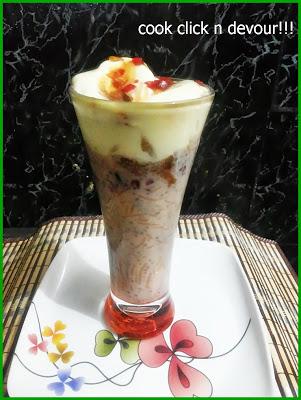 Falooda
Star ingredients:Everything in the recipe!
Time:20 minutes+cooling time
Serves:6
Ingredients:
4 cups milk
3 teaspoons sugar (optional)
8 whole alomnds (I did not soak and peel)
8-10 pistachios crushed
2 teaspoons chironji
1/2 cup falooda noodles
1/2 cup sabja seeds(basil)(soaked in water for atleast an hour)
2 table spoons butter scotch syrup
2 tablespoons caramel syrup
2 tablespoons tutti frutti
6 or more scoops butter scotch ice cream
Method:
Here I used a short cut method of boiling all the contents in milk for low flame in 20 minutes (I just attempted this method at my own risk as I had guests and wanted to serve them this falooda in short time.
1.Boil 3 cups of milk along with sugar.Add the noodles to the milk and allow it to cook.This may take around 10 minutes.Keep stirring as it rises really fast.
2.Add butter scotch syrup to the other glass of milk and add to the noodles mix.Add Sironji,sabja to this and mix well.Refrigerate for 2 hours at least.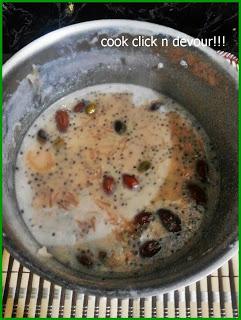 3.When you are ready to serve,take a tall glass,fill 1/4 with noddles milk,add some tutti frutii,caramel syrup,and again fill one more 1/4 with noodles milk.Keep one or 2 scoops of ice cream and top it up with some more tutii futii,wafers etc.
4.Serve immediately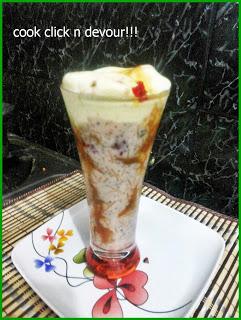 Notes:
1.The possibilities with this falooda are endless.I would have loved to add ome jelly pieces as we get in restaurants but I did not have any
2.Add some butter scotch chips as topping to get some crunch
I am definitely making this again,all the rose color in Minnie's post is alluring me :)So that will rose falooda next time.